Addressing acute housing needs in the wake of COVID-19. Bridging curriculum gaps in pediatric and adolescent transgender care. Increasing the number of health professionals practicing in underserved communities.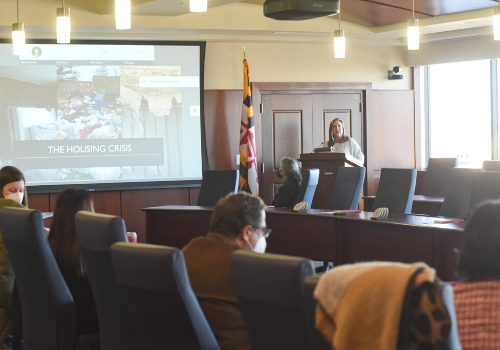 These are among the goals of five research teams in the 2020-2021 round of seed grants awarded by the University of Maryland, Baltimore's (UMB) Center for Interprofessional Education (CIPE). The teams presented their preliminary results at the annual Interprofessional Education (IPE) Seed Grant Symposium on Nov. 17. (See video above.)
The center's seed grant program began in 2014, offering $5,000 to $10,000 grants to support 13-month pilot projects examining new ideas in interprofessional education or interprofessional team-based care. New projects have been funded each year as the seed grant program continues.
IPE was a major focus of former UMB President Jay A. Perman, MD, and it has continued under current President Bruce E. Jarrell, MD, FACS, said Jane M. Kirschling, PhD, RN, FAAN, the Bill and Joanne Conway Dean of the University of Maryland School of Nursing (UMSON) and director of CIPE.
"President Jarrell obviously is a strong proponent of interprofessional education," Kirschling told a group of seed grant recipients gathered in the President's Boardroom at the Saratoga Building for the hybrid event. "He's a strong advocate for every school at UMB and works tirelessly to support us and to get us the necessary resources that we need. Prior to serving as president, he was the provost, so he went on the journey with then-President Jay Perman in terms of establishing the Center for Interprofessional Education, and he has sustained it, and we are grateful for that."
Kirschling also thanked the center's co-directors, Heather Congdon, PharmD, BCPS, CDE, FNAP, professor, Department of Pharmacy Practice and Science, University of Maryland School of Pharmacy (UMSOP), and Joseph P. Martinez, MD, associate professor, Department of Emergency Medicine, and associate dean for medical education and learning environment, University of Maryland School of Medicine (UMSOM).
Jarrell said he recognized the value of interprofessional education early on in his career as a transplant surgeon.
"I learned to appreciate that [transplanting] the kidney was only the beginning," he said. "And then there was dental care. There was psychiatric care. There was social care. There was just about anything you could think of that was a necessary requirement for this person to return to normal life. The best care had to be defined that way. There wasn't any option of saying, 'See you later, Joe,' because Joe would be back in a couple of weeks with some catastrophe that could have been avoided had proper interprofessional care been delivered. I really learned very early on that you had to think in these terms when taking care of patients."
Researchers from each of five funded projects discussed their results and early studies on new ideas in interprofessional education and practice. Interprofessional education aims to prepare professionals in all disciplines — medicine, law, dentistry, pharmacy, nursing, and social work, representing the six fields taught at UMB — to work together, sharing their respective expertise to ensure the best outcome for patients and clients.
A look at the seed grant projects and the research teams behind them:
Addressing Acute Housing Needs in the Wake of COVID-19
Presenter: Kerri McGowan Lowrey, JD, MPH, University of Maryland Francis King Carey School of Law (SOL)
Team members: Kathleen Hoke, JD; Toby Guerin, JD; Sara Gold, JD; Thomas Silverstein, JD; Stacy Smith, JD; Rebecca Bowman-Rivas, MSW; Deborah Eisenberg, JD, all from SOL; Lauren Siegel, LCSW-C; Everett Smith, LMSW; Lane Victorson, LMSW; Adam Schneider, MSW, all from the University of Maryland School of Social Work (UMSSW)
Faculty from Maryland Carey Law and UMSSW proposed an interprofessional project to prepare and respond to acute housing needs for families facing housing crises due to the COVID-19 pandemic. Specifically, the team aimed to develop a self-sustainable collaboration among four clinics within the Clinical Law Program (Public Health Law, Medical-Legal Partnership, Mediation, and Fair Housing) and social work students placed with the UMSSW Office of Field Education, Law & Social Work Service Program, and Social Work Community Outreach Services to provide access to legal services and needed social services and supports to improve short- and long-term outcomes for families struggling with housing issues due to the pandemic. Interprofessional team-based client care work focused on direct client services, processes, and policy. Project faculty also engaged students in interprofessional learning, including training on housing issues, landlord-tenant law, the rent court process, and alternative dispute resolution, as well as a co-taught module for law and social work students on the legislative process.
ACT Immersion Program
Presenter: Richard Colgan, MD, UMSOM
Team members: Allison Robinson, MPH, UMSOM; Lana Sherr, PharmD, BSPharm, University of Maryland Eastern Shore; Beth Smolko, DMSc, PA-C, Frostburg State University
The ACT (Advocacy for underserved and underrepresented Communities through Training) Immersion Program is designed to expose AHEC (Area Health Education Centers) Scholars to underserved communities through interprofessional didactic and experiential learning opportunities. AHEC Scholars experienced immersion weekends in the Eastern Shore, Western Maryland, or Central Maryland regions. Prior to the weekend, scholars attended virtual interprofessional webinars and education programs providing up-to-date information on the impact of COVID-19 on diverse populations and systemic racism's impact on the delivery of health care. A key long-term goal of the project is to increase the number of health professionals practicing in underserved communities.
Interprofessional Collaborative Approach to Prevention and Management of Chemotherapy Toxicities/Oncology Symptom Management/Medication Reconciliation
Presenter: Paula Rosenblatt, MD, UMSOM
Team member: Allison Duffy, PharmD, BCOP, UMSOP
The IPE project was designed to bring together patients, medical students, and pharmacy students to learn about drug therapy, medication safety, and the psychosocial aspects of cancer. Students were paired with patients starting their chemotherapy to explore ways to improve patient care. The results of the study will be used to assess potential changes to interprofessional education in the pharmacy and medical curriculum.
The Triangulation of IPE, Simulation, and Telehealth in Health Professions Education:
A Pilot Study Between Medicine, Nursing and Physical Therapy
Presenter: Karen Gordes, PhD, PT, DSc, Graduate School
Team members: Linda Horn, PT, DScPT, MHS, GCS, NCS, and Norman Retener, MD, FACP, UMSOM; Mei Ching Lee, PhD, MS, RN, CHPN, UMSON
This initiative aimed to integrate the knowledge and skill sets of UMB nursing, medical, and physical therapy students within a clinical setting involving direct patient care. Incorporating patients in the training sessions allowed faculty to demonstrate the benefits of team-based care to patients as well as expand student IPE experience from the classroom to a clinical setting. Students learned how to complement each other's skills to better address the rehabilitation needs of patients within a complex medical environment.
Bridging Curriculum Gaps in Pediatric and Adolescent Transgender Care
Presenter: Amy Kruger Howard, PharmD, UMSOP
Team members: Jill A. Morgan, PharmD, BCPS, BCPPS, UMSOP; Maria Eleni Nikita, MD, UMSOM; Tiernan Connor Castile, MD (resident); Lee Westgate, MBA, MSW, LCSW-C, UMSSW; Sara Gold, JD, SOL
The IPE project was designed to improve interprofessional education focusing on the care of transgender and gender-diverse pediatric and adolescent patients. The educational program prepares students and clinicians to ensure adherence to best-practices guideline for transgender care, improve baseline knowledge of available pharmacologic treatment modalities, and improve interdisciplinary communication.
View the full recording of the seed grant symposium: https://bit.ly/3IWuy0h