Researchers, clinicians, and students were among the participants as the University of Maryland Center to Advance Chronic Pain Research (CACPR) held its fifth annual symposium, "Managing Chronic Pain Among Patients with Serious Illness During a National Opioid Crisis."
(View a photo gallery on Facebook.)
"This is an alarming crisis that we're seeing," said John Cagle, PhD, MSW, associate professor at the School of Social Work, who gave welcoming remarks along with Susan Dorsey, PhD, RN, FAAN, professor at the School of Nursing (UMSON) and co-director of CACPR.
Cagle referred to the continuing loss of lives as well as nonfatal overdoses caused by misuse of opioids, outlining his own research, including a survey to address clinicians' response to the national crisis. "How is that impacting the management of pain in serious illness?" he asked.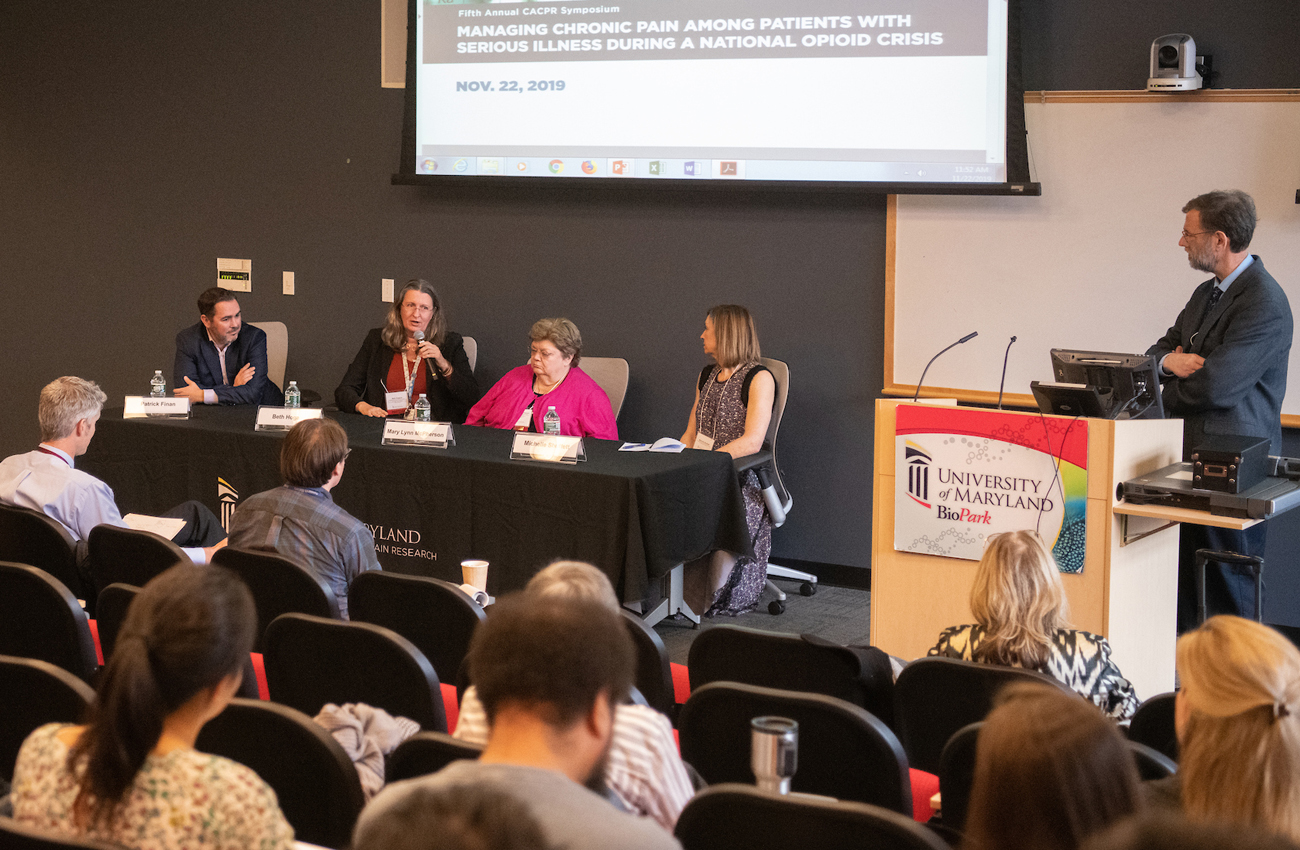 In many ways, the symposium provided answers to the question, drawing upon the expertise of a series of speakers and panelists. Attendees were able to interact during the presentations and engaged in a concluding question-and-answer session, which was moderated by Joel Greenspan, PhD, professor at the School of Dentistry and co-director of CACPR. The event took place Nov. 22 at the University of Maryland BioPark.
Diane Hoffmann, JD, MS, the Jacob A. France Professor of Health Law at the Francis King Carey School of Law, presented "Navigating the Legal Pitfalls of Opioid Prescribing." In a review of how lawmakers, regulators, and physicians have responded to changing scenarios, she went back to the 1990s when the concern was about under-prescribing. For instance, a California court awarded damages to a family over the inadequate relief of a father's cancer pain.
"I mention these earlier times as they are an example of the roller coaster of laws," said Hoffmann. More recently, in the wake of opioid overdoses, physicians have turned away people or reduced the doses they are willing to prescribe to their existing patients.
That reversal in course can be tied to laws in some states that codify parts of a prescribing guideline issued in 2016 by the Centers for Disease Control and Prevention. In response, Hoffmann and colleagues published an article a year ago on the harm being done to chronic pain sufferers, and advocates have urged a more compassionate approach.
Speaker Jessica S. Merlin, MD, PhD, MBA, associate professor at the University of Pittsburgh School of Medicine, called for risk screening in palliative care to avoid "ignoring a medical problem in a fragile population." Her topic: "Chronic Pain, Opioid Misuse, and Opioid Use Disorder in Individuals with Serious Illness."
Marla T. Oros, MS, BSN '84, RN, president of the Mosaic Group, a management consulting firm with expertise in community health, described the process known as Screening, Brief Intervention, and Referral to Treatment (SBIRT). She called for a broader use of SBIRT during her presentation, "Supporting Patients with Chronic Pain and Substance Use Issues in Hospital Emergency Departments and Primary Care Settings."
Speaker Leslie J. Blackhall, MD, associate professor at the University of Virginia, presented "Symptoms and Safety in a Palliative Care Clinic." She suggested clinicians think beyond screening to documentation of their interventions. "Focus on safety," she said. "Use your judgment but don't be judgmental."
On the panel, UMB was represented by School of Pharmacy professor Mary Lynn McPherson, PharmD, MA, MDE, BCPS, executive director of the school's Advanced Postgraduate Education in Palliative Care, and Beth B. Hogans, MD, PhD, MS, who holds positions at the Veterans Affairs Maryland Health Care System, Johns Hopkins University (JHU), and as adjunct associate professor of neurology at the School of Medicine.
They were joined by Patrick H. Finan, PhD, associate professor in the Department of Psychiatry and Behavioral Sciences at JHU, and Michelle L. Shuffett, MD, vice president, scientific research and communications, at Columbia Care, Inc., a national provider of cannabis-based health and wellness solutions.
Through its annual symposium and other initiatives, CACPR seeks to promote cutting-edge basic, translational, and clinical biomedical research that will advance our understanding and treatment of chronic pain. As a catalyst for this process, CACPR engages multidisciplinary research teams and scientist-clinician collaborations to address this critical health care problem, which is a burden to patients, their families, and society. Together, the faculty, staff, and student members of CACPR bring together a unique collection of skills to create an exciting research environment that is primed to make great strides in the field of pain research.