The numbers are staggering.
In the United States:
20 people are abused by intimate partner violence every 60 seconds
One in 15 children has been exposed to intimate partner violence
20 children are shot every day
215,000 students have witnessed school shootings since April 20, 1999, the day two students killed 12 classmates and a teacher at Columbine High School in Colorado.
"We live in a society where we only need to turn on TV, view our Twitter feed and Facebook pages, and we're reminded of the frequency in which violence in its many forms occurs," said Tanya L. Sharpe, PhD, MSW, associate professor and the Factor-Inwentash Chair of Social Work in the Global Community at the University of Toronto. Until last fall, she was an associate professor at the University of Maryland School of Social Work.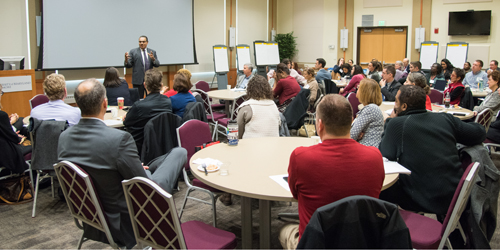 Sharpe provided the keynote address at "A Research Summit on Violence Prevention and Community Engagement," held Dec. 5 at the Southern Management Corporation Campus Center. The event was co-sponsored by the University of Maryland, Baltimore (UMB) Richard and Jane Sherman Center for Health Care Innovation and the University of Maryland, Baltimore County (UMBC) Center for Social Science Scholarship. Last year, the late Richard Sherman, MD '72, and his wife, Jane Sherman, PhD '85, MS, RN, who attended the summit, established the Center for Health Care Innovation located in the Health Sciences and Human Services Library.
UMB President Jay A. Perman, MD, also spoke at the summit, which drew an audience of about 50 faculty and staff from UMBC, UMB, and the University of Maryland, College Park, as well as Baltimore government officials and staff from Baltimore-based nonprofit organizations.
He began his remarks by recalling his reaction when the National Rifle Association tweeted in November "someone should tell self-important anti-gun doctors to stay in their lane."
"Physicians and other providers were angry. This is my lane. My lane," Perman said, adding the tweet made him very upset. He recounted how Baltimore Mayor Catherine E. Pugh asked him to speak to a woman, Kim Owens, whose 26-year-old son had been killed. "She didn't know how to cope. She needed to know how to move forward, and the mayor said to me, 'Surely as a physician, you must have ways of doing something about it.' Well, she overinflated my abilities," Perman said.
Perman put Owens in touch with Sharpe, who has conducted extensive research on the post-homicide experiences of surviving family members and friends of homicide victims, and served as the summit's keynote speaker.
"When people tell me to stay in my lane, you all need to help me with that and I need to help you," Perman told the audience. "We have a public health crisis, and you are the people we are depending on to help fix it."
UMBC President Freeman A. Hrabowski III, MA, PhD, challenged the audience to "ask, listen, and act" when it comes to researching community-based solutions to violence.
"I would charge us, first of all, to ask each other about the big questions and challenges, while also asking our communities as we work with them and our children, and listen carefully with a lens that is not biased by our own privilege and then we act based on that," he said.
In her keynote address, Sharpe acknowledged the difficulties in finding solutions to violence and garnering community input.
"It's really hard, and I don't mean difficult in the way you may be thinking," she said. "It's not hard because of the constant search for that grant gold that you hope will fund or sustain your research or program. It's not difficult because of the publish-or-perish grind that we're all aware of. And it's not hard because of the challenge of being a community-based researcher or program."
The difficulty comes in translating the wants and needs of a community into a world of research and translating research into a world of community, Sharpe continued. "The work is hard because of the way I feel about it. It is the fact that from the top of my head to the tips of my toes, from my fingertips to my core, that I've been called to do this work."
Gun violence, interpersonal violence, homicide violence, and violence in schools were among the topics discussed at the summit in "lightning rounds," brief discussions of research topics related to social, cultural, and community aspects of violence prevention.
"What if we were given the opportunity to share resources among faculty, to apply for grants across disciplines, to disseminate and evaluate interventions together as a collective?" Sharpe asked summit participants. "When we think about engagement, we really need to think about the fact that this inaugural summit provides UMB with a unique opportunity to not only learn about engagement strategies that address various forms of violence in partnerships with the community that surrounds it, but in partnership with one another. There's a lot going on, and a lot of times the right hand doesn't know what the left hand is doing."
Anisha Thomas, deputy director of Safe Streets Baltimore, said she attended the summit because she was interested in "honest, candid conversations" about ways to address violence in Baltimore.
"I want to know where the experts stand on things and am looking forward to an interesting exchange of information," she said.
The UMB President's Fellows also attended the summit. During the 2018-2019 academic year, the fellows are exploring UMB's role as an anchor institution in addressing gun violence through education, research, clinical care, and service, while exploring the root causes of gun violence and using an interdisciplinary lens to examine the impact of trauma on communities.
"They study a subject and advise UMB as to where we need to go with the subject," Perman said, gesturing toward the table of fellows.