From assisting as a newborn takes its first breath to helping a family prepare a loved one for hospice, few professions can lay claim to witness — and impact — life's critical events the way nursing can.
That was the message Sherry B. Perkins, PhD, RN, FAAN, president and chief executive officer of University of Maryland Capital Region Health, relayed Dec. 14 to summer and fall graduates of the University of Maryland School of Nursing (UMSON) at the Universities at Shady Grove (USG) in Rockville, Md., where Bruce Jarrell, MD, FACS, executive vice president and provost of the University of Maryland, Baltimore (UMB) and dean of the Graduate School, conferred 82 nursing degrees in the Class of 2018. At UMSON's sister ceremony on Dec. 17 at Baltimore's Hippodrome Theatre, 221 degrees were conferred by UMB President Jay A. Perman, MD.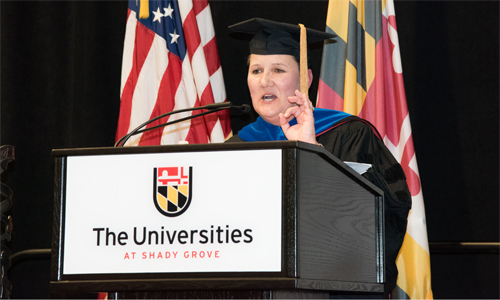 "At the core of care is the impact of a nurse," Perkins said during her keynote address. "I have been guided by a simple principle. I make decisions based on patients, families, and the people who take care of them. What will you say will be your impact principle?"
Perkins kicked off her remarks by informing the graduates that there would be a quiz when she was finished.
"In order for you to pass, get the degree conferred, you're going to need to remember one word. And that word is impact," said Perkins, who oversees operations of the University of Maryland Prince George's Hospital Center in Cheverly, University of Maryland Laurel Regional Hospital, University of Maryland Bowie Health Campus and the family University of Maryland Capital Region Health Medical Group at Suitland. She also is an adjunct faculty member at UMSON.
Perkins asked family and friends in attendance to think about "important, impactful life events" such as an emergency room visit, having a parent in an intensive care unit, or witnessing the birth of a child.
"For these events, a nurse was there. A nurse was there knowing and caring," she said. "We uniquely link caring and knowledge. We link science and compassion. We know what it means for humans to be old, sick, weak, complex, and vulnerable, and we make an impact. We teach, rescue, heal, console, research; we practically have super powers. We see problems before they occur."
Wrapping up her remarks, she quizzed the graduates on the word they were charged with remembering. Perkins told graduates as they embark on their careers that they could remember the word "impact" in the following way:
I — Invest in good shoes.
M — Make sure to wear your Fitbit
P — Pack snacks, for yourself and everyone you work with. It will make you popular.
A — Always be on time.
C — Change of shift. Patients will come then. Just plan on it.
T — Thank family, friends, and co-workers.
Student speaker Emily Anne Solomon, BSN '18, encouraged her classmates to remember advice she received in her first semester from Jana Goodwin, PhD, RN, CNE, assistant professor and director, Bachelor of Science in Nursing program, after Solomon had vented to Goodwin about being overwhelmed by the pace of nursing school.
"While she was empathetic and agreed with me, her next few words stuck with me even until now. She said, 'You have to start somewhere.' So now, I share these words with you," Solomon said. "When you get overwhelmed, feel like you're taking steps backwards, or maybe even want to quit, just remember how you had to start somewhere once, and again, in this new job, you have to start somewhere. Because when you start somewhere, that's how you get somewhere."
UMSON Dean Jane M. Kirschling, PhD, RN, FAAN, told graduates they begin their careers "at a time when nursing presents unparalleled possibilities. No other profession offers such a diverse range of career paths and opportunities for professional advancement.
"We look to you for the collaborative energy needed to mitigate the impact of faculty and workforce shortages, which significantly affect the availability, accessibility, and quality of care," she continued. "As the lynchpins of the health care system, you, more than any other, bear the burden of safeguarding patient welfare not only by providing highly skilled care, but by educating the public about the role and functions of nurses and advocating for greater support from policymakers."