"The first time I visited Seoul, it was like being at home, and that's because of the people," University of Maryland, Baltimore (UMB) President Jay A. Perman, MD, told visitors from Korea's Pusan National University (PNU) at a Nov. 26 meeting. "I have been privileged to visit Korea three times myself, and my own experience is that Americans who are fussy and difficult, they are very comfortable in Korea."
After the warm welcome, Perman and Hwan-Jung Roh, MD, president of PNU's Yangsan Hospital, discovered how much they and their universities have in common. Like UMB, PNU is located in a major city (Busan, pop. 3.5 million), includes graduate schools of medicine, law, nursing, dentistry, and pharmacy, and is affiliated with a multi-facility hospital system. And Perman and Roh themselves possess an important similarity. Roh told Perman he continues to practice medicine as an otolaryngologist two hours a week. "I do four hours a week!" Perman exclaimed, as the two laughed together and spoke of their shared commitment to clinical practice and education.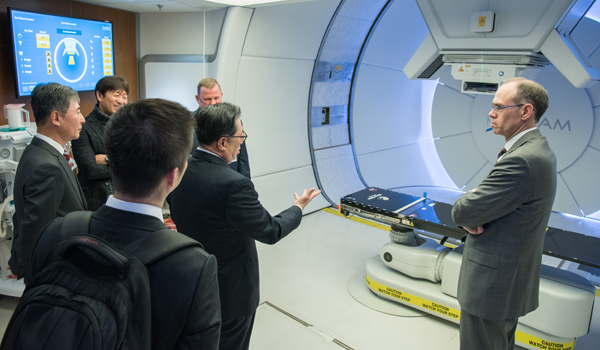 Together, the two agreed to share even more, signing a memorandum of understanding to pursue joint research and education opportunities.
Roh described for Perman and Jim Hughes, MBA, UMB chief enterprise and economic development officer and vice president, the evolution of 72-year old Pusan National University, including the addition in 2008 of the nation's first and largest "medical town," a 57-acre campus including PNU Yangsan Hospital and five other specialty hospitals — the Children's Hospital, the Dental Hospital, the Hospital of Oriental [traditional] Medicine, the Neuro Center, and the Yeongnam Regional Rehabilitation Hospital — along with educational and ancillary facilities. All told, the hospitals include more than 350 rooms with nearly 1,300 beds, treat more than 1 million inpatients and outpatients annually, and provide a wide array of specializations, from organ transplantation and cardiovascular medicine to robotic and endoscopic surgery.
"PNU is a global leader in transplantation and we see exciting areas for partnership, including cancer and trauma care," Perman said after the signing of the memorandum of understanding that formalized an agreement to seek and develop clinical and educational partnerships.
Although the visitors had traveled from Korea only the day before, they were determined to press on and tour some of UMB's most significant facilities. First stop, the R Adams Cowley Shock Trauma Center (STC), which treats more than 7,500 of the most critically ill and severely injured people in Maryland and nearby jurisdictions each year and proudly notes a survival rate of greater than 96 percent. Tara Reed Carlson, MD, RN, director of community outreach and external affairs at STC, guided the delegation. "We'll follow the path patients take," she said, starting with the helipad.
A leading cause of injury among STC patients is vehicular accidents, and many of those patients arrive via Maryland State Police Aviation Command helicopters operating from seven hangars around the state, Carlson explained. Dedicated elevators bring many patients from the rooftop or ambulance bays on the ground floor to the Trauma Resuscitation Unit (TRU) on the second floor. Ten identically equipped resuscitation bays can each treat two patients at a time. The TRU also is adjacent to six STC operating rooms. Other patients are treated in the Critical Care Resuscitation Unit, a six-bed facility that sees critically ill patients with neurosurgical, neurological, vascular, cardiac, and medical emergencies. A Lung Rescue Unit also offers comprehensive care for patients with acute cardiac and respiratory failure.
Although clearly weary from a long day of travel, Roh and his team were intrigued by Carlson's description of STC's hyperbaric chamber. More than one of the visitors gasped, "Wow!" as they entered the treatment area and beheld Maryland's only multi-place hyperbaric chamber, capable of accommodating up to 23 patients and providers at a time. The chamber, Carlson explained, is used to treat carbon monoxide and smoke inhalation sickness, gas embolism and decompression illness, enhancement of healing of certain wound issues, crush injuries, and other traumas.
Carlson also walked the group through STC's extensive training facility. "We want people to be trained in the same environment they're going to practice in," she said, starting in the fully equipped simulation lab. "Next door we have an operating room, then an ICU [Intensive Care Unit], and a step-down ... intermediate care."
Across campus at the University of Maryland BioPark, PNU visitors later received a personalized tour of the Maryland Proton Treatment Center (MPTC) from Frank Young, senior administrator of the University of Maryland School of Medicine Department of Radiation Oncology. "As a practice, we have our main academic center right across the street at the University of Maryland Medical Center," he began. "Then we have four other community-based practices at other hospitals and standalone centers throughout the state. Then we have our most recent addition, the Maryland Proton Treatment Center."
Proton therapy is the most technologically advanced radiation treatment for cancer available. A compact particle accelerator, called a cyclotron, uses powerful magnetic fields to speed up a stream of protons that are delivered as an extremely narrow beam aimed at a tumor. The proton beam destroys tumor cells without delivering harmful radiation to the surrounding tissue. "Before they [patients] are treated, they have an image taken to make sure they are in the same position. A CT scan is done so they are in the exact position, within a millimeter. All of that is done in the [treatment] room and it takes about two or three minutes," Young explained.
A new enhancement to MPTC's treatment options is thermal therapy, which uses heat to make tumor cells more sensitive to radiation. MPTC is the first center in the world to employ proton treatment and thermal therapy under the same roof. Treatment is performed under the guidance of Zeljko Vujaskovic, MD, PhD, recipient of the 2016 J. Eugene Robinson Award from the Society of Thermal Medicine for his contributions to hyperthermic oncology.
Another area of potential collaboration between UMB and PNU is the development of new technologies and therapies. Before leaving UMB, the PNU delegation made one final stop at the UM BioPark and a visit to a prime example of success in that area. Former School of Medicine professor Scott Strome, MD, and biotech entrepreneur David Block, MD, MBA, formed the privately held biopharmaceutical company Gliknik in 2007. Eleven years later, Gliknik is now a promising early-stage life science company creating new therapies for patients with cancer and immune disorders.
"We invent new drugs, cancer and immunology biologics," Block told the group. "We have a protein manufacturing shop. We do the invention, the DNA, the protein, the purification analysis, and we ship it out for further work. We have two compounds now in clinical stage and other coming back."
The visiting delegation from PNU included Dae Song Kim, MD, director of planning, Ki Seok Choo, MD, director of public relations, and Taewoo Kim, assistant manager of international relations.