Stewart Greenebaum, a prominent business and civic leader in Baltimore who dedicated much of his philanthropic work to supporting cancer research, treatment, and education, passed away on Sunday, Dec. 10, 2017. He was 82.
Funeral services will be held on Wednesday, Dec. 13, at 2:30 p.m. at Temple Oheb Shalom, 7310 Park Heights Avenue, Baltimore, 410-358-0105.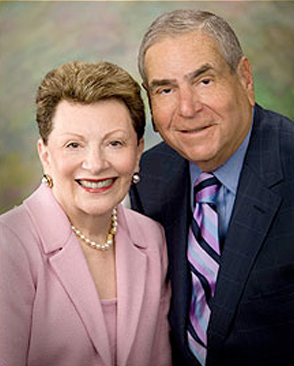 Greenebaum held several key leadership positions with the University of Maryland — including past chairman of the University of Maryland Medical System and chairman emeritus and member of the Board of Advisors for the UM Institute of Human Virology (IHV). He continued to serve as an emeritus member of the University of Maryland School of Medicine (UMSOM) Board of Visitors until his passing. His son, Michael Greenebaum, president of Greenebaum Enterprises, Inc., is an active member of the UMSOM Board of Visitors.
"Stewart Greenebaum has truly been a legendary figure for both the University of Maryland School of Medicine and UM Medical System," said E. Albert Reece, MD, PhD, MBA, executive vice president for medical affairs, John Z. and Akiko K. Bowers Distinguished Professor, and dean at UMSOM. "We are so grateful to him and his entire family for their support over the years. He was like a father figure to many of us and will be forever remembered by everyone in the UMSOM community for his leadership and legacy of philanthropic support."
"All of us at the University of Maryland Medical System are forever indebted to Stewart Greenebaum and his wife Marlene for their advocacy, stewardship, and dedication to our mission," said Robert A. Chrencik, MBA, CPA, president and chief executive officer of the University of Maryland Medical System. "Stewart was the ultimate humanitarian, philanthropist, and partner in our collective efforts to make people's lives better, and he helped us achieve that both here in Maryland and by supporting the advancement of cancer treatment and research around the world. We are all better for having known him and been touched by his remarkable spirit and generosity."
Greenebaum was perhaps best known at UM Medicine for his tireless support for cancer research, treatment, and education. He and his wife Marlene gave the founding gift for the UM Marlene and Stewart Greenebaum Comprehensive Cancer Center (UMGCCC) in 1994. From its beginnings, the mission of the center was to conduct innovative basic and clinical research to impact the understanding and treatment of cancer around the world and to provide state-of-the-art clinical care to cancer patients in Maryland and beyond.
At the time, he called the Greenebaum Cancer Center "my true life's work," and predicted that it will "still be changing lives … long after the buildings I have built have been forgotten."
The UM Marlene and Stewart Greenebaum Cancer Center received national designation as an NCI Cancer Center in 2008, then received the highest award possible in 2016 when it was designated as a Comprehensive Cancer Center, becoming one of only 48 NCI-designated Comprehensive Cancer Centers in the nation.
"None of this would have been possible without Stewart Greenebaum and the generosity of his entire family," said Kevin J. Cullen, MD, UMGCCC's director, who holds one of three distinguished professorships endowed by the Greenebaums at UMSOM: the Marlene and Stewart Greenebaum Distinguished Professor of Oncology. "He will be greatly missed by anyone who ever knew him. He was a remarkable human being and a great friend of cancer patients everywhere."
Under Cullen's leadership, the UMGCCC has grown significantly since its inception. With more than 3,300 new patients each year and $56.7 million in research funding, the center has become nationally and internationally known for its innovative discoveries for treating breast and prostate cancer. Most recently, the center expanded its basic and clinical research to include a strong population science program to help reduce disparities in cancer treatment prevention that threaten the health of minority populations. UMGCCC researchers also are pioneering stem cell- and HIV/AIDS-related cancer studies in partnership with the University of Maryland Center for Stem Cell Biology and Regenerative Medicine and the Institute of Human Virology.
Together, Stewart and Marlene Greenebaum have been among the most generous donors to University of Maryland Medicine, contributing more than $16 million in total gifts. In addition to Cullen's endowed professorship, the Greenebaums established the Marlene and Stewart Greenebaum Professorship in Radiation Oncology, held by Mohan Suntha, MD, MBA, who also is president and CEO of the University of Maryland Medical Center.
"In the history of this organization, few individuals have had such a lasting impact," Suntha said of Stewart Greenebaum. "His unwavering support of UMMC, SOM, and the entire UM Medical System helped to drive the collective successes of the past three decades. He was a great friend and mentor and will be sorely missed."
At the UMSOM, Greenebaum played an integral role in establishing the Institute of Human Virology.
"Stewart was a guiding force in recruiting my colleagues and me to the University of Maryland, Baltimore," said Robert C. Gallo, MD, the Homer & Martha Gudelsky Distinguished Professor in Medicine and director of IHV. "He helped us in so many ways with his wise counsel and his generous philanthropic contributions. His legacy will continue to live in the hearts he touched, many of which were here at the Institute of Human Virology."
In 2011, Stewart Greenebaum suffered a devastating stroke and was treated by a multidisciplinary team of stroke experts led by Barney Stern, MD, then-interim chair and professor of neurology at UMSOM.
"The care that my father received from Dr. Stern and his team at the University of Maryland saved his life," Michael Greenebaum said at the time.
During and after his father's treatment, Michael Greenebaum said the family developed a relationship with Stern and took an interest in the work he and others were performing. To recognize and support the life-saving care provided by Stern and the other physicians, they created the Stewart J. Greenebaum Professorship in Stroke Neurology. Stern was initially appointed to the professorship.
In addition to their long support of the University of Maryland, Stewart and Marlene Greenebaum founded the Marlene Greenebaum Multidisciplinary Breast Center at Hadassah University Medical Center in Israel, and Stewart was one of only five American directors of Hadassah Hospital in Jerusalem. He was a founding chairman of the American Cancer Society's Cancer Resource Network and board member of Profectus BioSciences, Inc. He also founded the Shoshana S. Cardin Jewish High School in Baltimore, and he and Marlene were founders of the Children's Hospital at Johns Hopkins.
Greenebaum also received many humanitarian awards, including the BZD Humanitarian Award and the Institute of Human Virology Lifetime Humanitarian Achievement Award, and he was named Philanthropist of the Year by the National Society of Fundraising Executives.