In a packed tent in the heart of Prince George's County, representatives from the University of Maryland Medical System and the University of Maryland School of Medicine gathered with federal, state, and county dignitaries for the official groundbreaking of the long-anticipated University of Maryland Capital Region Medical Center.
"Our groundbreaking ceremony today marks what I think is a tremendous demonstration of the power of partnership," said E. Albert Reece, MD, PhD, MBA, dean of the University of Maryland School of Medicine (UMSOM) and executive vice president for medical affairs. "Today we have realized our shared vision to be able to bring discovery-based medicine to Prince George's County and the surrounding region."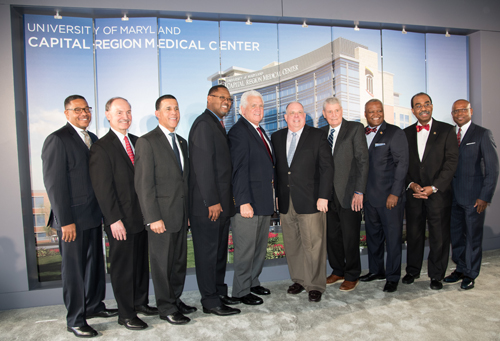 The new medical center, which is part of the University of Maryland Medical System (UMMS), is being built in Largo, adjacent to the Arena Drive exit off Interstate 495. Costing $543 million, the 600,000-square-foot facility is scheduled to open in 2021 and will bring much-needed quality health care to residents of Prince George's County.
"We will bring all the resources of our large hospital, large health system, as well as our world-renowned medical school to the county here," said Robert A. Chrencik, MBA, CPA, president and chief executive officer of UMMS. "In addition, there will be many job and educational opportunities."
In September, UMMS formally affiliated with the former Dimensions Healthcare System, creating University of Maryland Capital Region Health. The new UM Capital Region Medical Center will replace the existing University of Maryland Prince George's Hospital Center in Cheverly.
The new medical center, surrounding medical campus, and adjacent development projects will serve as a catalyst to further stimulate economic growth in Prince George's County while promoting wider access to primary and preventive care services. The facility will include:
An 11-level main patient care tower
Two roof-top helipads
205 private inpatient rooms
20-bed adult observation/short stay treatment area
45-bay emergency department
Eight operating rooms
15-bed specialty pediatric hospital operated by Mount Washington Pediatric Hospital (co-owned by the University of Maryland Medical System and Johns Hopkins Medicine)
The project also is slated to include an ambulatory care center and medical office space.
The newly formed UM Capital Region Health is focused on several strategic priorities, including:
Expanding access for primary/community care, specialty care, and other health care services to the region to reduce health care disparities and improve health statuses.
Facilitating investment in outpatient practices and health education programs to manage chronic diseases.
Broadening access to discovery-based medicine.
Attracting residents of Prince George's County and the Southern Maryland region who now receive care from hospitals outside of the county.
"Despite some, let's say, 'spirited' negotiations, I am pleased that we are finally able to get this vital project underway," Gov. Larry Hogan said at the groundbreaking. "Now … more than 1 million people … will finally get the hospital they deserve, and they will have access to some of the best doctors, nurses, and health care professionals in the entire world."
At the groundbreaking, Reece touched on several of the specifics the new medical center will offer, including cancer treatment, cardiac services such as repairing congenital heart defects in infants and children, and a neurodegenerative program to treat everything from Alzheimer's to autism.
"We are very excited about this day," Reece said. "We believe this state-of-the-art facility at UM Capital Regional Medical Center is critical to our enterprise, but most importantly it is an incredible asset for the citizens of Prince George's County."
Other dignitaries at the event, which was emceed by Charlene Dukes, president of Prince George's Community College, included U.S. Reps. Steny Hoyer and Anthony Brown, Speaker of the House of Delegates Michael E. Busch, State Senate President Thomas V. Mike Miller, Prince George's County Executive Rushern L. Baker, along with representatives from UMMS, the University of Maryland, Baltimiore, and UM Capital Region Health.
"A new period of high-quality, university-based health care is here, and this new, modern, state-of-the-art medical center will be a shining star we can all be proud of," said Bradford L. Seamon, chair of the UM Capital Region Health Board of Directors.