Seeking firsthand knowledge of how a Community School helps its students and their families, members of Congress and others from congressional offices participated in fact-finding tours that explored the role of the University of Maryland, Baltimore (UMB). They visited The Historic Samuel Coleridge-Taylor Elementary School (HSCT), located in Upton/Druid Heights.
The West Baltimore neighborhood, among the poorest in Baltimore, is the focus of Promise Heights, a UMB initiative led by the School of Social Work (SSW). It brings together government, faith-based, and nonprofit partners such as the Family League of Baltimore, which sponsored the tours to showcase the work of Community Schools.
View a photo gallery.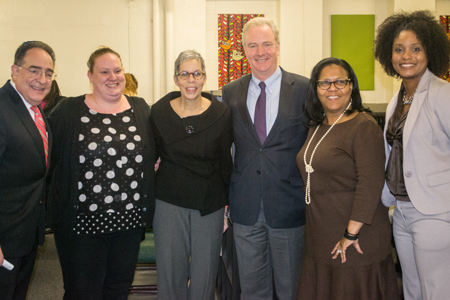 U.S. Rep. Chris Van Hollen of Maryland's 8th District visited on Dec. 4, and U.S. Rep. Karen Bass of California's 37th District visited on Dec. 14. She was accompanied by observers from the office of U.S. Rep. Terri Sewell of Alabama's 7th District and the offices of several members of Maryland's congressional delegation, including Van Hollen; U.S. Rep. Elijah Cummings, 7th District; U.S. Rep. Donna F. Edwards, 4th District; and U.S. Rep. C.A. "Dutch" Ruppersberger, 2nd District.
Their visits came in the same month that Congress passed the Every Student Succeeds Act (ESSA), which President Obama signed into law Dec. 10. The act includes the Full Service Community Schools Program and goes into effect for the 2017-18 academic year. Henriette Taylor, MSW, LGSW, the Community Schools coordinator at HSCT, testified earlier this year in Congress about the need for a Community Schools component when the Senate Health, Education, Labor and Pensions Committee held hearings on how best to replace ESSA's predecessor, No Child Left Behind.
The timing of Van Hollen's visit also fell in the same week as a presentation by UMB President Jay A. Perman, MD, on the effectiveness of university-assisted Community Schools. Perman spoke on Dec. 3 at the Netter Center for Community Partnerships in Philadelphia and participated the next day in the briefing at HSCT.

"I've heard a lot of good things about the school and the program," said Van Hollen, referring to HSCT and the Community Schools wraparound services provided through Promise Heights. He said the visit was intended "to learn about what's working."

Perman replied in his dual role of university leader and physician. "Most of you know I'm a pediatrician. This is all about children," he said. Noting that Congress is "a great supporter of children," he expressed gratitude, saying "your support is very important to us."
Referring to the conference, attended by representatives of both colleges and nonprofit organizations, Perman said he had shown pictures of "this school, this playground, these kids" during his remarks the day before. Appearing on a panel, he had shared several lessons learned to enhance relationships in university-assisted Community Schools. One lesson is not to take over but to partner. "For instance, schools and teachers are the experts in educating students. At UMB, we can't teach a third-grader to read proficiently, but we can remove the barriers that prevent reading success."

HSCT principal Bettye Adams acknowledged the benefits of the Community Schools partnership during the briefing. "This is a model that works; we boast about it," she told Van Hollen and several aides who accompanied him.

Baltimore's Community and School Engagement Strategy is a partnership of the Family League, Baltimore City Public Schools (BCPS), and the Mayor's office, which brings together a wide range of resources to help students overcome barriers to achievement. BCPS was represented by, among others, Sonya Goodwyn, executive director, principal support. The Family League was represented during both of the visits by Julia Baez, senior director of initiatives, and on Dec. 14 by Jonathon Rondeau, president and chief executive officer.

The SSW operates five Community Schools in Upton/Druid Heights, which Promise Heights executive director and SSW assistant dean Bronwyn Mayden, MSW, noted is a federally designated Promise neighborhood. Partners include other schools at UMB such as the schools of nursing, dentistry, and medicine. The goal is to provide services that reach from cradle to college and career.
Mayden also pointed to the effectiveness of B'more for Healthy Babies, an initiative with the Baltimore City Health Department that has greatly reduced infant mortality. At the next step, families of infants and toddlers learn parenting skills at Parent University, which graduated its most recent cohort of families on Dec. 15. The congressional visitors heard one strategy is to employ peers from previous "Parent U" classes. Among other things, that promotes family engagement, a positive behavior when the children enter public schools.

Promise Heights program director Rachel Donegan, JD, spoke about services for older children, including teens who are mentored at Renaissance Academy, a high school that has experienced several crises during the fall.

In those and other matters, the faith-based partners are key players. They were represented at the Dec. 4 briefing at HSCT by Rev. Dr. S. Todd Yeary, senior pastor of the Douglas Memorial Community Church, and by Rev. Dr. Alvin C. Hathaway Sr., senior pastor of Union Baptist Church, who is chair of the Promise Heights Advisory Board.