"You begin your careers at a time when nursing offers unparalleled possibilities," University of Maryland School of Nursing Dean Jane M. Kirschling, PhD, RN, FAAN, told the school's December 2015 graduates at a Dec. 14 ceremony at Baltimore's Hippodrome Theatre.
"This afternoon is a moment in time when we are celebrating the accomplishments of our BSN, Masters, DNP, and PhD students who have completed their degree requirements," she said. "In addition, we must take a moment to acknowledge and celebrate one of our baccalaureate graduates, Terri Goodman, who died unexpectedly on Nov. 24, 2015."
Goodman died after spending that morning performing clinical work at Our Daily Bread, an organization that provides hot meals, and employment and health services to homeless Baltimore residents.
Kirschling asked Goodman's fiancé, Chris Burgess, to the stage to receive her diploma from University of Maryland, Baltimore President Jay A. Perman, MD, adding, "Terri's classmates and the School of Nursing faculty and staff offer their heartfelt sympathy to Terri's family."
Perman then conferred degrees to the rest of the class, including 176 Bachelor of Science in Nursing degrees, 112 Master of Science degrees, 11 Doctor of Nursing Practice degrees, and two Doctor of Philosophy (PhD) degrees.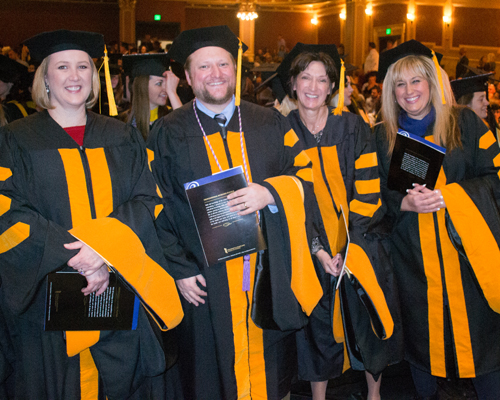 Graduation speaker Deborah Trautman, PhD, RN, chief executive officer of the American Association of Colleges of Nursing, exhorted the graduates to "focus on the goal of lifetime learning."
"Always strive to know more, to learn more," she said. "Dare to imagine what can be and work to make that happen."
Photos from the University of Maryland School of Nursing December 2015 graduation ceremony in Baltimore may be viewed here.