C. Daniel Mullins, PhD, professor and chair of the Department of Pharmaceutical Health Services Research (PHSR) at the University of Maryland School of Pharmacy, has received a contract from the Patient-Centered Outcomes Research Institute (PCORI) to design continuous processes for researchers and health care professionals who seek to engage patients in key aspects of the research process.
The three-year, $1.2 million project is based on Mullins' 2012 publication in the Journal of the American Medical Association, which detailed a 10-step patient and stakeholder framework that he developed to guide a continuous process of engaging patients in co-developing research studies to make comparative effectiveness research more patient-centered.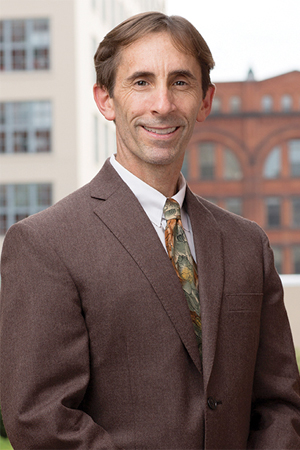 "Though organizations like PCORI have made progress in advancing PCOR methods, there are still gaps in the methodology for consistently and effectively incorporating the patient voice in the design, conduct, and dissemination of PCOR studies," says Mullins.

Through the contract, Mullins and his team will provide guidance to PCOR researchers across the United States on which set of patient engagement methods they should use throughout their PCOR studies and which resources are required to achieve meaningful and sustained engagement. The end goal is to guide potential refinements of PCORI's patient and stakeholder engagement rubric.
"In recent years, PCORI and other research groups have developed guidances and rubrics to advance and promote patient and stakeholder engagement in research," he says. "We want to expand on that work by further delineating which evidence-based strategies for engaging patients and the public will assist in making PCOR authentically and respectfully patient-centered."

Through an interactive and collaborative process with a stakeholder advisory board of patients, advocates, decision makers, and researchers, Mullins and his research team aim to create a patient engagement translation table (PETT), which will serve as a tool for other PCOR researchers to compare their patient engagement efforts against Mullins' published 10-step framework. The framework is currently used by all investigators who are supported by the Patient-Centered Involvement in Evaluating the Effectiveness of Treatments (PATIENTS) program, which is an initiative of University of Maryland: MPowering the State.
PATIENTS, a PCOR infrastructure-building program housed at the University of Maryland, Baltimore, is funded by the Agency for Healthcare Research and Quality. The PETT will map each step of the research process with a particular method of engagement via a series of cards.

"The card mapping activity, which has been translated into Spanish, is a particularly innovative and interactive way of getting patients to open up and share what would get them engaged as advisors to a PCOR project," says Mullins. "However, the PETT also will be informed by an extensive literature review overseen by an expert reference librarian as well as input from interviews with a wide range of patients, PCOR experts, and other stakeholders."
"We are relying on the input and advice of our stakeholder advisory board to help us think through how we can shape the PCOR process to make it most accessible to patients," adds Eleanor Perfetto, PhD, professor in PHSR and a member of the project team. Perfetto, one of the architects of the PETT, says that it will evolve based on feedback from the advisory board and the series of qualitative interviews that will be conducted. Members of the project's stakeholder advisory committee also will have key roles in thinking through the best, most effective ways of sharing information with minority groups, and in making sure that the information shared is crafted in a culturally sensitive way.

According to Mullins, the ultimate goal of the project is to create a resource of lasting value for current and future generations of PCOR researchers. "We want to build on the idea of sustainability that is driving the work of the PATIENTS program and PCOR at the University of Maryland and provide mechanisms by which other PCOR researchers at other institutions can do the same," he says.