"Kevin has a headache," 13-year-old Kennard Harvey joked as he proudly held up an anatomically correct model skull he put together during Planet Smilez Discovering Dentistry Camp, a weeklong interactive dentistry program held in July for Baltimore City middle schoolers to learn about oral cancer and prevention as well as the oral health professions.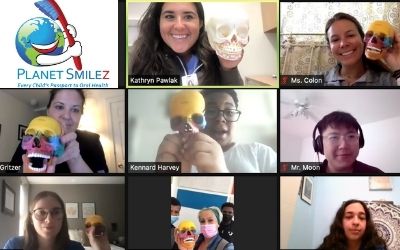 It was the third day of camp, and he was feeling giddy after painstakingly assembling the detailed 4D skull alongside his virtual camp teammates who named themselves the Flossy Posse.
Flossy Posse, Acid Attack, and Plaque Attack were the team names chosen by campers — a mix of University of Maryland, Baltimore (UMB) CURE Scholars and other Baltimore City students who worked for a week under the careful guidance of University of Maryland School of Dentistry (UMSOD) student volunteers and faculty to diagnose oral cancer cases and have fun doing it.
Now in its fifth year, the camp is a joint project involving Planet Smilez Inc., a nonprofit dedicated to oral education founded by Kathryn Pawlak, DDS '19; the CURE Scholars Program; and UMSOD.
The Planet Smilez camp is a reflection of Pawlak's passion for educating young people about oral health. For the second year in a row, she has led the camp virtually from Buffalo, N.Y., where she recently completed her pediatric dental residency at John R. Oishei Children's Hospital.
"I am 100 percent committed," Pawlak said. "I made a commitment to UMB, the CURE Scholars, and the Baltimore community to improve oral health care when I started dental school. Now as a graduate, my partnership with the community is very involved. It comes from my heart."
All week, campers were introduced to the basics of oral health through a series of speakers, discussions, and hands-on activities: how long to brush and how much toothpaste to use, as well as more advanced topics like maxillofacial anatomy and how to identify oral cancer.
"Most importantly, [Planet Smilez] cultivates ambition and academic potential by encouraging a career in the field of dentistry," said TaShara Bailey, PhD, MA, director of programs and STEM curriculum for UMB CURE.
New this year was tobacco cessation programming led by Arielle Juberg, MPH, project coordinator, Prevention and Health Promotion Administration, Maryland Department of Health.
Also new were daily sessions about the social determinants of health led by UMSOD clinical assistant professors Andrea Morgan, DDS, MS, and Darien Weatherspoon, DDS, MPH.
"Many of you will have careers in health care," Weatherspoon counseled scholars after explaining how health inequities affect communities. Education, transportation, housing, "these things are important to think about when you're treating your patients in the future," he said.
CURE Scholar Savannah Glanville agreed that health outcomes can be based on your ZIP code. "Neighborhoods that have good health are usually richer," she said during the group discussion.
The week ended with each team presenting dynamic oral cancer case reports. Each day campers diligently studied a real case with the help of UMSOD student mentors in preparation for a PowerPoint presentation of their work during closing ceremonies.
"I think you hit the nail on the head. I can't say how impressed I am," said Donita Dyalram, DDS, MD, FACS, when Flossy Posse correctly identified a photo of a lesion on a 60-year-old male patient's lip as squamous cell carcinoma.
Dyalram, residency program director, Oral and Maxillofacial Surgery, at UMSOD and an expert in oral malignancies, carefully critiqued each group's conclusions while offering suggestions and praise. "Flossy Posse, Acid Attack, Plaque Attack, you guys took a tough topic and did a wonderful job with it," she told the scholars, thanking them for their hard work.
While the scholars were the stars of the show, the dedicated volunteer dental and dental hygiene student educators played an enormous role by sharing their education journeys and guiding scholars through challenging material.
Lauren Gritzer, MPH, a fourth-year dental student who along with second-year students Karen Abboud and Jade Bravo served as a student educator for Plaque Attack, said it's gratifying to take part in a program introducing dentistry to young people in West Baltimore. "A lot of the stuff we're teaching these middle schoolers, I didn't learn until high school," she said, chuckling.
On the final day, Mark A. Reynolds, DDS, PhD, MA, dean and professor of UMSOD, told scholars he hoped the Planet Smilez camp had opened their eyes to a career in dentistry. He encouraged them to keep working hard and to continue to pursue STEM education. "I hope that we will see you at the dental school throughout your middle and high school years, in college, and as future dental and dental hygiene students," he said.