The University of Maryland, Baltimore's (UMB) Live Near Your Work (LNYW) program is capitalizing on its success by expanding into two neighborhoods with historic significance: Druid Heights and Heritage Crossing.
The program, which is entering Phase 2, offers UMB employees assistance with down payments and closing costs on newly purchased homes in designated areas. UMB contributes $16,000 per eligible participant as a commitment to its surrounding communities, while the city of Baltimore will offer a matching grant of up to $2,500 for those who are eligible.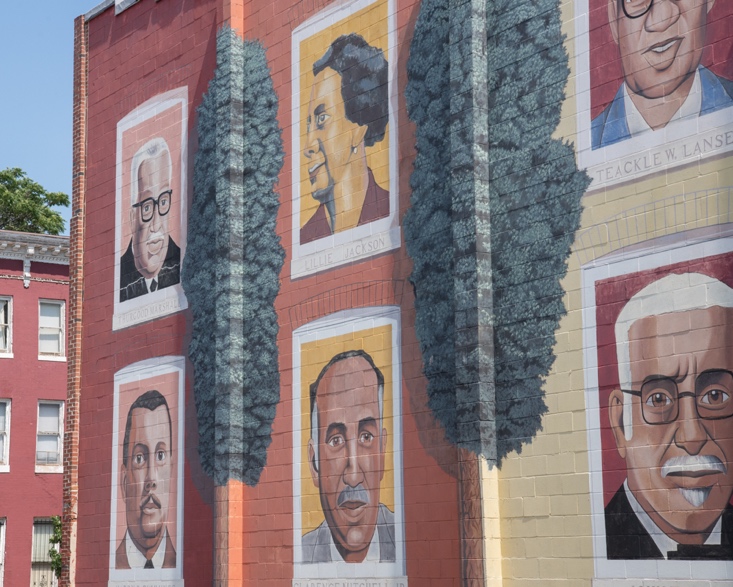 Emily Winkler, MS, benefits manager, Human Resources, and LNYW Program coordinator, said the two new neighborhoods, which are walkable and close to campus, meet the mission of the program.
"We decided to expand based mainly on interest on campus. We wanted to offer more to our employees, so we created an application for neighborhoods to apply. There were guidelines that they had to meet to be part of our program," she said.
(Learn more about the LNYW program.)
From early 2018 through June 2020, the program has helped 44 employees to purchase homes in the eligible neighborhoods in Southwest Baltimore, with three others in the pipeline, meaning nearly half of LNYW's initial $1.5 million subsidy has been expended. The average purchase price has been $193,000.
The other seven neighborhoods are Barre Circle (one home purchased), Franklin Square (one), Hollins Market (10), Mount Clare (one), Pigtown/Washington Village (29), Poppleton, and Union Square (two).
Demetrius Shambley, MS, senior facilities planner, Office of Real Estate, Planning, and Space Management, who also serves on the LNYW committee, purchased a rowhome last August in Pigtown through the program.
"Homeownership was always something that was important to me," said Shambley, who walks to work. "I think looking at the availability within the city, particularly within the neighborhoods that were close to campus, it just really added to my interest to want to buy. I just felt it was the right time. You couldn't beat the grants that were being offered, so it just was the perfect opportunity."
To be eligible, you must be a regular full- or part-time (50 percent FTE or more) faculty, staff, or postdoctoral fellow employee in good standing. Participants must contribute a minimum of $1,000 toward the down payment, prove creditworthiness, and complete a homeownership counseling program.
"Since the pandemic, I haven't seen a decrease in inquiries. If anything, I'm seeing more people because interest rates are low," Winkler said. "I've had people reaching out wanting to take homeownership counseling appointments; it's still pretty steady.
"I'm really excited to announce the two neighborhoods. I think employees wanted more options."
Here's a look at the two communities added to the list of targeted neighborhoods:
Druid Heights
The residential neighborhood of Druid Heights has a rich history.
The community, which is on the National Register of Historic Places, boasts large, three-story Victorian-style rowhomes that have up to five bedrooms, with new construction in the Baker's View Development. The median home purchase price is $29,000, according to Live Baltimore, with estimated mortgages of $198. Almost 30 percent of residents in the community own their homes.
Druid Heights, which is roughly bordered by North Avenue, Pennsylvania Avenue, Madison Avenue, and Laurens Street, is walkable and close to Druid Hill Park. It is commuter-friendly with easy access to Metro stations and Pennsylvania Station.
The neighborhood is a cultural and arts treasure as well with its proximity to Pennsylvania Avenue. It was once home to jazz legend Cab Calloway, and there are plans to create a 2.7-acre park named Druid Heights Cab Calloway Legends Square. Other famous former residents include Supreme Court Justice Thurgood Marshall and legendary singer Billie Holiday.
The nonprofit Druid Heights Community Development Corporation (DHCDC) has been working in the community since 1990. Its mission is to encourage and promote community self-empowerment through the development of economic, educational, employment, and affordable housing opportunities.
The community center, which is housed in a restored historic fire station, operates year-round and holds monthly community meetings; HUD Certified Housing Counseling Services and first-time homebuyer sessions; and after-school programs for children that include tutoring by a certified teacher and a six-week summer camp program.
The residents also participate in Last Friday Movie Nights in community parks and playgrounds, a Green Thumb Club whose members are committed to environmental stewardship and repurposing vacant lots, and a Pastors' Roundtable.
"Homeowners in the community feel that they are in a place where there is great community pride, unity amongst the residents, and an intentional plan to build and restore affordable high-quality housing," DHCDC said.
Heritage Crossing
Nestled on 32 acres, Heritage Crossing is a mixed-income townhouse development that was completed in 2003. The family- and senior-friendly neighborhood boasts a historic gazebo as its community gathering place.
The suburban-like community is walkable with easy access to the UMB schools and downtown locations such as the Inner Harbor, Oriole Park at Camden Yards, and M&T Bank Stadium.
The neighborhood features 260 attached and semi-detached townhomes and apartments. The median home purchase price is $144,500, according to Live Baltimore, with an estimated mortgage of $986. Thirty-six percent of residents own their homes.
The neighborhood is 10 minutes from both Penn Station and Charles Center and is roughly bordered by Martin Luther King Jr. Boulevard, Druid Hill Avenue, West Mulberry Street, Fremont Avenue, and Hoffman Street.
The centerpiece of the neighborhood is its historic gazebo located in Perkins Spring Square Park. The octagonal, cast-iron gazebo was built in 1871 as a spring shelter. "The reputedly medicinal spring flowed at the rate of 60 gallons per minute and was one of the numerous early Baltimore natural springs," according to the Baltimore National Heritage Area. The gazebo is on the U.S. National Register of Historic Places.
The neighborhood's community group, Heritage Crossing Residents Association (HCRA), said that the LNYW program will be a boon to stabilizing homeownership in the community.
"Generational wealth and stability can be obtained through homeownership in a community where we all work toward improving outcomes," HCRA said. "Participation in the UMB LNYW program will also give HCRA and the surrounding community an opportunity to have a meaningful shot at the American Dream for generations to come."