On a warm and sunny Friday afternoon, the University of Maryland, Baltimore (UMB) campus was quieter than usual. Due to restrictions put in place by the novel coronavirus (COVID-19) pandemic, students were learning from home and the majority of faculty and staff were teleworking. The campus was a ghost town with the exception of 200-plus essential employees who remained on-site.
"These essential employees are the backbone of the University," said Denise Meyer, the associate director of Environmental Services at UMB. "They're the main support for critical missions and functions keeping UMB operational during this time."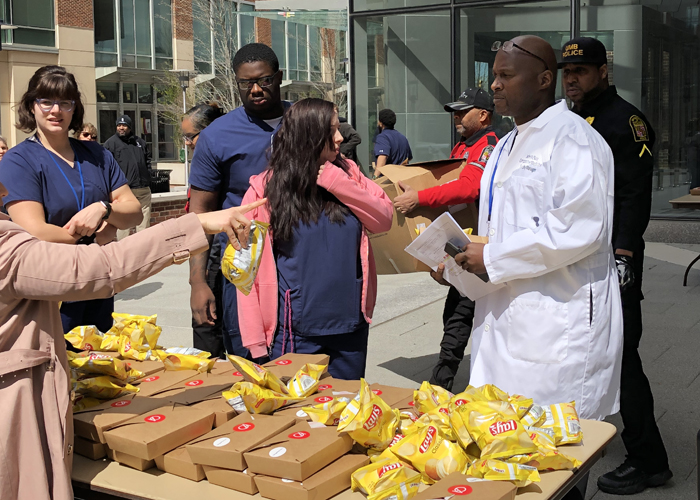 These dedicated employees include Police and Public Safety, Vet Services, Parking and Transportation, Custodial Services, Facilities and Operations, Payroll, Procurement, and many more. Many of them are working in minimum-wage jobs and in extreme conditions. With the closures of local restaurants and food venues, there is nowhere for these vital workers to eat during work hours.
As a thank you for their hard work during this time of crisis, UMB launched the Food for Our Front Lines program. The mission of the program is to provide free lunches for UMB employees who must remain on campus to perform essential operations and keep the University's assets safe for the duration of the COVID-19 pandemic.
(View a photo gallery.)
The first order of lunches was delivered to UMB's Health Sciences Research Facility III on Friday, April 3. Essential employees from multiple departments kept a 6-foot distance from one another as they gathered to pick up their free meals.
(View a video below.)
"This really touches our soul because at one point in time we didn't think anybody cared," said Ida Powell, a custodian at UMB. "We felt like all anybody cared about were the nurses and doctors. They're doing really great work keeping people healthy, but we're also here making sure that everything is clean and safe for those nurses and doctors to do their jobs. It feels really awesome to be appreciated in this way."
All of the lunches for the Food for Our Front Lines program are catered by local businesses in the West Baltimore area. Thanks to community partnerships fostered by UMB's Office of Community Engagement, UMB identified six local restaurants to order from: Culinary Architecture, Neopol Savory Smokery, Primo Chicken, Ruben's Mexican, Taco Town, and Zella's Pizzeria.
The meals ordered for the Food for Our Front Lines program are providing much-needed support to these locally owned businesses as they try to remain open and operational during this pandemic. These merchants not only provide vital services to West Baltimore residents and the greater UMB community, but they also provide employment for many.
"Right now, all food businesses are trying to figure out how to stay busy and generate income," said Dorian Brown, the co-owner of Neopol Savory Smokery. "The combination of UMB coming through with these sizable orders and a really loyal customer base has really helped keep the staff working and making delicious food."
Each boxed lunch costs about $12.50 and includes a sandwich or salad, chips, and a cookie or dessert bar. To keep this program going through the pandemic, UMB put out a call for donations on April 1 to pay the local businesses for their services. So far, the program has received over 200 donations, including one generous donation of $10,000 from new UMB Foundation (UMBF) board member Pete Buzy and his wife, Eileen. Those donations, coupled with the money provided by UMBF, bring the total funding for the Food for Our Front Lines program to nearly $39,000. This will provide upwards of 3,000 lunches to UMB's essential employees.
"We plan to give out lunches for as long as we have funding to do it, so the donations really count," said Meyer, who helped to organize the Food for Our Front Lines program. "The more donations we get, the more often we can provide lunches throughout this pandemic."
In addition to monetary donations, some local restaurants provided food free of charge. Jersey Mike's is donating over 100 sandwiches to the Food for Our Front Lines program.
The next food delivery to UMB is scheduled for Wednesday and Thursday, April 8-9. If you would like to make a donation to the Food for Our Front Lines program, visit www.umaryland.edu/giving/frontline.