The Grid Pitch is on and it's online, organizers say of the popular spring showcase of student entrepreneurship and innovation that takes place at the Graduate Research Innovation District, also known as the Grid.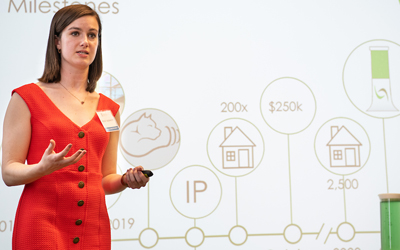 The annual showcase, now in its third year, gives University of Maryland, Baltimore (UMB) students across all disciplines the opportunity to pitch their innovative business ideas to a panel of experts and investors in the entrepreneurial community.
Jim Kucher, DPA, MBA, program director for the M.S. in Health and Social Innovation and senior lecturer in The Graduate School, acknowledged the stark reality of the COVID-19 pandemic but resolved to move forward with Grid Pitch in an adapted form. "Education doesn't come to a halt; learning doesn't come to a halt," he said. "We're still here, keeping the flame alive."
"Now more than ever is a time to celebrate student innovators," added Taylor DeBoer, MA, marketing and operations specialist at the Grid. "We have a massive global challenge right now that we need to solve."
This year's 12 participants receive six weeks of coaching from experienced members of Maryland's business community. In addition to unparalleled access to seasoned guidance from mentors, Grid Pitch teams also share seed capital provided by UM Ventures upon completion of the program.
In normal times, pitches are held after a lively networking reception in the electric atmosphere of the bustling, not-at-all socially distant Grid. The audience is filled with students, entrepreneurs, and faculty eager to hear the ideas of UMB's aspiring entrepreneurs.
This year things will be ... different.
Due to a Universitywide shift to remote instruction, instead of pitching to a live audience, teams will prerecord their pitches using VoiceThread, an online video sharing education tool.
For participants, the change offers an advantage — video of their presentations will live permanently on YouTube and the Grid's website for use as potential marketing material.
According to Kucher, another advantage of a virtual Grid Pitch is that students will have the opportunity to hone their business pitches with practice and feedback. Teams can edit their presentations to perfection before posting them by the May 1 deadline, eliminating the chance of a live flub or technology failure.
"Maybe we'll miss some of the excitement" of an in-person event, DeBoer said. "But ultimately, this is really about the mentorship and opportunities" that come from participation.
This year's mentors represent a wide swath of the Baltimore business universe ranging from law to biotech to higher education.
In lieu of face-to face meetings, teams are regularly consulting with their assigned advisors over virtual meeting programs like Zoom, email, and even the seemingly low-tech telephone.
Deborah Tillett, MBA, president and executive director of Emerging Technology Centers (ETC) and a former computer gaming executive, is one of six Grid Pitch mentors. After more than 30 years in roles from startup to management, she's seen the highs and lows of being an innovator. "Being an entrepreneur is hard," she counseled her mentees. "Every day is something new and challenging and sometimes the path gets jumbled up, like right now."
Despite the hurdles, now is the perfect time for innovation, Tillett said. "There's nothing to lose if you decide to move forward with an idea you've always had a passion about," she said.
Eligible teams must include at least one current or aspiring UMB student and have a proposed business idea in the biotech, life science, health tech, public health, or social entrepreneurship fields. The teams are split into two participation tiers, Vision and Venture, based on their project's stage of development.
Developed three years ago by Jenny Owens, ScD, MS, assistant dean of the Graduate School and executive director of the Grid, Grid Pitch is an event that seeks to spur innovation rather than strict competition. This year, just as in years past, the teams will equally share seed capital based on their tier.
The seed funds are provided by UM Ventures, a joint initiative of the University of Maryland Strategic Partnership: MPowering the State, which brings UMB and the University of Maryland, College Park together to commercialize discoveries and create economic impact by engaging in industry and social ventures.
Grid Pitch presentations will go up on the Grid website on May 1. RSVP to receive a link when the presentations are live.