Dozens of families in West Baltimore involved in the University of Maryland, Baltimore (UMB) Police Athletic/Activities League (PAL) Program received a special care package on April 15. Borndavid McCraw, PAL Program coordinator at the UMB Community Engagement Center (CEC), spent the afternoon packing boxes and delivering them to the doorsteps of 30 families.
(View a photo gallery.)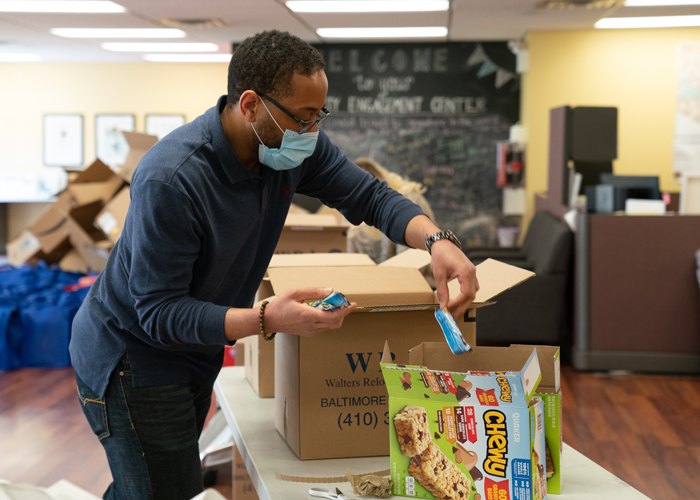 With many businesses in the area shut down because of the COVID-19 pandemic, these care packages serve as an essential resource to West Baltimore neighbors during an uncertain time.
(View a video below.)
"Things aren't easy to get right now and it's also dangerous to be out and about," McCraw said. "By making these deliveries, we're relieving that anxiety of going out and shopping. It helps to make sure that each family has what they need. It also reminds them that we are here to be a support to them and we're really an extension of their family."
All of the packages were donated to the CEC by John Walter, the owner of Baltimore moving company Walter Relocations, Inc. Each one included paper towels, toilet paper, soap, pencils, journals, water, small toys, and snacks.
McCraw loaded all the packages into one of the PAL Program vans and personally delivered them to each of the families. With each delivery, a family member came to the door and McCraw gave them a warm wave and a happy "hello" from across the street.
"We're keeping a 6-foot distance when we deliver the packages, so we're just doing a 'ding-dong and drop,' " McCraw said. Before heading out with the packages, he made sure to call each family to let them know he would be delivering them between 1 p.m. and 3 p.m. "After I ring their doorbell, I step away from the door and watch to make sure someone receives it."
Social distancing rules put in place because of the COVID-19 pandemic recommend individuals remain in their homes and stay 6 feet away from others if they need to go out. While these rules are in place, the UMB PAL Program is still hosting afternoon programming to keep the children engaged. Rather than meeting in person, they are meeting virtually using Zoom videoconferencing software.
"It's definitely helpful for me to see their faces," McCraw said. "There are simple routines that we have in the PAL Program that we don't want to lose a grip on while we're in isolation. This way we can maintain some normalcy by checking in, helping with schoolwork, and doing fun activities."
McCraw says that continuing to meet regularly with the PAL children will help to prevent learning loss and also will give them a sense of community while they are stuck at home away from their friends.
"I've noticed throughout my check-ins that some of them are starting to feel the monotony of the day and their spirits are a little low," McCraw said. "Delivering these care packages makes me feel good to be able to give them something that I know will brighten their day."
Outside of the PAL Program, the CEC has been working to distribute essential supplies like diapers, formula, non-perishable food, and cleaning supplies to other community members in West Baltimore.
"Even though the center is closed, our arms are still open," McCraw said.