Members of the University of Maryland, Baltimore (UMB) faculty and students alike were given the opportunity to showcase exemplary aspects of their work during a meeting of the University System of Maryland (USM) Board of Regents on April 19.
At the meeting, which was hosted by UMB, the board honored 16 recipients of the 2019 USM Regents' Faculty Awards from throughout the system. Six UMB faculty members are among the honorees. The meeting also featured a presentation by two UMB students who gained experiences abroad through the UMB Center for Global Education Initiatives.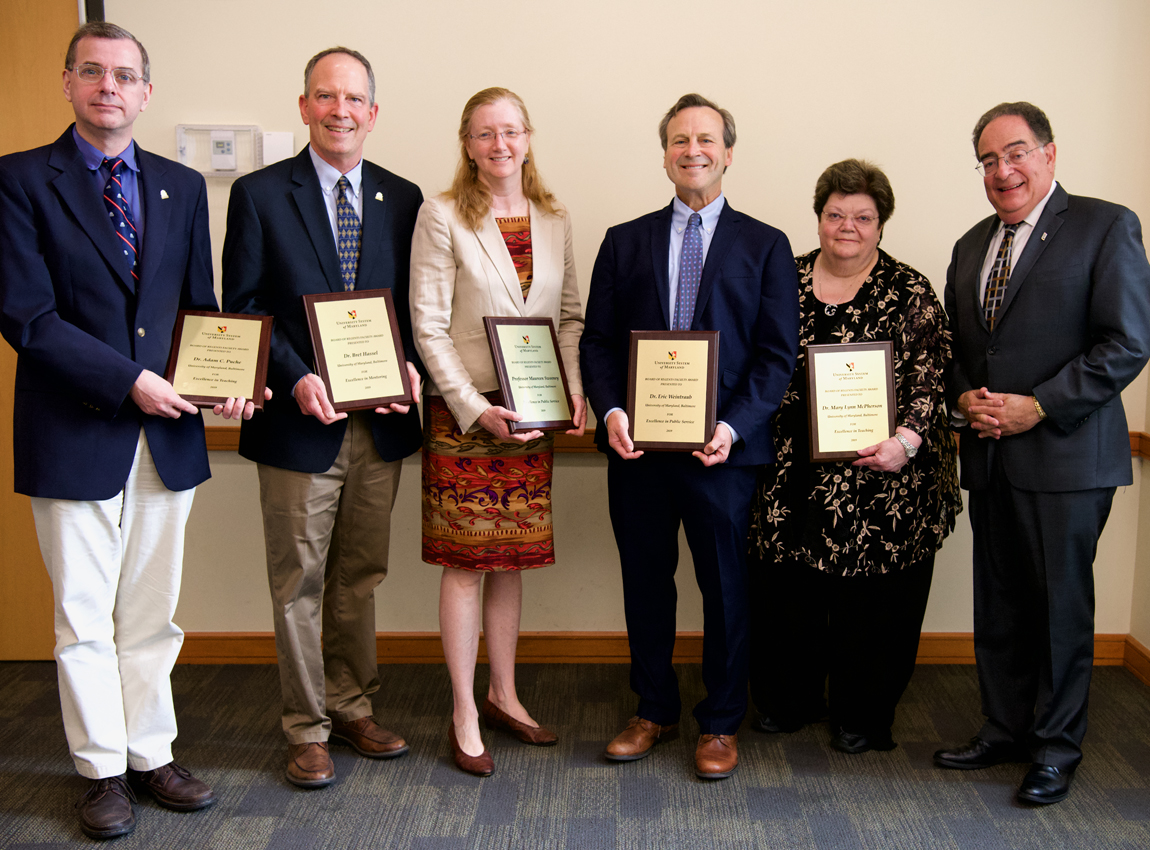 In welcoming the regents, President Jay A. Perman, MD, described the University's work around the world as increasingly vital. He cited as one example the 18-nation footprint of the Center for Vaccine Development and Global Health (CVD) at the University of Maryland School of Medicine (UMSOM).
"What centers like CVD have taught us is that we have deep capacity at UMB to influence health, well-being, and justice on the global stage," Perman said. At the same time, more of UMB's students must be able to access international opportunities. The center makes it possible for them to do so while placing their efforts in a global/local framework.
"I know for a fact that the U.S. hasn't cornered the market on good ideas," said Perman, going on to observe that vulnerable populations here and elsewhere have many things in common. "And I know for a fact that the more we can learn with and from each other, the better off we'll be." He said grants funded though the center require students to describe how they will link their work overseas to their work here later.
Suhani Chitalia, a third-year student at the University of Maryland Francis King Carey School of Law, told the regents how she had worked with a law school in Malawi to help create an environmental justice plan in a community that depended on a lake for its livelihood. She plans to work in environmental law in the Chesapeake Bay region.
Michael Sikorski, a UMSOM student in the joint MD/PhD program in Molecular Microbiology & Immunology (MMI), made three visits to Chile to create and manage a data management system for a typhoid study for the CVD. He is in the midst of four visits to establish a microbiology laboratory, among other things, in Samoa. Once back in Baltimore to complete his dual degrees, Sikorski said he expects to rely on "competitive skill sets that can be acquired uniquely from immersive international education."
Board Chair Linda Gooden thanked the students and commended the recipients of the Regents' Faculty Awards. "Our faculty members are at the heart of USM's status as a nationally recognized system of educational excellence, dynamic research, meaningful impact, and community service," she told the group.
The awards are the highest honor presented by the board to exemplary faculty members, and each one carries a $2,000 prize provided by the institutions and the University System of Maryland Foundation. Gooden and USM Chancellor Robert L. Caret presented the awards.
In an April 19 release, the USM announced the honorees in four categories: excellence in scholarship, research, or creative activity; in teaching; in public service; and in mentoring. Among the 2019 winners, UMB faculty members were represented in three of the four categories.
FOR EXCELLENCE IN TEACHING: The UMB winners are Mary Lynn McPherson, PharmD, MA, BCPS, CPE, professor and executive director of advanced postgraduate education in palliative care in the Department of Pharmacy Practice and Science, University of Maryland School of Pharmacy (UMSOP); and Adam Charles Puche, PhD, professor of anatomy and neurobiology at UMSOM.
A gifted educator, McPherson also is a leader in creating, diffusing, and enhancing pain management and palliative care tools and resources, for both students and health care providers. Her insights have revolutionized teaching and reach well beyond the UMSOP and the university into the global arena. She teaches extensively in the Doctor of Pharmacy — or "PharmD" — curriculum on pain management and end-of-life care. She also developed one of the first palliative care pharmacy residencies in the nation and led efforts to develop pain management and palliative care traineeships for national professional organizations. In addition, McPherson developed and launched an online graduate program in palliative care that reaches a wide range of health care professionals, including physicians, nurses, therapists, chaplains, and others.
Since joining the university in 1996, Puche has worked to strengthen UMSOM and UMB teaching in graduate and medical education. He is involved in three areas of teaching: course leadership and scholarship, directing several major courses; direct teaching, including lectures, labs, and small group instruction; and mentorship, working in support of his students. In 2010, Puche volunteered to take on a critical teaching role with the labor-intensive "Structure and Development," a pivotal first-year medical course integrating gross anatomy, histology, and embryology. The course represents 30 percent of a student's first year, essentially beginning the process of turning college students into medical doctors. He also has redesigned the course to be more modern and digital, working with each lecturer to modify their materials to fit the new vision of the course.
FOR EXCELLENCE IN PUBLIC SERVICE: The UMB winners are Maureen Sweeney, JD, associate professor at the Carey School of Law; and Eric Weintraub, MD, associate professor of psychiatry at UMSOM.
Sweeney serves some of society's most vulnerable members: immigrants and non-citizens. Her teaching, research, and service exemplify a public service-minded faculty member. Her commitment to immigration law and her passion for helping others directly support UMB's strategic goal to "deepen and expand local and global engagement by providing health, legal, and social work solutions." As head of the Carey School of Law's Immigration Clinic, Sweeney provides dedication and advocacy to address the under-met need for legal services, providing pro bono legal representation through the Southern Poverty Law Center to immigrants in detention centers. She combines her legal expertise with a sophistication for real-world solutions, working to ensure that state and federal laws are applied fairly and that individuals have adequate representation.
Weintraub has demonstrated an exceptional commitment to caring for opioid-addicted individuals through public health initiatives, working with underserved communities from West Baltimore to rural Maryland. Weintraub is director of the Division of Addiction Research and Treatment at UMSOM and the medical director of Psychiatric Emergency Services at the University of Maryland Medical Center. He has taken leadership roles in treating those suffering from mental illnesses and substance abuse disorders, training emergency department physicians, and expanding access to buprenorphine, a drug to treat opioid dependence. In 2017, in recognition of his visionary public service, he was named a Clinical Scholar by the Robert Wood Johnson Foundation. He also has worked to destigmatize substance abuse and treatment, helping those who have struggled with substance use disorders to live meaningful and fulfilling lives.
FOR EXCELLENCE IN MENTORING: The UMB winners are Donna Lynn Parker, MD, FACP, associate professor of medicine, associate dean for student affairs, and senior associate dean for undergraduate medical education; and Bret A. Hassel, PhD, associate professor of microbiology and Immunology, both of UMSOM.
Parker has been an ally to thousands of medical students throughout her more than 12 years at UMSOM. She combines incredible competence with warmth, integrity, professionalism, innovation, and compassion in the mentoring and career development of medical students. She also works in student academic services as an advisor and received the 2017 Careers in Medicine Excellence in Medical Student Career Advising Advisor Award from the Association of American Medical Colleges. Parker also has a remarkable record matching students to residency at a 98 percent match rate, which exceeds the national average. This success rate is unquestionably due to the energy and time she takes to get to know the students and her mentorship skills and insights.
As program director for the MMI graduate program, Hassel has direct mentoring responsibilities for all doctoral students in microbiology and immunology. His dedication to mentoring extends beyond the school to the University of Maryland, College Park; the University of Maryland, Baltimore County; and Towson University, where he has served as a mentor and played a role in establishing programs and grants designed to create pipelines for underrepresented younger students. He also is a leader in the UMB CURE Scholars Program that provides after-school, Saturday, and summer programming in diverse STEM disciplines for middle school students from disadvantaged West Baltimore communities. In 2018, Hassel became the only UMB faculty member ever to receive the UMB Dr. Martin Luther King Jr. Faculty Diversity Recognition Award and the Dean's Faculty Award in the same year.
Hassel said, "I am humbled to be recognized by the Board of Regents for my work in mentoring. Effective mentoring at all levels is a priority at UMB and all USM institutions. Our trainees benefit from the high value placed on this service role."
"I was delighted to be selected for the teaching excellence award," said McPherson, observing that it was especially meaningful because the Board of Regents held the ceremony at its meeting at UMB. "I'd like to thank Dean Natalie Eddington and Dr. Jill Morgan for honoring teaching effort on par with scholarship and service at our school, which is similarly reflected on our campus, and in fact the University System of Maryland. It's not a coincidence that our graduates are among the best and brightest."