The University of Maryland, Baltimore has announced that Peace Corps Director Jody Olsen, PhD, MSW, will serve as Commencement Speaker at the university's May 18th ceremony in Baltimore. Olsen was confirmed as the agency's 20th director in March. She had previously served as deputy director and acting director of the Peace Corps from 2002 to 2009.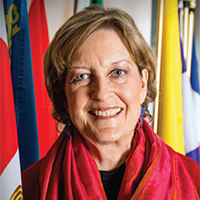 Following her tenure as acting director, Olsen served as a visiting professor on the faculty of the University of Maryland School of Social Work, from which she earned her Masters in Social Work degree. In 2015, UMB named Olsen a Champion of Excellence, honoring her global impact. "Jody Olsen is a tireless champion for developing the campus infrastructure and faculty and student competencies to ensure that we can effectively and safely deliver great global education," said Richard P. Barth, PhD, MSW, UMSSW dean. "She is a terrific communicator, relentlessly optimistic and affirming, and exceptionally knowledgeable about all things international."
Olsen began her work at the Peace Corps as a volunteer in Tunisia in 1966 and later became country director in the West African nation of Togo, the regional director for North Africa, the Near East, Asia, and the Pacific, and agency chief of staff.
Between tours of duty with the Peace Corps, Olsen was senior vice president of the Academy of Educational Development (AED), a large nonprofit focused on education and economic development in the United States and 150 countries around the world.
University of Maryland, Baltimore commencement ceremonies take place at 2 p.m. on Friday, May 18, at Royal Farms Arena, 201 West Baltimore Street, Baltimore, Md.
For more information or to arrange for media coverage, contact Alex Likowski, Director of Media Relations, at (410) 706-3801 or alikowski@umaryland.edu.
About the University of Maryland, Baltimore
Founded in 1807, the University of Maryland, Baltimore is Maryland's only public health, law, and human services university, dedicated to excellence in education, research, clinical care, and public service. UMB enrolls 6,500 students in six nationally ranked professional schools — medicine, law, dentistry, pharmacy, nursing, and social work — and an interdisciplinary Graduate School. The university provides more than $40 million each year in uncompensated care to Maryland citizens, and receives more than $500 million in extramural research funding annually. For more information about the University of Maryland, Baltimore visit www.umaryland.edu.