On April 18, the plaza in front of the University of Maryland School of Pharmacy was transformed into a festive carnival complete with ice cream, popcorn, music, and a 20-foot illuminated peacock.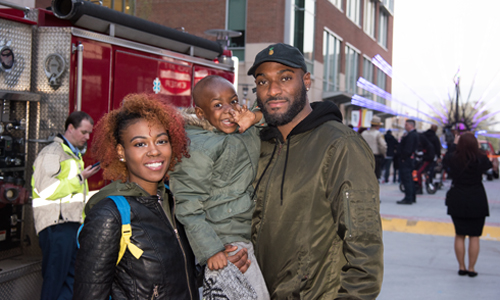 The family-friendly celebration was part of Light City Baltimore, the nation's only large-scale festival of light music and innovation. Charlie the Peacock, an original art piece from Light City 2016, popped up all over town surprising neighborhoods and spreading the Light City theme of "More Love, More Lights." April 18 was UMB's chance to get in on the fun.
Ebony Byrd with the Baltimore Office of Promotion and the Arts said it only made sense Charlie would show up at UMB since two Light City artists were paired with Pigtown and Hollins Roundhouse, neighborhoods with strong ties to the University. "UMB is an amazing partner and it is actively involved in the neighborhood with the Community Engagement Center, so it made perfect sense," she said.
Ivan Wright, 4, couldn't stop smiling as he sat behind the steering wheel of a Baltimore City firetruck brought in for the occasion. Ivan and his mother, Dejuana Roberts, and father, Devonte Wright, have been staying at the Ronald McDonald House for six weeks while Ivan undergoes radiation treatment for cancer. His mom said while Ivan's health is improving, the nearby Light City event was a welcome distraction. "He just loves firetrucks," she said while snapping photos of Ivan's irrepressible grin.
The weeklong festival, which ran from April 14-21, brought out the best in Baltimore and shone a positive light on neighborhoods, performers, and artists. Vandella Hayes said she'd been out every night following Charlie from neighborhood to neighborhood. "The best part has been the entertainment and the unity," she said. "Everybody came out and participated and enjoyed themselves."