Entrepreneurs, researchers, investors, and university leaders gathered to exchange ideas and share successes at the 2018 BioHealth Capital Region Forum held at the Medimmune office complex in Gaithersburg, Md., on April 23.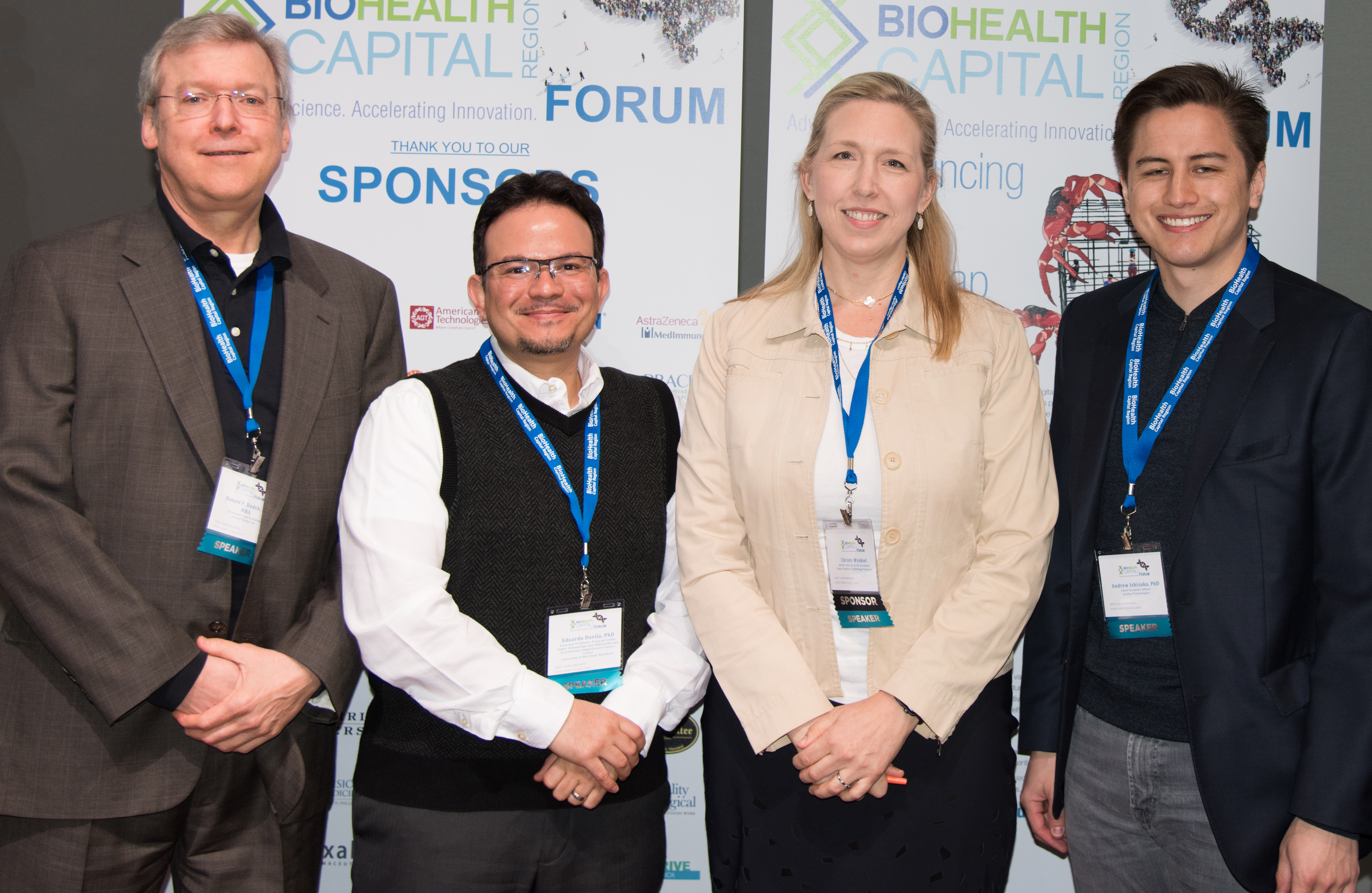 The forum's goal is to make the Maryland/Virginia/D.C. metro region a top-three biopharma cluster by 2023 by creating new connections, leveraging strength, and sharing developments across the region. The region now holds a respectable No. 5 spot in the top 10 behind San Diego, New York, San Francisco, and Boston at No. 1.
Area universities play a key role in the creation of talent and the momentum of innovation that benefit not just the region, but also the world. But universities can't do the work alone. The success of the innovation ecosystem relies on strong partnerships between the business and academic worlds, according to keynote speaker Brian K. Fitzgerald, EdD, CEO of the Business-Higher Education Forum.
University of Maryland, Baltimore (UMB) President Jay A. Perman, MD, was joined by Wallace D. Loh, PhD, JD, president, University of Maryland, College Park (UMCP), and Angel Cabrera, PhD, MS, president, George Mason University, in a panel discussion titled "Strengthening the University-Corporate Connection — Biotech and Beyond: A Conversation with University Presidents." Moderated by Fitzgerald, the panel discussed ways to improve university-corporate partnering in biotechnology while considering questions such as what has worked in the past, how to improve current practices, and what does the future hold for university-corporate collaboration in the region? (Panel video available here.)
Addressing current and potential entrepreneurs in the room, Perman noted that UMB is listening to their needs and actively looking for ways to grow entrepreneurial relationships. "What we generally heard was, 'Make it easier,' " he said. Research-intensive universities "are famous for being very bureaucratic and slow, which is not the world of business," he added.
One strategy UMB is employing to smooth the path to commercialization is to utilize master agreements that enable projects to begin within days instead of weeks or months. According to Perman, UMB has signed master agreements with more than 60 companies, including Medimmune, GlaxoSmithKline, Becton Dixon, United Therapeutics, and two dozen Maryland biotech companies.
The culture of entrepreneurship is thriving at UMB within the University of Maryland BioPark, which stretches across 12 acres adjacent to campus and houses two dozen companies that employ 1,000 people. BioPark tenants include startups like Gliknik, which is teaming up with Pfizer to develop a drug targeting autoimmune diseases, as well as more established companies like Paragon Bioservices and Pharmaron, which together employ more than 300 people.
The recently opened Graduate Research Innovation District (the Grid) in the renovated Lion Brothers Building is a space within the BioPark for "entrepreneurial people — inside and outside UMB — to connect with one another and develop big ideas," Perman said.
The modern co-working space is designed for students, faculty, staff, alumni, and entrepreneurs to work shoulder to shoulder on their ideas, "so they can proceed on their professional journey and eventually take their seats in an auditorium like this," Perman said to the packed room.
"For a graduate campus, we're starting younger than you might think," said Perman, referring to the UMB CURE Scholars Program, a pipeline for promising scholars in STEM. The biotech entrepreneurs of tomorrow are surely coming from the Grid, but they also are being developed in three West Baltimore Middle Schools with the CURE Scholars.
The program, supported by National Cancer Institute funding, is designed to excite middle schoolers about careers in STEM and biomedicine. It is in its fourth year, and the first cohort of students is heading to high school. And while UMB is dedicated to creating a diverse pipeline of future STEM students through the CURE Scholars Program, it's also intent on developing interested faculty into biotech entrepreneurs.
Eduardo Davila, PhD, associate professor of microbiology and immunology at the University of Maryland School of Medicine and co-founder and chief science officer for immunotherapy startup Living Pharma, Inc., is one of those entrepreneurs. He spoke on a panel called "Universities: From Research to Commercialization," and credited UM Ventures with setting the foundation for success that led the company to be acquired in just 18 months. UM Ventures is UMB's tech transfer partnership with UMCP designed to commercialize new technology
"The UMB and UM Ventures team was incredibly helpful in filling in needs that neither I as a scientist nor Ron Dudek (co-founder and president, Living Pharma) had at the time," Davila said. Lentigen Technology Inc. acquired Living Pharma in 2017, making Living Pharma the first UMB New Ventures Initiative startup to execute a successful exit.
Davila, who is moving on to his next entrepreneurial endeavor, spoke frankly about what pushed him into the business arena. "As junior faculty, I never thought of myself as an entrepreneur," he said. He discussed challenges trying to translate what he thought was "incredibly successful immunotherapy in mice," and "one way I thought I could expedite the clinical use and application was to form a biotech company around it," he said. That therapy is headed to Phase 1 clinical trials next year, Davila said.
James L. Hughes, MBA, director of UM Ventures and UMB vice president and chief enterprise and economic development officer, emphasized the importance of biomedical innovation for the University and the region. "It helps to take the discoveries that we make in our labs and in working with patients to the market so that new therapeutics, devices, and diagnostics can get into the marketplace and benefit many more people than those simply at the University of Maryland Medical Center," he said.
Creating a fertile entrepreneurial environment at UMB is a winning proposition for all involved, he continued. "It helps to create jobs. It also helps us to attract the best students because they want to be in innovative places and the best faculty because they want to be in entrepreneurial environments."