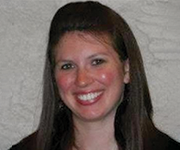 Postdoctoral Fellow

VA Maryland Health Care System

Ph.D. Human Services Psychology
Research interests
• Improving functional outcomes for individuals with co-occurring chronic pain and serious mental illness (SMI)
• Identifying personal and systemic barriers to individuals with SMI accessing pain management services
• Developing and evaluating psychosocial and behavior interventions to treat chronic pain in individuals with SMI
• Secondary interests: healthcare integration and care coordination for individuals with co-occurring mental and physical health conditions
Research approaches
Quantitative and qualitative methods (psychological research)
Publications
Travaglini, L. E., Himelhoch, S. S., & Fang, L. J. (revise & resubmit). HIV stigma and its relation to mental, physical and social health among African American women living with HIV/AIDS. AIDS Behavior.


Travaglini, L. E., Li, L., Brown, C. H., & Bennett, M. E. (2017). Predictors of smoking cessation treatment engagement among veterans with serious mental illness. Addictive Behaviors, 75, 103-107.


DiClemente, C. D., Norwood, A. E. Q., Gregory, W. H., Travaglini, L., Graydon, M., & Corno, C. (2016). Client centered, collaborative, and comprehensive care: The royal road to recovery. Journal of Addictions Nursing, 27(2), 94-100.


Travaglini, L. E., Treadwell, T. W., & Reisch, E. E. (2012). Confidentiality and cohesion in groups: Collaborative Story Building and Telling as a means of improving the therapeutic experience. Group, 36(4), 317-331.


Treadwell, T. W., Reisch, E. E., Travaglini, L. E., & Kumar, V. K. (2011). The effectiveness of collaborative story building and telling in facilitating group cohesion. International Journal of Group Psychotherapy, 61(4), 502-517.