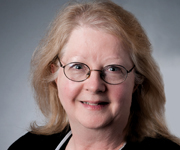 Sherrie Lessans, PhD, RN
Assistant Professor (Retired), Department Pain and Translational Symptom Science
SCHOOL OF NURSING
Research interests
Treatment induced acute and chronic pain
---
Cancer chemotherapy associated neuropathy
---
Cancer chemotherapy pain and broader symptom burden including mood disorders, cognitive function, weight gain
Research approaches
Pain phenotyping
---
Molecular biology
ORCID ID: 0000-0002-7440-2673
Publications
Lessans, S and Dorsey, S. (2013). The role for epigenetic modifications in pain and analgesia response. Nursing Research and Practice. Vol 2013
Renn CL, Leitch CC, Lessans S, Rhee P, McGuire WC, Smith BA, Traub RJ, Dorsey SG. (2011). Brain-derived neurotrophic factor modulates antiretroviral-induced mechanical allodynia in the mouse. J Neurosci Res. 2011 Oct;89(10):1551-65. doi: 10.1002/jnr.22685. Epub 2011 Jun 6.
Dorsey SG, Leitch CC, Renn CL, Lessans S, Smith BA, Wang XM, Dionne RA. (2009). Genome-wide screen identifies drug-induced regulation of the gene giant axonal neuropathy (Gan) in a mouse model of antiretroviral-induced painful peripheral neuropathy. Biol Res Nurs. Jul;11(1):7-16.