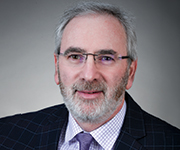 Richard Traub, Ph.D.
Professor and Vice Chair, Department of Neural and Pain Sciences
SCHOOL OF DENTISTRY
Research interests
Visceral pain
---
Sex differences
---
Gonadal hormone modulation
---
Stress
---
Comorbid pain conditions/mechanisms
Research approaches
In vivo electrophysiology
---
EMG recording
---
Immunocytochemistry
---
biochemistry
Publications
Ji, Y., Tang, B., Cao, D-Y., Wang, G. and Traub, R.J. Sex differences in spinal processing of transient and inflammatory colorectal stimuli in the rat, Pain, 153:1965-1973, 2012. PMID: 22819535
Traub, R.J. and Ji, Y. Sex differences and hormonal modulation of deep tissue pain, Frontiers in Neuroendocrinology, 34:350-366, 2013. PMID: 23872333
Traub, R.J., Cao, D-Y., Karpowicz, J., Pandya, S., Dorsey, S., Dessem, D. A clinically relevant animal model of temporomandibular disorder and irritable bowel syndrome comorbidity. J Pain 15(9):956-66, 2014. PMID: 24981128
Cao, D-Y., Bai, G., Ji, Y., Karpowicz, J., Traub, R.J. Epigenetic upregulation of metabotropic glutamate receptor 2 in the spinal cord attenuates estrogen-induced visceral hypersensitivity, GUT, 2014 Nov 6. doi: 10.1136/gutjnl-2014-307748
Ji, Y., Cao, D-Y., Bai, G. and Traub, R.J. Estradiol modulates visceral hyperalgesia by increasing thoracolumbar spinal GluN2B subunit expression in female rats. Neurogastroenterology and Motility, 2015, In press.