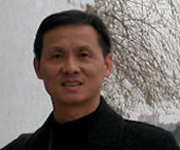 Ke Ren, PhD
Professor, Department of Pain and Neural Sciences
SCHOOL OF DENTISTRY
Research interests
Orofacial pain
---
Pain modulation
---
Pain therapy
---
Animal models
Research approaches
Behavioral pharmacology
---
western blot
---
immunohistochemistry
---
RT-PCR
---
focal brain injection
---
animal pain models
ORCID ID kren
Publications
Guo W, Wang H, Zou S, Wei F, Dubner R, Ren K. Long lasting pain hypersensitivity following ligation of the tendon of the masseter muscle in rats: A model of myogenic orofacial pain. Mol Pain 2010; 6:40. PMCID: PMC2914030
Ren K, Dubner R. Interactions between the immune and nervous systems in pain. Nat Med. 2010; 16:1267-76. PMCID: PMC3077564.
Guo W, Wang H, Zou S, Gu M, Watanabe M, Wei F, Dubner R, Huang GT, Ren K. Bone marrow stromal cells produce long-term pain relief in rat models of persistent pain. Stem Cells. 2011; 29(8):1294-303. PMCID: PMC3277433
Guo W, Wang H, Zou S, Dubner R, Ren K. Chemokine signaling involving chemokine (C-C motif) ligand 2 plays a role in descending pain facilitation. Neurosci Bull 2012; 28:193-207. PMCID: PMC3925328
Guo W, Imai S, Dubner R, Ren K. Multipotent stromal cells for arthritic joint pain therapy and beyond. Pain Manag. 2014; 4(2):153-62. PMID: 24641438.