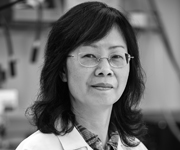 Junfang Wu, B.M., Ph.D.
Assistant Professor, Department of Anesthesiology
SCHOOL OF MEDICINE
Research interests
Dr. Wu's research is focused on examining secondary injury processes following traumatic spinal cord injury (SCI) and pharmacological/gene therapeutic interventions for SCI.
---
More specifically, she examines the pathophysiological role of cell cycle pathways, microglia and astrocytes at both injured spinal cord and supratentorial sites following SCI using complementary genetic and pharmacological strategies.
---
She also studies nocifensive behaviors and central pain regulation after experimental SCI and traumatic brain injury.
Research approaches
Experimental models for SCI and traumatic brain injury
---
Assessment for cognitive, affective, and motor function
---
Rodent pain behavioral tests
---
Biochemistry
---
Primary cell culture
Publications
Wu J # (correspondent), Raver C, Piao C, Keller A, Faden AI (2013) Cell cycle activation contributes to increased neuronal activity in the posterior thalamic nucleus and associated chronic hyperalgesia after rat spinal cord contusion. Neurotherapeutics, 10(3):520-538.
Wu J, Renn CL, Faden AI, Dorsey SG (2013) TrkB.T1 contributes to neuropathic pain following spinal cord Injury through regulation of cell cycle pathways. Journal of Neuroscience, 33(30):12447-12463.
Wu J # (correspondent), Stoica BA, Luo T, Sabirzhanov B, Zhao Z, Guanciale K, Nayar SK, Foss CA, Pomper MG, Faden AI (2014). Isolated spinal cord contusion in rats induces chronic brain neuroinflammation, neurodegeneration, and cognitive impairment: Involvement of cell cycle activation. Cell Cycle, 13(15): 2446-2458.
Wu J # (correspondent), Zhao Z, Sabirzhanov B, Stoica BA, Kumar A, Luo T, Skovira J, Fade AI (2014). Spinal cord injury causes brain inflammation associated with cognitive and affective changes: role of cell cycle pathways. Journal of Neuroscience, 34(33): 10989-11006.
Liu S, Sarkar C, Dinizo M, Faden AI, Koh EY, Lipinski MM, Wu J (2015). Disrupted autophagy after spinal cord injury is associated with ER stress and neuronal cell death. Cell Death & Disease, Jan 8; 6: e1582.