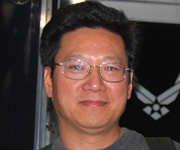 Feng Wei, M.D., Ph.D.
Associate Professor, Department of Neural and Pain Sciences
SCHOOL OF DENTISTRY
Research interests
Our laboratory studies the central mechanisms underlying the development of persistent pain after tissue and nerve injury. In recent years, we have specially focused on synaptic plasticity and chemical signaling changes in brain descending pain facilitation system or neuronal circuits from the cortex, brainstem to spinal dorsal horn leading to a transition from acute pain to chronicity after trigeminal nerve injury.
Research approaches
The hallmark of our study is its multidisciplinary and combined approach: 1). behavioral tests of hypersensitivity and affective pain in mice and rats; 2) intra-brain nuclei microinjection for pharmacological analysis, 3) selective gene target by local gene transfer with micro-electroporation and conditional transgenic mice, 4) whole-cell patch clamp recording and calcium imaging in cortical, brainstem and spinal cord slides of adult animal, and 5) current neuranatomical and molecular biology techniques.
ORCID ID 0000-0002-8447-9738
Publications
Guo W, Miyoshi K, Dubner R, Gu M, Li M, Liu J, Yang J, Zou S, Ren K, Noguchi K, Wei F. Spinal 5-HT3 receptors mediate descending facilitation and contribute to behavioral hypersensitivity via a reciprocal neuron-glial signaling cascade. Mol Pain. 2014 10:35
Kim YS, Chu Y, Han L, Li M, Li Z, Lavinka PC, Sun S, Tang Z, Park K, Caterina MJ, Ren K, Dubner R, Wei F*, Dong X*. Central Terminal Sensitization of TRPV1 by Descending Serotonergic Facilitation Modulates Chronic Pain. Neuron. 2014, 81:873-887. (*co-corresponding authors)
He SQ, Li Z, Chu YX, Han L, Xu Q, Li M, Yang F, Liu Q, Tang Z, Wang Y, Hin N, Tsukamoto T, Slusher B, Tiwari V, Shechter R, Wei F, Raja SN, Dong X, Guan Y. MrgC agonism at central terminals of primary sensory neurons inhibits neuropathic pain. Pain,2014 155:534-544.
Okubo M, Castro A, Guo W, Zou S, Ren K, Wei F, Keller A, Dubner R. Transition to persistent orofacial pain after nerve injury involves supraspinal serotonin mechanisms. J Neurosci 2013 33:5152-5161.
Wei F, Dubner R, Zou S, Ren K, Bai G, Wei D, Guo W. Molecular depletion of descending serotonin unmasks its novel facilitatory role in the development of persistent pain. J Neurosci2010; 30:8624-8636.