Donald B. Tobin, JD, who has served as dean of the University of Maryland Francis King Carey School of Law since 2014, announced his decision to step down at the end of the 2021-2022 academic year and return to full-time teaching as a member of the Maryland Carey Law faculty.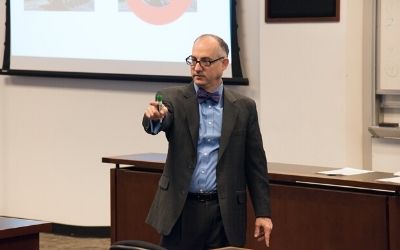 "Serving as dean of Maryland Carey Law has been the greatest honor of my life," says Tobin. "I will be forever grateful to this wonderful community of students, faculty, staff, and alumni who entrusted me with leading this fantastic law school over the past seven years."
Beginning his tenure as dean in the wake of the Great Recession, Tobin is credited with uniting the law school community to achieve a full financial recovery while simultaneously expanding student opportunities and community engagement.
Early in Tobin's deanship, the nation was rocked by the death of Freddie Gray while in the custody of Baltimore police. The tragedy solidified Tobin's commitment to the law school's mission of training great civic-minded lawyers and providing access to justice for those in need.
Following the unrest in Baltimore, Tobin bolstered the law school's community outreach efforts and provided forums for exploring solutions to systemic racism. In the following years, he supported initiatives that have significantly increased the law school's community impact. A notable example is the Chacón Center for Immigrant Justice, which opened in spring 2021. The center provides free legal services to clients facing issues of asylum and at the intersection of criminal and immigration law. It also expands the capacity of Maryland Carey Law's existing Immigration Clinic, adds a new Appellate Clinic, and provides scholarships for students interested in studying immigration law.
Also emerging during Tobin's deanship were the Levitas Initiative for Sexual Assault Prevention, through which Maryland Carey Law clinic students deliver a sexual violence prevention curriculum to Baltimore City middle school students, and the Rebuild Overcome and Rise Center run out of the law school, which helps Maryland crime survivors access wraparound recovery services.
Moreover, under Tobin's leadership, Maryland Carey Law expanded its top-ranked Clinical Law Program in which student attorneys provide free legal services for low-income Marylanders. Since 2014, the law school launched the highly popular Criminal Defense Clinic, the Justice for Victims of Crime Clinic, and a reimagined Intellectual Property and Entrepreneurship Clinic. Others, including the Gender Violence Clinic and the Low-Income Taxpayer Clinic, increased capacity.
Academic programs also multiplied during Tobin's tenure. The law school introduced the Master of Science in Law program, offering degrees in Environmental Law, Health Care Law, Cybersecurity Law, and Homeland Security and Crisis Management Law. In the JD program, students began specializing in new tracks in Alternative Dispute Resolution and Intellectual Property, and the law school added a new certificate in Cybersecurity. Additionally, first-year students are benefiting from a revamped legal writing curriculum, which is now the six-credit Lawyering Program, emphasizing practical application and professional skills.
In his time as dean, Tobin has nurtured an atmosphere in which diversity of thought thrives, supporting scholarship that grapples with current and emerging issues of the day, such as the intersection of technology and race, women's rights, genetic privacy, democracy, and cybersecurity. He also instituted investitures of endowed professorships, allowing faculty to showcase their work to the broader community.
Tobin recognizes that the future success of the law school depends on recruiting and retaining excellent faculty. "One of the things I am most proud of is the highly talented and thoughtful faculty who have joined Maryland Carey Law during my tenure," says Tobin. Through these hires, the law school has achieved a valuable mix of innovative new faculty and highly accomplished academic veterans, all of whom are enriching the student experience with their scholarly output, dynamic teaching, and community engagement. Currently, the hiring committee is searching for a candidate to fill a newly established professorship in consumer law.
With a passion for empowering students to succeed, Tobin oversaw the doubling of scholarship spending, enabling the law school to attract the highest-caliber students. The 2021 incoming class, with a median undergraduate GPA of 3.7, is one of the most highly credentialed in the law school's history.
Today's students are taking part in forward-leaning programs introduced during Tobin's deanship, including the Diversity Scholars Initiative and the Business Fellows Program, which offer participants special professional development opportunities and financial support.
Making student success after graduation a high priority, Tobin invested resources in bar exam preparation and expanded career development programs, yielding a dramatic increase in bar passage and employment. Under his leadership, the percentage of graduates entering judicial clerkships significantly increased, which has garnered national attention for the law school. Maryland Carey Law was fifth among 203 ABA-accredited law schools for the percentage of 2019 graduates obtaining judicial clerkships.
"With his steady leadership, Dean Tobin exceeded our expectations," says Senior Associate Dean Barbara Gontrum, JD, MS, who was co-chair on the hiring committee that selected Tobin in 2014. "He has worked tirelessly for the betterment of our law school, and his legacy will be felt by our community for years to come."
In his position as dean of Maryland's top law school, Tobin has been called upon to contribute expertise on a statewide level. He participates on the Maryland Access to Justice Commission, which unites state leaders to drive systemic reforms and innovations to make the civil justice system accessible, equitable, and fair for all Marylanders. He was also appointed to the Maryland Court of Appeals committee to advise on the Uniform Bar Exam, which Maryland adopted in 2019. Every session during his deanship, Tobin has advocated before the Maryland legislature for bills addressing issues such as access to justice and education equity.
Tobin says that while he is proud of these accomplishments, "the law school is fortunate to be made up of a stellar group of staff and faculty who support the school's mission and ensure the school continues to provide excellent opportunities for students." He goes on to explain that "great law schools are made up of great dedicated people, and we have that in abundance here at Maryland Carey Law."
Since the beginning of 2020, Tobin has deftly led Maryland Carey Law through one of the most challenging times in its history — the COVID-19 pandemic. On his watch, the law school successfully shifted to an online learning environment for the 2020-2021 academic year and returned to the building for the fall 2021 semester. Throughout the public health crisis, the law school not only continued providing an excellent legal education for students but also continued promoting access to justice through its clinics and centers, whose operations never ceased. In spite of the uncertainty the pandemic has brought, applications to Maryland Carey Law for the last admissions cycle were up 37 percent.
"Dean Tobin has made great contributions to UMB during his tenure, and I thank him for his dedication and leadership," says University of Maryland, Baltimore (UMB) President Bruce E. Jarrell, MD, FACS. "He leaves the law school in an excellent position to build on its current momentum."
In the coming weeks, UMB will commence a national search to identify the next dean.