When returning to Baltimore's annual YouthWorks program for the summer of 2020, Aniaiya Dixon didn't know what to expect. YouthWorks is a summer program sponsored through partnerships with the Baltimore Mayor's Office of Employment Development to give Baltimore students ages 16-21 a five-week paid internship opportunity at participating institutions.
Last summer, Dixon participated in the citywide program through the Ruth Kirk Fellowship. This summer, the rising sophomore at Towson University was accepted into the University of Maryland YouthWorks program after a competitive selection process. Due to the COVID-19 pandemic, this year's program was a completely different experience, but Dixon says it was better than she could have imagined.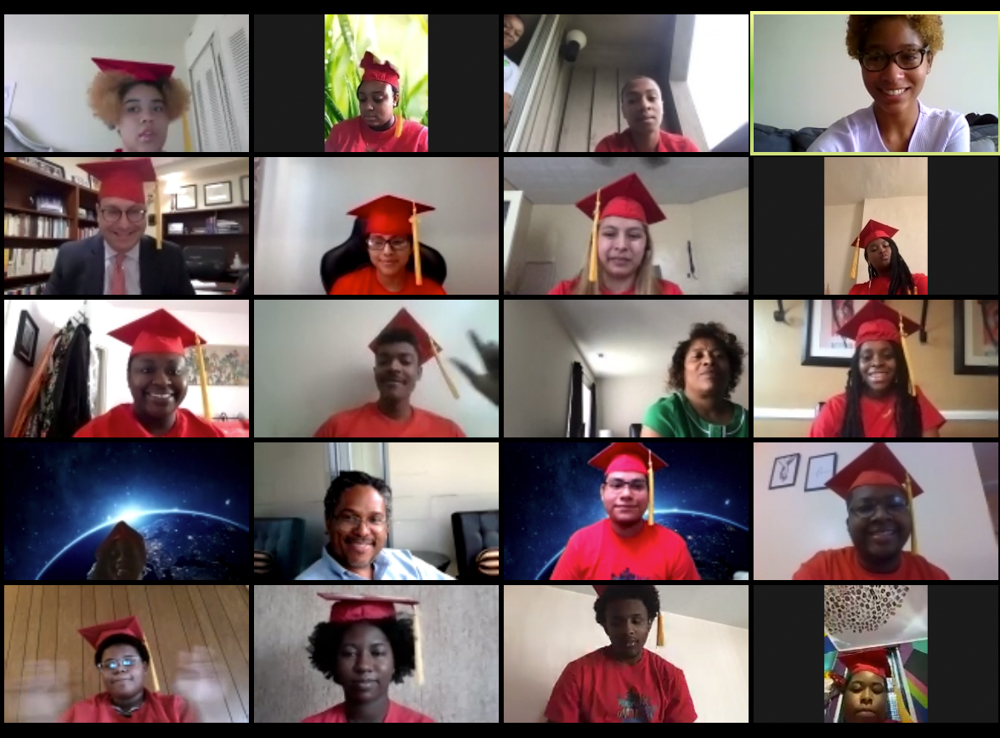 "Over the course of the program, I've been equipped with an abundance of new skills that I know will take me far in the business world and the social world," Dixon said. "This program has shown me that it is possible to do anything when you have a plan, a team, and a drive."
For this summer's program, the University of Maryland, Baltimore (UMB) partnered with the University of Maryland Medical Center (UMMC) to put together a completely virtual joint internship experience.
"In creating this new format for the program, we tried to develop something that fits the needs of what we typically would do at both UMMC and UMB," said Samuel Burris, community engagement manager at UMMC. "We realized that both institutions do a lot of work within the Baltimore community, so we wanted to showcase that to the young people and provide them an opportunity to do what we do every day."
With the uncertainty created by COVID-19, YouthWorks organizers had a limited amount of time to put together a completely new and virtual program. But representatives from UMB and UMMC came together quickly to collaborate and build a unique and meaningful experience for the participating students.
Rather than placing the 100 YouthWorks participants in individual internships at each institution, they divided the students into 10 teams that were each assigned a ZIP code in West Baltimore. Each team was tasked with creating a community-based project that would address the determinants of health in their assigned ZIP code. On top of that, each team also formulated a presentation and proposal to secure a $500 grant to fund their work in the community.
Each team also was assigned a job coach who served as a mentor to guide them through the process. Throughout the program, the YouthWorks students would meet with their job coach every day to discuss their projects, grant proposals, and personal goals for the future.
In addition to the community projects, the YouthWorks participants attended workforce development workshops and heard from professional guest speakers. The speakers came from a diverse set of fields and careers including lawyers, teachers, artists, human resources officers, journalists, information technology/cybersecurity experts, and medical and health care professionals.
"I think this program solidified what I want to do in life," said Dawon Bowser, a rising sophomore at York College in Pennsylvania. "I always knew that I wanted to work at the Shock Trauma Center, then we had a doctor who works there come in and speak to us. That just made me want to work that much harder to achieve my dream."
By providing these opportunities alongside their community projects, program organizers were able to prepare the students for a virtual workplace and virtual learning during the school year.
"I think giving the students this time to practice professionalism in a virtual learning environment is a really important thing that they will take away from this experience," said Madison Haas, MSW, UMB's economic inclusion specialist and a YouthWorks job coach. "This summer was a window into what they can expect from this new virtual world, and I think they will actually have a leg up on other students who weren't able to experience a virtual workplace."
The students were encouraged to highlight their new virtual software skills in their résumés and cover letters during a résumé building workshop led by Lisa Rawlings, MBA, director of workforce development and job readiness at UMB's Community Engagement Center (CEC). Rawlings also gave them tips and advice on how to beef up their résumés and become more competitive job candidates.
The YouthWorks participants also had an opportunity to practice their public speaking and presentation skills, with each team giving a virtual presentation of its community project. The students' creativity and innovation shined through in the projects, which were unique and addressed different populations. They ranged from working with local churches to provide healthy food boxes to senior citizens to launching a grassroots effort to provide COVID-19 prevention information to Baltimore residents without internet access.
(View a video below.)
Dixon and her team went so far as to create a mobile app called MASK On, which encourages COVID-19 literacy and stress management by providing trivia games and resources for users. By the end of the program, each team was awarded the $500 grant it applied for, and all of the participants walked away with a feeling of success and empowerment.
"I think I can speak for everyone when I say that this is not the last time that we'll be serving our community and sparking change," Dixon said. "This is not the last time that we will fight for our neighborhoods. This is not the last time that we will be calling the mayor's office or writing grant proposals for our future business ventures. We are a generation of change-makers, and with a plan, a team, and a drive, we can create hundreds of more service projects that will build up Baltimore and beyond."
The virtual YouthWorks program was so successful that the organizers decided to add a sixth week of programming to this year's regularly scheduled five weeks. Organizers from UMMC also are looking into expanding the program to their medical center in Prince George's County.