The University System of Maryland (USM) Board of Regents last week formally recognized three University of Maryland, Baltimore (UMB) employees for receiving the highest systemwide staff honor.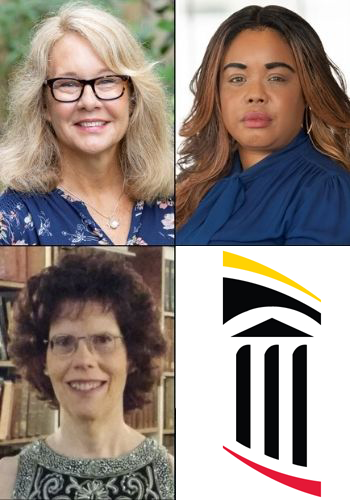 The board convened Thursday, Sept. 18, to honor the nine recipients of the 2020 USM Regents Staff Awards.
The UMB recipients are:
Judith Edelman, MA, administrator, Department of Anatomy and Neurobiology, University of Maryland School of Medicine (UMSOM)
Mary Beth Gallico, CRA, administrator, Division of Child and Adolescent Psychiatry, UMSOM
Mishawn Smith, MBA, executive administrative assistant, Office of Diversity and Inclusion, University of Maryland School of Nursing (UMSON)
"Our staff members along with our outstanding faculty and campus leadership are at the heart of USM's status as a nationally recognized system of academic excellence, dynamic research, meaningful impact and community service," board chair Linda R. Gooden, MBA, said.
Institutional staff nominating committees make recommendations to the institutional presidents, who review nominations and supporting material and forward recommendations to USM Chancellor Jay A. Perman, MD. The Regents Staff Review Committee makes the final recommendations.
"I also commend the winners of the Regents Staff Awards," Perman said. "These men and women represent the excellence, professionalism, and commitment found throughout the University System."
Edelman was recognized in the Effectiveness and Efficiency category for exempt staff. Her efforts included saving the Department of Anatomy and Neurobiology more than $1.5 million during her 26-year career. One of her many feats to achieve that figure included moving the noncapital asset inventory to an electronic model saving at least $225,000 annually. Edelman also implemented an electronic grant management program to reduce personnel costs and increase efficiency of grant submissions and developed an electronic resource management tool to show financial commitment across the department.
The Inclusion, Multiculturalism, and Social Justice category was swept by two UMB employees: Gallico (exempt staff) and Smith (nonexempt staff).
Gallico's work as a member of the Staff Senate led to a Climate and Engagement Gallop Survey to the campus community that shined a light on barriers to inclusion for women, members of the LGBTQ community, employees dealing with parenting/family crises, and individuals from racial and ethnic minority groups. She now serves as an Engagement Champion to work with managers to help them engage, develop, and retain staff while increasing connectedness and job satisfaction across campus.
Smith's volunteerism earned her praise as being an integral part of UMSON's impact in the community. Smith volunteers in her community two to three days each week as a member of the Baltimore City Office of the Mayor LGBTQ Commission; is a member of the executive board of GLSEN Maryland, which advocates for LGBTQ students; and volunteers with P-TECH Maryland, a program that provides students with pathways to higher education and careers by partnering with colleges and local businesses.
Some of Smith's off-campus service includes helping children of ex-offenders with holiday and back-to-school assistance, assisting individuals overcoming substance abuse, and dedicating the proceeds of her small business to programming that provides re-entry assistance to ex-offenders.
Smith also is the chair of Stonewall Pride, a UMB affinity group under the Diversity Advisory Council that strives to ensure that LGBTQ+ faculty, staff, students, and visitors feel welcome and have equality, inclusion, and respect.
Each award includes a $2,000 prize provided by USM institutions and the University System of Maryland Foundation. Winners were initially announced in the summer in anticipation of an in-person gathering at a later date. However, the COVID-19 pandemic forced the board to forgo the staff breakfast in favor of Zoom.
"This change in format is not a reflection in how proud we are of our esteemed colleagues," Gooden said.