When Bruce E. Jarrell, MD, FACS, became the University of Maryland, Baltimore's (UMB) interim president Jan. 6, COVID-19 wasn't yet front and center in people's minds. Two months later, as the pandemic began to slowly spread across the country, Jarrell's interim presidency became not a trial by fire, but a trial by virus.
Today, almost exactly six months after the World Health Organization declared COVID-19 a pandemic, Jarrell was selected as the seventh president of UMB by the University System of Maryland (USM) Board of Regents after a four-month search process. The board's chair, Linda R. Gooden, noted Jarrell's leadership during the pandemic in USM's announcement.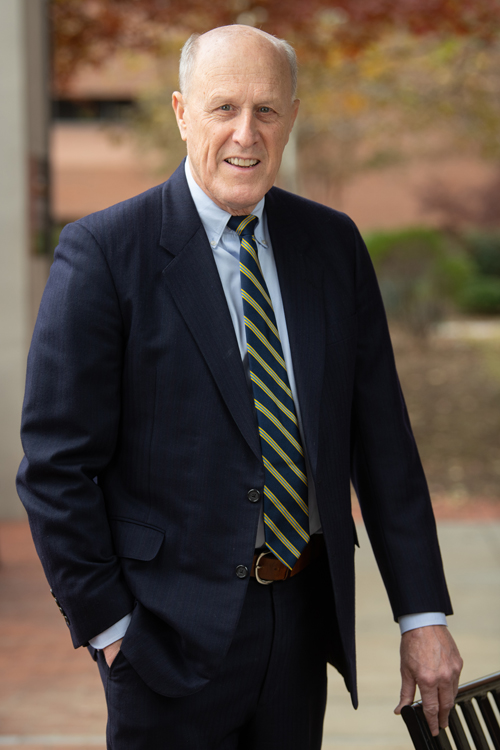 "He has already served the University so well in leading its academic and research offices, and his effective stewardship as interim president was seamless during an important and transitional time for USM," Gooden said of Jarrell, who became interim president when Jay A. Perman, MD, left UMB to become the fifth chancellor of USM. "Dr. Jarrell has been a critical part of the system's planning and response to the COVID-19 pandemic this year, and we are delighted that he will remain in this key leadership role at UMB."
In accepting the job, Jarrell said, "The core of my professional life is centered here at UMB. I have been so proud to guide the University during these months of staggering challenge due to the COVID-19 pandemic, with UMB on the forefront of medical and societal advances. As I wrote recently to the UMB community, our University will not be an island within a city, but an integral part of our community that houses our institution. I am privileged to continue that vision for UMB."
Jarrell's appointment completes a process that began May 12, when Perman announced the formation of a search committee chaired by USM Regent William T. Wood, JD. The committee guided the first stage of the search, and Isaacson, Miller — a well-respected executive search firm — provided consulting services. Virtual town halls open to the UMB community were held in July to help narrow the search, then the search committee evaluated the candidates and forwarded its recommendation to Perman and the Board of Regents.
Perman applauded the selection of his former UMB colleague, calling Jarrell the "ideal leader for UMB."
"When you're fortunate to head a university, you understand that it's the people around you who advance the institution toward excellence," Perman said. "Dr. Jarrell was certainly one of those people for me when I was president of UMB. No one was wiser in their counsel or more inspired in finding ways to better deliver on UMB's critical missions. What's more, Bruce will be the kind of leader who brings out the best in the people who now surround him. His deep capability and dynamic vision are exactly what an institution as important as UMB needs and deserves."
Natalie D. Eddington, PhD, FAAPS, FCP, dean of the University of Maryland School of Pharmacy and a member of the search committee, agreed with Perman, saying she was "truly excited" about Jarrell's appointment.
"I have had the opportunity to work with him for more than 12 years," she said. "His deep understanding of the University and its schools is vitally important as we face multiple challenges. Over the last few months, Dr. Jarrell has demonstrated strong leadership, collaboration, and a commitment to the well-being of all of our faculty, staff, and students. These attributes will continue to be essential as we seek to further enhance UMB amidst our recovery from the pandemic."
The COVID-19 Challenge
When he took the interim job, Jarrell pledged to focus on the programs and ideals that Perman had prioritized during his nearly 10-year term as UMB president, such as diversity and inclusion, community engagement, interprofessional education, and global health. But when the COVID-19 pandemic unfolded in March, the health and safety of the University community became paramount.
Taking swift action, Jarrell and his leadership team collaborated with the University of Maryland Medical System to create a two-step process to address the pandemic. The first step featured less-restrictive guidance and included limits on meetings and large gatherings, the encouragement of physical distancing and remote learning, the preparation for telework, and the tightening of travel guidance.
"These measures are not taken lightly," Jarrell said at the time. "We know that they will be burdensome to many, but they are consistent with our values — placing health and safety above all — and they represent our best judgment as we adapt to this rapidly changing situation."
UMB produced a COVID-19 website to provide the University community with more information and detailed guidance on the virus, then quickly transitioned to Step 2, canceling events and in-person instruction, suspending all work-related travel, and shifting to telework where applicable. Under Jarrell's leadership, UMB also formed a Recovery Task Force to help restore the University's maximum capacity to teach, research, care, serve, and operate with the aim of repositioning UMB for a better future post-COVID-19.
In other moves to safeguard the health of the UMB community, policies requiring physical distancing and face coverings were initiated, and the Symptom Assessment for Employees (and Students) on Campus (SAFE on Campus) system was implemented in August. The system requires daily self-screening of symptoms and other risk factors for those coming onto UMB's campus or affiliated locations.
In addition, virtual town halls on research, telework, and student concerns were held to provide information and keep the UMB community engaged during the initial quarantine. A weekly online show, Virtual Face to Face with Dr. Bruce Jarrell, was launched to do the same. The show tackled such COVID-19-related topics as the shift to online teaching, the global effort to produce a vaccine, clinician burnout, voting and elections, violence against women, and diversity and inclusion. Baltimore Ravens legend Ray Lewis, a member of the UMB Foundation Board of Trustees, was Jarrell's guest just 10 days after the killing of George Floyd sparked protests and difficult conversations around the nation on systemic racism and police brutality.
Building on that conversation, Jarrell affirmed UMB's commitment to diversity in July by announcing a national search for a chief diversity, equity, and inclusion officer (CDEIO) who will be part of the president's leadership team and build upon the University's efforts in that area that include the Diversity Advisory Council and the recently created Intercultural Leadership and Engagement Center.
"Diversity is one of our core values; we are committed to a culture that is enriched by diversity and inclusion, in the broadest sense, in its thoughts, actions, and leadership," Jarrell said in announcing the search. "The CDEIO will be an advisor, leader, and catalyst for institutional change focused on diversity, equity, and inclusion at the institutional level."
Climbing the Ladder
The appointment as UMB president is the latest in a line of upward moves by Jarrell at the University. Before becoming interim president, he had been executive vice president and provost since Dec. 1, 2017, a role that expanded his already wide-ranging duties at UMB.
After joining the President's Office as chief academic and research officer and senior vice president in April 2012, Jarrell served as the focal point for all academic matters at UMB and was responsible for facilitating its research mission. In this role, he worked closely with UMB administrators and the deans and research leaders of the University's six professional schools and interdisciplinary Graduate School.
As executive vice president and provost, Jarrell had the authority to act on behalf of the president in a variety of matters and settings. Along with the deans and vice presidents, he worked to further UMB's core values among faculty, staff, and students in the leadership, management, and promotion of the institution's education, research, clinical, and community engagement agendas.
Jarrell, who also served as dean of UMB's Graduate School at this time, oversaw many of the University's most critical institutional relationships, such as the University of Maryland Strategic Partnership: MPowering the State, UMB's innovative and structured collaboration with UMCP, while working to build and maintain academic interactions with all USM institutions.
Jarrell was born and raised in Caroline County on Maryland's Eastern Shore. He received his bachelor's degree in chemical engineering from the University of Delaware and his medical degree from Jefferson Medical College in Philadelphia. He completed a general surgical residency and renal transplantation fellowship at the Medical College of Virginia and held faculty positions at Jefferson, where he performed kidney and liver transplantation and hepatobiliary surgery for 10 years, and the University of Arizona, where he was a professor and chair of its Department of Surgery.
Jarrell arrived at UMB in 1997 as chair of the University of Maryland School of Medicine's (UMSOM) Department of Surgery. He expanded UMSOM's surgical programs and developed innovative research studies and clinical trials, leading to its ranking as 11th nationally in total research funding from the National Institutes of Health. In 2003, he moved to the UMSOM Dean's Office as executive vice dean, directing the school's education and research enterprises. He also was the institutional official for human and animal research protection, and he has remained involved in research and medical student education throughout his career.
Jarrell is an accomplished metalsmith and a member of the Blacksmith Guild of Central Maryland. Among his creations are a mace holder he made for UMSOM in 2006, a mace holder he crafted for Perman's inauguration as UMB president in 2010, and the Davidge Elm tree window art that he and Ukrainian blacksmith Anatoliy Rudik created in 2012 that was installed in the SMC Campus Center. Jarrell has written a number of books, including 2015 editions of the popular textbook NMS Surgery and the NMS Surgery Casebook.