To ease the transition into life as law students, the University of Maryland Francis King Carey School of Law traditionally welcomes the newest members of its community with an orientation program gearing them up for the rigors ahead. Events and interactions with faculty and administrators arm first-year students with foundational legal concepts and networking opportunities that help prepare them for the start of classes.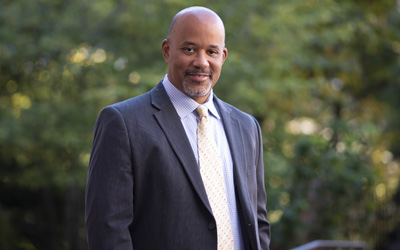 This year, the law school took orientation a step further with a two-week pre-orientation program for a select group of students looking to get oriented before orientation.
"Pre-orientation is an exciting way to give students a preview of law school and to help them develop a sense of belonging in this challenging academic environment," said professor and associate dean for diversity and inclusion Russell McClain, JD, who headed up the pilot program. "Students from traditionally underrepresented groups can have a tougher time in law school when they look around and don't always see themselves reflected in large numbers. Through guided learning activities, realistic classroom experiences, and social events, we hope the students got really comfortable at the law school and forge social bonds that will serve as a support system throughout their years here, and beyond."
Twelve students participated in pre-orientation, coming to the school each Monday through Friday in the two weeks leading up to orientation.
Saul Slowik appreciated the chance to demystify the next three years. "The program took a lot of the uncertainty out of law school, which was a source of anxiety," said the Army veteran. "It was very encouraging."
Part of that demystification involved mock classes taught by McClain in which Slowik and his peers learned how to read cases and prepare for classroom discussions. In this low-pressure setting (tasty snacks included), students got an introduction to their legal education complete with "cold calls," a "mid-term," and a "final."
Providing evidence that the program was effective in calming their academic nerves, participants reported being significantly less anxious going into the final than the mid-term, having survived the first test.
Additional events included a reception where the students mingled with faculty and staff and an opportunity to network with alumni at an Orioles game. McClain also offered one-on-one sessions to address particular concerns.
After an intense two weeks with McClain, students revealed they had dubbed him "Papa Russ" for his unflagging support.
"The positive atmosphere Professor McClain created helped us all become more comfortable," said Baltimore County native Nathan Buckman.
On the final day, the pre-orientation group joined Dean Donald Tobin, JD, for lunch in his second-floor office. Over salads and sandwiches from a popular spot down the street, the students enjoyed the dean's undivided attention. Tobin gave advice on everything from restaurants to commuting. But most of all, he listened, striving to understand the challenges facing first-year students and to get to know the folks in his office as individuals.
"This has been a great opportunity to get a sneak peek at what law school will look like," Alicia Jiggetts, a recent University of Richmond graduate, told Tobin about her pre-orientation experience. "We've all bonded and will definitely keep in touch."