"I think most of you know how deeply I care for this city and its people, how much I love being part of a place with so much grit, and grace, and potential," University of Maryland, Baltimore (UMB) President Jay A. Perman, MD, told several hundred members of the Downtown Partnership of Baltimore (DPOB) at the group's annual meeting Sept. 12. "I can't imagine a higher honor than being in a position to help Baltimore reach that potential, to help it become what we know it can be."
For the last six years, since 2013, Perman has chaired the DPOB, providing what DPOB President Kirby Fowler described as "unparalleled guidance and direction" to the group's membership of business and civic leaders. Fowler added that Perman "was called upon to lead us through some difficult years for the city, and his compassion for others was always top of mind."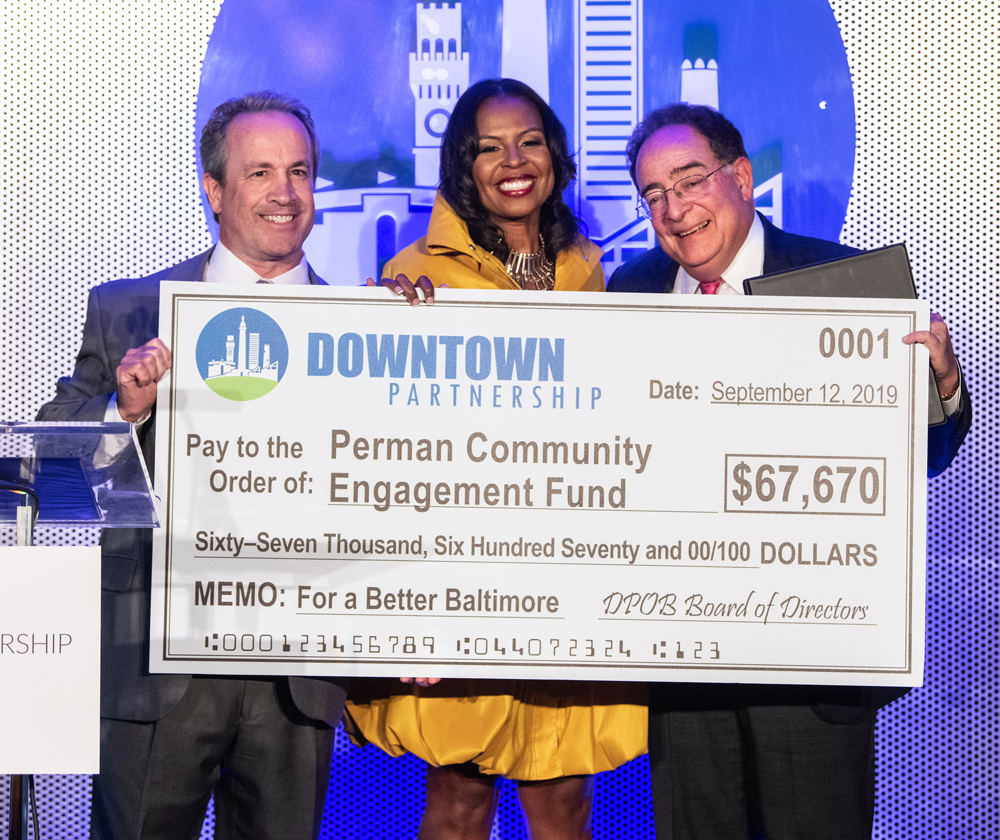 Fowler and other speakers recalled many successful projects undertaken and completed during Perman's tenure, including the creation of a redevelopment plan for Lexington Market, the creation of the Bromo Tower Arts District, the restoration of Preston Gardens, the redevelopment of McKeldin Plaza, and the establishment of a Downtown Partnership $15-an-hour minimum wage. They also pointed to numerous commercial development projects that have transformed the city's downtown area. The talk, however, always returned to praise and thanks for Perman's efforts and leadership.
"Your commitment to this city is just fantastic," said Baltimore Mayor Bernard C. "Jack" Young, adding, "for those you who don't know, Dr. Perman has always reached out, not only to our school system, but to our neighborhoods to try and make a great improvement there."
Baltimore City Council chair Brandon M. Scott, who shared a moment of levity with Perman just before the program started, expressed lighthearted sympathy for him. "The good doctor told me about how he was duped into coming on as board chair in the first place," he said. "I didn't tell him this, but I know how you feel," Scott added as the audience chuckled. "We've seen through his leadership here that he helps the Downtown Partnership and he helps Baltimore grow beyond his current role at the University of Maryland, so thank you very much."
Stepping into the role of DPOB chair is Shelonda Stokes, president and CEO of greiBO Entertainment, an award-winning collective that produces content and products for film, TV, radio, print, and the internet. Stokes' résumé also includes work as a major government account manager at Hewlett-Packard, development of General Electric's web brand identity, and transforming Baltimore's troubled African American Festival into a nationally recognized signature event with significant economic impact.
"You talk about the big shoes I have to fill," Stokes told the audience. "Dr. Perman, you are one of the greatest men I have ever met in terms of your ability to give, and I'm honored that both you and Kirby selected me for this position."
In addition to celebration, the evening included one big surprise. After reminding the audience that Perman has championed the causes of residents in challenged Baltimore communities since his appointment as UMB president in 2009, Fowler declared, "The Downtown Partnership has joined with the University of Maryland, Baltimore in announcing the creation of the Perman Community Engagement Fund at the UMB Foundation." The fund's purpose is described as an effort to promote health, equity, and social justice in West Baltimore, and more than $70,000 already has been raised by the University and business leaders.
Directing his comments to a clearly surprised Perman, Fowler continued, "It is the most fitting way we could honor you. It epitomizes your commitment to serving and uplifting those that aspire to a better life and who need a boost in their respective journeys. You definitely make Baltimore a better place."
Before leaving the stage, Perman took one more opportunity to remind DPOB members of the importance of their work, not only to the downtown area, but to all of the city's neighborhoods, too.
"I know there's a perception in some quarters that a focus on Downtown somehow alienates Baltimore's other neighborhoods, that attention targeted here could deprive other communities of needed resources," he said. "A strong and growing Downtown does lift up the communities around it. Investment in Downtown is investment in Baltimore. And, by the same token, you simply can't have a thriving Downtown if you neglect less-traveled neighborhoods, if you turn a blind eye to the many and complex social issues that affect us throughout the city."
After thanking Fowler and the DPOB team for having made his six-year tenure both "easy" and "meaningful," Perman offered parting thoughts. "I love this city. I love its beauty, its strength, its resilience, its heart. It's been a true pleasure to serve Downtown and to serve you."