The Hypertrophic Cardiomyopathy Program at the University of Maryland Heart & Vascular Center (UMHVC) has been recognized as a Center of Excellence by the Hypertrophic Cardiomyopathy Association (HCMA) — one of about 30 Centers of Excellence nationwide and the only HCMA-recognized center in Maryland.
The UMHVC is part of the University of Maryland Medical Center (UMMC) and the University of Maryland School of Medicine (UMSOM).
Hypertrophic cardiomyopathy (HCM) is a complex, hereditary heart disease that exacts a major toll on patients and their families. The disease can cause sudden death, often requires demanding treatment regimens, and is often difficult to treat. Only a few centers in the United States specialize in such care.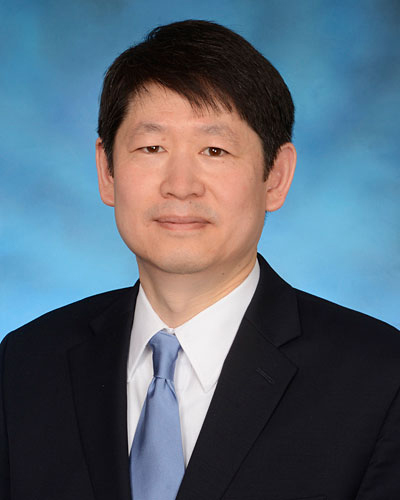 "To be recognized as an HCMA Center of Excellence, you must meet very high standards," says Libin Wang, BM, MM, PhD, assistant professor of medicine at UMSOM, cardiologist at UMMC, and co-director of the HCM program.
"The standards include a patient-centered approach, multidisciplinary strategies, leadership in the field in all aspects — imaging, procedures, surgery — and a wide range of ancillary support that is sustainable and supported by the hospital," Wang says.
This entails a major commitment, Wang says. "An HCMA Recognized Center of Excellence provides patients a reliable resource to seek long-term help, not just to the patient alone, but also to their families," he says.
The HCMA provides HCM-related support, advocacy, and education to patients, families, the medical community, and the public, and it sets basic criteria for Centers of Excellence.
HCM treatments include medications to relieve symptoms and improve the heart's pumping ability, implantation of devices to correct cardiac electrical problems, surgical procedures that improve blood flow out of the heart, cardiac valve repair or replacement, and heart transplantation.
Research is a key part of the program's work: UMSOM faculty are currently participating in two national studies of a medication to treat HCM and are developing a patient database for future genetic and translational research projects.
HCMA Recognized Centers of Excellence are required to provide the following services:
Cardiologist as director of the program
Electrophysiology services, including implantation of cardiac devices
Pediatric and adult cardiac surgery
Interventional cardiology
Pediatric cardiology
Advanced heart failure and cardiac transplantation
Genetic counseling
Psychological services
Diet and nutrition services
High-quality imaging
Commitment to HCM research
Ability to see families and accommodate those traveling from a distance
HCM is characterized by genetic mutations that cause thickened heart muscle, impairing blood flow. Symptoms vary, ranging from shortness of breath, chest pain, and fatigue to fainting and sudden death. In some cases, people with HCM have no symptoms. In others, patients develop a heart valve disease or problems with the heart's electrical system. HCM may be detected at birth or may not appear until adulthood. The prevalence of HCM in the general population is about one in 300.
"HCM is a very difficult disease to treat. The entire University of Maryland hypertrophic cardiomyopathy team has worked hard to attain the highest level of expertise in this area," says E. Albert Reece, MD, PhD, MBA, executive vice president for medical affairs at the University of Maryland, Baltimore; the John Z. and Akiko K. Bowers Distinguished Professor, and dean of UMSOM. "This formal recognition from the Hypertrophic Cardiomyopathy Association highlights our continuing efforts, which have already resulted in attracting internationally recognized experts in HCM to UMMC and UMSOM."