The University of Maryland School of Pharmacy (UMSOP) has established a collaborative partnership with the University of California, San Francisco (UCSF) schools of medicine and pharmacy.
Led by the Center for Translational Medicine (CTM) at the UMSOP, the partnership brings together academic leaders in the fields of pediatrics, pediatric clinical pharmacology, pharmacometrics, and regulatory science for a new initiative focused on advancing pediatric drug and device development and providing expanded research and educational opportunities for faculty, students, and trainees at both institutions.
"The unique challenges of conducting clinical research in children have caused the translation of basic insights into therapeutic advances for children's health to lag far behind drug development for adults," says Joga Gobburu, PhD, MBA, professor in the Department of Pharmacy Practice and Science (PPS) and director of the CTM. "We believe that academic research institutions like the School of Pharmacy and UCSF have a unique opportunity and responsibility to contribute to better pediatric health. Partnerships like this allow us to combine the expertise of faculty at both institutions to provide a first-of-its-kind service that will accelerate the pace of approved pediatric interventions, while also helping to train the next generation of pediatric research and clinical innovators."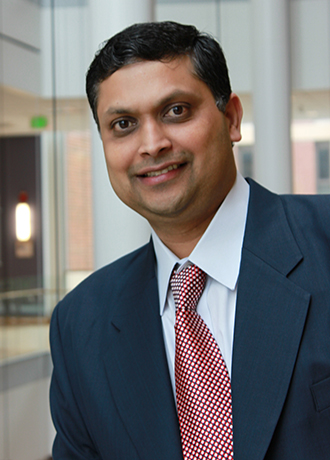 The cost of pediatric health care in the United States continues to rise. In 2012, approximately $429 million was spent on health care for children, compared to $298 million in 2000. Yet, most drugs prescribed for children have not been tested in pediatric populations. Recent advances in the understanding of children's physiology, combined with advances in pharmacometric modeling and the development of more clinically relevant animal models, have started to shift the focus of pediatric drug development away from protecting children against clinical research to protecting them through research. This initiative will bring together a premier network of pediatric researchers from the School of Pharmacy and UCSF to identify opportunities for the development of new therapeutics for pediatric applications and establish cutting-edge programs to support the preclinical and clinical development of existing and novel therapeutics for pediatric populations, including clinical trials.
"This partnership will not only further advance the academic, scientific, and research programs at both of our institutions, but also maximize our mutual ability to generate and disseminate knowledge and apply that knowledge to solve today's most challenging health care problems," Gobburu says. "Both of our universities will become leaders in facilitating efficient pediatric drug and device development by commercial and government organizations."
The partnership also establishes exchange programs through which faculty, students, and trainees from both institutions can pursue a short- or long-term course of study. The CTM will bring its expertise in the field of pharmacometrics to these programs, showcasing how this multidisciplinary approach to studying therapeutics that integrates the relationships between diseases, drug characteristics, and individual variability across drug development can help health care professionals tailor treatments to individual patients.
"For the students who come to the School of Pharmacy, this is an opportunity for them to learn how to use quantitative methods for dosing," says Vijay Ivaturi, PhD, research assistant professor in PPS. "That will truly be the biggest gain for them, because they will not learn those methods as part of the regular Doctor of Pharmacy (PharmD) curriculum."
"These exchange programs will be crucial in expanding the knowledge of both current and future pediatric clinical pharmacists and translational pharmacometricians, as well as propelling forward the field of pediatric therapeutics and drug development," adds Janel R. Long-Boyle, PharmD, PhD, associate professor in the Department of Clinical Pharmacy and Division of Pediatric Allergy/Immunology/Blood and Marrow Transplantation at UCSF.
The School of Pharmacy hosted its first trainee from UCSF under the new partnership in Spring 2017.
"While I understand how science can change practice, I also feel that practice is what truly guides science," says Danna Chan, PharmD, postdoctoral fellow in the Department of Clinical Pharmacy at UCSF, who studied pharmacometrics and its implications for personalized medicine at the school. "My experience studying pharmacometrics at the School of Pharmacy has been phenomenal. The faculty in the CTM are well versed in the field, and I feel that my knowledge in this area has increased exponentially during my time here. I am excited to take the lessons that I have learned and apply them to help the patients that we treat at UCSF."