Leaders of the Social Work Community Outreach Service (SWCOS) of the School of Social Work (SSW) joined other community partners and University of Maryland, Baltimore (UMB) volunteers to open a much-needed place for kids to play.
The activities of Sept. 15 marked the building of a new playground at a West Baltimore school, whose students awaited final completion until Sept. 22. On that day, four classes of pre-K and kindergarten children became the first to experience the thrill of playing on the new equipment.
(View a photo gallery.)
Nearly 200 volunteers over a span of six hours helped to complete the playground at the Harlem Park Elementary/Middle School. The new play space features 18 play structures spread across 2,500 square feet of what was once a vacant, sandy lot. Children had to wait for installation of a protective surface before taking their first trips on a triple-slide or rock-climbing ladder.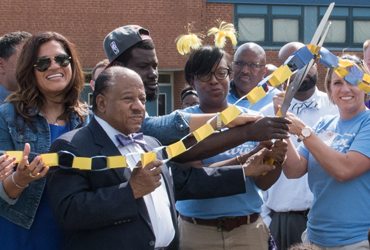 The pre-K to eighth-grade public school serves nearly 400 students in the Harlem Park/Sandtown-Winchester neighborhood, and is among the Community Schools overseen by SWCOS. In a lengthy planning process, students were given input. "The kids drew what they wanted, and put all their thoughts together," said Community Schools coordinator Danielle Harris, LCSW-C.
Imani Jackson, associate program manager of KaBoom!, a nonprofit organization aimed at creating play spaces for children, particularly in disadvantaged communities, describes the play space as "more than a playground."
"It's a brain expander, friend maker, and muscle builder," said Jackson.
The experience was so much fun from the viewpoint of a 5- or 6-year-old that numerous kindergarten students took turns thanking and hugging Principal Denisha Logan at the end of their first recess. "Ms. Logan, can we come back tomorrow?" asked a boy named Aiden. "Every single tomorrow?"
Partners participating in the build included the CarMax Foundation, teachers, staff, and parents from Harlem Park Elementary/Middle School, Play More B'More, The Family League of Baltimore, and Baltimore City Public Schools.
Wendy Shaia, EdD, MSW, executive director of SWCOS, Becky Davis, MSW, director of organizational sustainability at SWCOS, and Karen Powell, assistant director for the Positive Schools Center, attended the build.
"In a community where you have a lot of dilapidated buildings, school needs to be a safe haven, a healthy environment in which to grow. The playground gives kids that," said Powell.
Harlem Park Elementary special education teacher Ginny Millard wrote on a gofundme.com site seeking donations for the project, "It is well-documented that play not only promotes physical activity, reducing obesity and related health problems, but also improves cognitive functioning and academic performance significantly." The school applied for and received a grant from KaBoom! The CarMax Foundation provided the majority of funding. Community donors raised nearly $9,000.
"The beauty and the spirit of our children is the only thing more beautiful than this playground out here today," Millard said at the ceremony just before participants cut a ribbon made of colored construction paper links.
Children learn about sharing, leadership, and other social skills on a playground, noted Baltimore City Councilman William "Pete" Welch, who represents District 9. "It's not just a playground," he said. "It's an enormous learning tool that helps them learn to deal with each other in a nonviolent way."
The new play space also includes an outdoor classroom area and small stage.
Logan and Jonathon Rondeau, Family League president and chief executive officer, also thanked the community for its support.
"Every kid needs to play," Logan said, on her way to distribute student-made thank you cards to volunteers. "It's not just about school. And they need to see that other people in the community care about them."
School of Nursing (SON) assistant professor Marik Moen, MPH, MSN, RN, led a team of several nursing students who were working up a sweat in the bright sun as they helped to build tables, benches, bean bag toss games, and concrete foundations. The SSW also recruited volunteers from the school and the University.

SON student Kattrina Merlo was busy smoothing out rough edges of a wooden bench with sandpaper. "It's important to do things like this to help out where you can," she said.

"Playgrounds are a big part of a community," added SON student Avielle Bender. "And it's important for UMB to stay connected to the community."