Maryland Gov. Larry Hogan, University of Maryland, Baltimore (UMB) President Jay A. Perman, MD, and other UMB faculty and officials met with counterparts from the Hebrew University of Jerusalem (HUJ) Sunday, Sept. 25, to ratify the extension of a successful student exchange program and to explore opportunities for other cooperative activities, such as joint research or training, exchange of scholars for seminars and conferences, and increased exchange of students and faculty for research, teaching, and study.
The meeting on HUJ's Ein Kerem campus was one of many during the governor's nine-day trade mission to Israel, much of which focused on building business and academic relationships in obvious areas of synergy, such as cyber security and life sciences. (Photo Gallery)
"Today's agreement will further strengthen the successful partnership between these world-class universities and help to advance research in Maryland, particularly in the study of military medicine," Hogan said. "Exchanging students and faculty will bring new perspectives and new opportunities for collaboration to both the University of Maryland, Baltimore and Hebrew University of Jerusalem and we are excited they are continuing their important work together."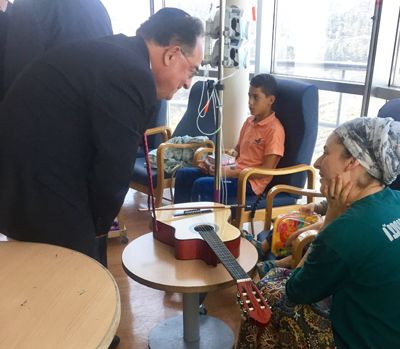 During a 2013 Middle East trade mission, Perman and Hebrew University President Menahem Ben-Sasson signed a memorandum of understanding, pledging to begin student exchange programs and explore further avenues of cooperation. In 2014 and 2015, groups of senior students from HUJ's Military Track of Medicine from the Hebrew University of Jerusalem Hadassah Medical School spent four weeks observing clinical care at the University of Maryland R Adams Cowley Shock Trauma Center, the nation's first and foremost trauma care center. Several HUJ students who participated in the exchange in 2014 and 2015 shared their experiences, including observing procedures and techniques in initial resuscitation, management of acute injury operations, and orthopaedic trauma service. They also attended grand rounds, practiced clinical techniques in the Simulations Center, and observed Shock Trauma's unique organization and team approach. Shock Trauma is one of the few such facilities that operate as a complete center, not a unit of an emergency department.
"Since 2013 we have strengthened the already impressive degree of collaboration in research and education between our two universities," said Perman. "We are committed to providing even greater opportunities for our students and faculty and to share our expertise in such critically important areas as trauma medicine."
The obvious success of the first phase of collaboration between UMB and HUJ sparked an energetic discussion of possible next steps, such as collaborative research and training, and the exchange of faculty for teaching assignments.
One area of possible collaboration is in military medicine. In 2013 HUJ established the national Institute for Research in Military Medicine (IRMM) in cooperation with the Israel Defense Forces. The institute, directed by professor David Gertz, MD, PhD, focuses on research and training with emphasis on the development of new treatments and technologies of direct relevance to force protection and homeland security.
"The Hebrew University of Jerusalem welcomes the collaboration with the University of Maryland, Baltimore, a world leader in the field of trauma and operational medicine," said Ben-Sasson. "Due to the challenging security conditions in the Middle East, the State of Israel has a great and ongoing need for excellent military medical officers who can function well in emergency situations. We look forward to many years of cooperative work and hope to expand the areas of collaboration between the two great institutes of education."
The agreement, signed by the two university officials, extends the collaboration for five more years, and anticipates continuing student exchanges as well as the development of other mutually beneficial education and joint research projects.
Other members of the UMB delegation present included James L. Hughes, MBA, vice president and chief enterprise and economic development officer; Andrew N. Pollak, MD, chairman, University of Maryland School of Medicine (UMSOM) Department of Orthopaedics; Aaron Rapoport, MD, professor of medicine; Morton Rapoport, MD, past president and CEO of the University of Maryland Medical System; Leonard Attman, member of the Board of Visitors of the R Adams Cowley Shock Trauma Center; and Abba David Poliakoff and Michael Greenebaum, members of the UMSOM Board of Visitors.
After the agreement was signed, Perman and Hogan visited children on the hematology-oncology ward of the university's Hadassah Medical Center, and were struck by the diversity of patients and the commitment of the faculty, staff, the hospital and the university to treat all children, regardless of nationality, race, or religion.
The governor's nine-day trade mission also yielded other benefits for the University of Maryland, Baltimore. On Sept. 22, Perman held discussions with Dan Blumberg, vice president and dean of research and development at Ben-Gurion University of the Negev (BGU), on areas of mutual interest, including cybersecurity and community-oriented health care. Blumberg also heads BGU's Homeland Security Institute.
Following Perman and Blumberg's visit, the two joined a meeting of BGU leadership and faculty, and the rest of the Maryland delegation to discuss a wider range of opportunities to establish educational and research relationships. (Photo Gallery)
BGU is named for Israel's first prime minister, David Ben-Gurion, who famously predicted the creative future of Israel would lie in the Negev, the nation's southern desert region. The university's location, the city of Be'er Sheva, is frequently likened to Silicon Valley - a rapidly growing hub of high-tech research and startup businesses. While there, Perman and the governor's delegation also got a chance to meet and speak with many of the leaders of Israeli cyber companies at CyberSpark, a joint venture of BGU, the Israel National Cyber Bureau, the municipality of Be'er Sheva, and a large number of cyber businesses.
Earlier in the week, Perman met with Israeli technology entrepreneurs and the leadership of Tel Aviv University. In his keynote address, Hogan told the 250 conference attendees, "Maryland truly is at the forefront of science, technology, business, and policy, and we want Israeli companies to continue to be a key part in our success." He added that, "We are committed to creating a culture in our state where all businesses can grow and thrive, and in this increasingly competitive economy, where companies can – and do – locate virtually anywhere." Two areas of particular interest for collaborations with UMB are in cybersecurity law and policy, and aging research. (Photo Gallery)
The University already has a strong connection with one of the stops on the trade visit. Bioscience company VAYA Pharma recently moved its U.S. headquarters to the University of Maryland BioPark. With more than 85 employees, VAYA Pharma is an innovator of lipid-based medical foods that are used to manage nutritional imbalances associated with certain diseases and health conditions. Perman and Hogan met in Tel Aviv with executives of Enzmotec, VAYA Pharma's parent company, shortly after arriving in Israel.