Extending from the President's Office to groups of students, participants from the University of Maryland, Baltimore (UMB) played a vital role in the fourth annual Project Homeless Connect. Hundreds took part in the event held Sept. 24 at the Baltimore Convention Center.
United Way of Central Maryland (UWCM) sponsors the effort in collaboration with city and state agencies and other partners. Mark Furst, president and chief executive officer of UWCM, and Mayor Stephanie Rawlings-Blake, JD '95, spoke of how the event could help meet the city's goal to see that homelessness becomes an experience that is both "rare and brief."
The mayor said that on any given night, 3,000 Baltimore residents are homeless and about one-fifth of these are families with children.
UMB President Jay A. Perman, MD, welcomed the 150 service providers and the first shift of volunteers, who had signed up to work one-on-one with the homeless who attended the event. (View a photo gallery.)
"Today is about ending acute poverty in Baltimore and dismantling the barriers to opportunity that prevent people from getting off the street and out of the shelter," Perman told the crowd.
"And when we take the time to see the problems of poverty and isolation from the perspective of those who feel them most deeply, when we give of ourselves in this kind of service," he said, "we can do anything."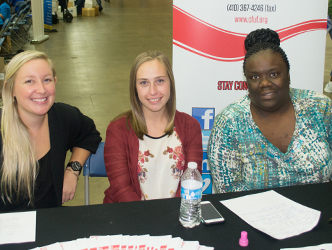 A format that is emulated nationally was devised to bring together as many as 2,000 of Baltimore City's most vulnerable residents, who were each matched with a volunteer escort. With that kind of individual attention, the residents could make the most of resources. The idea is to offer comprehensive services in one place at one time.
UMB was well-represented among the resources. For example, students from the School of Pharmacy spread awareness of diabetes, and students and alumni of the School of Dentistry administered dental care.
Students and faculty of the School of Nursing (SON) helped staff a site for HIV testing that was conducted by the JACQUES Initiative of the Institute of Human Virology at the School of Medicine (SOM). When test results were positive, the individual received a private consultation with JACQUES Initiative staff and suggestions to access care, according to Michelle R. Spencer MS, RN, who is a clinical instructor in the SON's Community/Public Health Nursing program.
Under a big sign for legal help, Maryland Carey Law provided information related to its Low-Income Taxpayer Clinic. Students were accompanied by adjunct professor J. Peter Haukebo, JD.
School of Social Work students included those holding field placements at the Center for Urban Families and another whose employer, Family and Children's Services, urged parents to become engaged in early childhood development.
And for the homeless or at-risk participants who sought relief from pain or stress, the SOM's Center for Integrative Medicine offered acupuncture.
The Project Homeless Connect format has been recognized by the U.S. Interagency Council on Homelessness and replicated in nearly 300 U.S. cities. Baltimore is considered a national best-practice model. In fact, the UWCM says organizers from Washington, D.C., visited last year and will hold the District's inaugural event this fall.
At UMB, students, staff, and faculty members are being encouraged to become more engaged in community activities than ever before and to volunteer. Go to UMB's Office of Community Engagement to find other opportunities in Baltimore City.