Partners at the University of Maryland, Baltimore (UMB) and beyond recently joined in events to help parents at two public schools that are served by Promise Heights, an initiative led by the School of Social Work (SSW).
These efforts are in keeping with UMB's commitment to Baltimore, as expressed in a letter-to-the-editor from UMB President Jay A. Perman, MD, published Sept. 21 by The Baltimore Sun in response to Gov. Larry Hogan's op-ed of Sept. 18, "The economic engine of Maryland."
In Perman's letter, among other things, the president says, "We're partnering in area elementary schools, providing families the services they need to get their children into school every day ready to achieve."
For families at Booker T. Washington Middle School for the Arts (BTW), the help came in the form of a free immunization clinic held in the school library. Sixteen students were immunized on Sept. 14. (View a photo gallery.)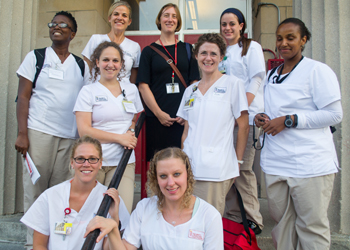 On Sept. 16, The Historic Samuel Coleridge-Taylor Elementary School(HSCT) held back-to-school night. (View a photo gallery.)
Parents and children strolled past tables staffed by Promise Heights' school-based partners, who described services and handed out items. Kids could pin on a button that said: "I'm never late." Familes were offered brochures and information, including handouts about the oral health effort, No Cavities Here.
The School of Dentistry (SOD) and the SSW collaborate on the new effort, which targets youngsters in the early learning programs at HSCT and is funded by a grant from the Thomas Wilson Sanitarium for Children of Baltimore City. The SOD's Pediatric Dentistry Predoctoral Program was represented at the event.
The School of Nursing (SON) staffed two tables with master's degree students who, among other things, were encouraging participation in their health learning activities for parents. Kate Scott, MPH, RN, instructs the SON students who come to HSCT on a weekly basis to experience health care in a community setting. Nine turned out for back-to-school night.
The School of Medicine (SOM) promoted fitness, among other things, having received a grant from the Maryland Community Health Resources Commission for Healthiest Maryland Schools, a program within the SOM's Division of Growth and Nutrition. The multi-level, pediatric obesity prevention demonstration project involves multiple, evidence-based programs encouraging healthy lifestyle choices and physical activity, among other things. Erica Turner, MPH, CHES; Raquel Arbaiza, MS, data coordinator; and Kim Bryan of the University of Maryland Expanded Food and Nutrition Education Program participated.
The SSW has a strong presence at HSCT year-round as the West Baltimore pre-K through fifth grade school is a Community School, which provides wraparound services intended to improve families' lives and students' well-being. The SSW's Henriette Taylor, MSW, LGSW, is the Community Schools coordinator at HSCT, which won a national award earlier this year from the Coalition for Community Schools.
It is among a group of Community Schools supported by the Family League of Baltimore, which also was a national honoree. The league was among partners represented at back-to-school night. Others present were the Center for Urban Families and Reading Partners.
Principal Bettye Adams referred to the multitude of services made possible through Promise Heights during her remarks to families in the auditorium. "We have everything we need in house in order to support you and make your student successful," she told the parents.
Promise Heights, which works in Upton/Druid Heights to improve the lives of youngsters from cradle to college or career, is one of the U.S. Department of Education's Promise Neighborhoods. The SSW-led initiative received a federal planning grant in 2012.
Bronwyn Mayden, MSW, executive director of Promise Heights and an SSW assistant dean, and Rachel Donegan, JD, program director, collaborate closely with Baltimore City Public Schools and have welcomed an additional Community School for the new academic year. Eutaw-Marshburn Elementary School joins Furman L. Templeton Preparatory Academy, Renaissance Academy, HSCT, and BTW.
For the middle school's immunization clinic, Promise Heights was supported by BTW Principal Jessica Blackmon-Stewart and two partners: the SOM and the Baltimore City Health Department. The city donated vaccines and was represented at the immunization clinic by Tiffany Washington-Goyal.
Assistant professor Yvette L. Rooks, MD, of the SOM's Department of Family and Community Medicine, conducted the clinic with Jonte Fisher, a medical assistant in the department. Rooks is a frequent participant in Promise Heights activities to help youngsters.
Many of the youngsters were accompanied by their parents, who provided moral support and encouragement. Meeting state vaccination requirements for the 2015-16 academic year meant that some seventh-grade students were lacking not just one but two shots to protect their and their classmates' health.
Those entering seventh grade needed a dose of Tdap vaccine and a dose of Meningococcal vaccine. There are certain shots needed at other grade levels, too. And if parents don't take steps to comply, the unprotected students would be kept out of school.