Under blue skies on a crisp fall day, state leaders, educators, researchers, and representatives from more than a dozen community organizations gathered Oct. 12 on the lawn of the University of Maryland School of Nursing (UMSON) for a ceremonial presentation of a $2.4 million check, kicking off a long-term grant to address health disparities in West Baltimore.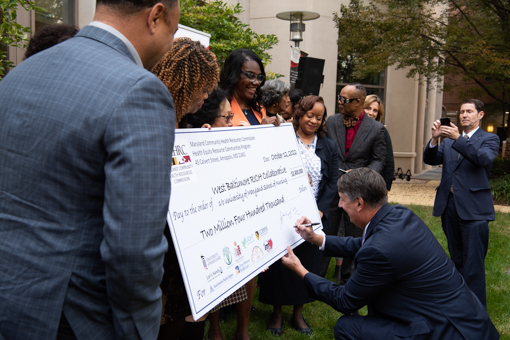 "It's really exciting to see everybody," said the grant's principal investigator Yolanda Ogbolu, PhD '11, MS '05, BSN '04, CRNP-Neonatal, FNAP, FAAN, welcoming the 50-plus attendees gathered to celebrate the launch of the West Baltimore RICH (Reducing Isolation and Inequities in Cardiovascular Health) Collaborative, funded by a Pathways for Health Equity Grant from the Maryland Community Health Resources Commission (CHRC). "I can't believe we've been working together for over 18 months. And many of us have never seen each other because of COVID."
The RICH Collaborative seeks to achieve positive health and social impact in the University of Maryland, Baltimore's West Baltimore neighborhood by bringing partner organizations together to advance common interventions for improving hypertension outcomes and social isolation. The collaborative comprises community-based organizations, faith-based organizations, academic institutions, and health care organizations, all working together to address hypertension and social isolation in four ZIP codes in West Baltimore, selected due to substantial race-based disparities in the represented areas.
"We also know that when organizations work together, we can do so much more together than any one organization can do alone," said Ogbolu, associate professor; chair, Department of Partnerships, Professional Education, and Practice; and co-director, Center for Health Equity and Outcomes Research, UMSON. "We partnered together because we know that when organizations work together to improve community health and connect people to social resources that they need within their communities, we make communities safer, stronger, and healthier."
The project's key objectives include establishing the collaborative using nurse-managed health centers, leveraging mobile health care, and enhancing care coordination through a community health worker model to decrease the number of patients with uncontrolled hypertension and to increase participation in social support groups. Specifically, the project seeks to:
Reduce health disparities
Improve health outcomes
Increase access to primary care
Promote primary and secondary preventive services
Reduce costs and hospital admissions and readmissions
Jane M. Kirschling, PhD, RN, FAAN, the Bill and Joanne Conway Dean of the University of Maryland School of Nursing, said the occasion marked a significant moment in West Baltimore.
"I cannot think of a better reason to come together than to recognize how we are stepping forward together to address health disparities, expand access to health services, and ultimately to help improve health outcomes," she said.
Kirschling and others thanked Maryland state Sen. Antonio Hayes (District 40, Baltimore City), sponsor of Senate Bill 172, for leading the way with the Maryland Health Equity Resources Act of 2021; Maryland state Sen. Guy Guzzone, chair of the Senate Budget and Taxation Committee, for ensuring the necessary funding; and CHRC for supporting nine diverse projects across Maryland.
Kirschling also thanked the 14 community organizations partnering with UMSON.
"Collaborative work such as this is not always easy — in fact, sometimes it can be downright messy — but it is well worth it," she said. "It is at the heart of being able to address complex problems that are bigger than any single organization can tackle alone. We all benefit when abilities, expertise, and know-how are combined for the greater good."
For Hayes, playing a role in improving health outcomes in West Baltimore is especially meaningful because, like Ogbolu, he was born and raised in the community.
"This is a good day for West Baltimore, what I've called home all my life," he said. "There's very few times in your legislative career where you have victories like this, and this is one that I'm most proud of."
All Marylanders deserve access to high-quality, affordable health care, Hayes said.
"Health inequities based on race, ethnicity, disability, and place of residence persist throughout the state, as shown in maternal and infant mortality rates and other measures," he continued. "In underserved areas of the state, people with chronic conditions such as hypertension, heart disease, asthma, diabetes, and substance and mental health disorders have worse health outcomes and are less able to get the care and treatment they need." The COVID-19 pandemic has further exposed health inequities and highlighted the need to address them, he added.
In his role as committee chairman, Guzzone said approving funding for the RICH Collaborative was a matter of doing the right thing after decades of systemic inequity.
"When Antonio came to me, this was a moral question," he said. "In my mind, this was about digging deep. If we can't use our resources in the state for something like this, to improve the health of everyone, what are we doing? And we're going to make sure that that funding continues for years to come, because it's going to take years and years of work to try to rectify some of the inequities that have occurred over the years."
Evidence shows a significantly lower life expectancy for residents in West Baltimore neighborhoods when compared to wealthier communities, such as Roland Park, just a few miles away.
Debbie Rock, CEO and founding executive director of RICH Collaborative community partner LIGHT Health and Wellness Comprehensive Services, which has been serving women, children, and families impacted by HIV, poverty, substance abuse, mental health, and trauma for more than 23 years, said she was impressed with how the RICH Collaborative was already working behind the scenes.
"From the beginning, the state, the medical, and academic institutions have solicited and listened to the feedback that our clients offered and ensured that their comments were valued," she said. "That has kept us all on the right track of doing great work together."
Kelsie Challenger, a community outreach worker supervisor with the RICH Collaborative, leads a team of six "selfless, dynamic, and creative" community outreach workers, many of whom are longtime residents and natives of West Baltimore and share similar lived experiences as the communities served by the collaborative.
"As community outreach workers, our role and responsibility is to listen, to support, to empower, to accommodate, and to advocate for community members," she said.
One such community member, Ericka King, who lives in one of the targeted ZIP codes, said as a single parent raising four grandchildren and dealing with numerous health issues herself, having community workers check in on her on a regular basis will be a tremendous relief.
"I have noticed a majority of pharmacies, doctor's offices, and dental offices are either boarded up or they have moved to other locations," she said. "Having available health resources and community outreach programs that offer mobile health units can make a huge and positive impact in our community."
Other speakers included: Mark Luckner, MA, executive director, CHRC; Dana D. Farrakhan, DrPH, MHS, FACHE, senior vice president, University of Maryland Medical System; Danny Bellamy, CEO, Total Health Care, RICH Collaborative community partner; and community member Clarence Giles.
Partner organizations working together to achieve the collaborative's goals include:
A Better Tomorrow Starts Today counseling agency
Ascension St. Agnes Hospital
Bon Secours Community Works
Coppin State University Helene Fuld School of Nursing
Druid Heights Community Development Corp.
Lifebridge Health Grace Medical Center
LIGHT Health & Wellness
Ministers' Conference Empowerment Center
University of Maryland Medical Center Downtown and Midtown campuses
University of Maryland School of Medicine Department of Cardiology
University of Maryland School of Nursing
University of Maryland, Baltimore Community Engagement Center
Two federally qualified health centers: Total Health Care and Chase Brexton
The organizations were selected based on opportunities to synergize and expand efforts to provide care and services to West Baltimore residents.
For further details about the Pathways for Health Equity Grant from CHRC for the West Baltimore RICH Collaborative, read the grant announcement.