The University of Maryland School of Pharmacy (UMSOP) celebrated the next phase of its Pharmapreneurship initiative on Oct. 4 by cutting the ribbon to open its new Pharmapreneurs' Farm and announcing a new endowed professor in pharmapreneurship.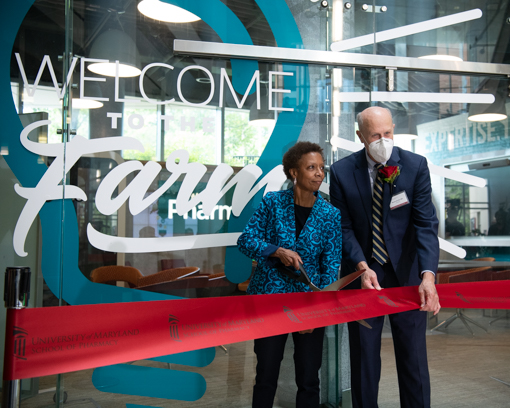 "I am so pleased that you are here with us today — some in person and some virtually — to join me in finally cutting the ribbon to officially open our Pharmapreneurs' Farm and to announce our newly appointed Felix Gyi Professor in Pharmapreneurship," said Natalie D. Eddington, PhD, FAAPS, FCP, dean and professor, as she welcomed attendees to the celebration. The event, held in the Ellen H. Yankellow Grand Atrium in Pharmacy Hall, was also livestreamed.
The Pharmapreneurs' Farm was envisioned in 2018 as a dedicated space for faculty, staff, and students to collaborate, nurture, and develop their pharmapreneurial ideas. Its prominent location is a visible reminder to all who enter Pharmacy Hall of the importance the school places on "cultivating and growing" the next generation of pharmapreneurs and cutting-edge ideas for pharmacy's role in entrepreneurship, Eddington said.
In 2017, UMSOP launched its pharmapreneurship initiative, which outlines the school's commitment to supporting and best positioning faculty and students to achieve their career aspirations and address the nation's health care, research, policy, and societal needs. The innovative initiative is used to advance pharmacy education, scientific discovery, patient care, and community engagement across the state of Maryland and beyond.
The Farm, which was made possible by donor support, is equipped with state-of-the-art technology that allows for presentations and demonstrations both in person and virtually and is designed with collaboration in mind. It was completed in spring 2020 but sat empty due to the COVID-19 pandemic.
"Now, with UMB and the School of Pharmacy having returned to in-person activities, I'm excited to officially cut the ribbon and open the Farm for everyone to see and use it," said Eddington, who was joined by University of Maryland, Baltimore President Bruce E. Jarrell, MD, FACS, in snipping the red ribbon with oversized scissors.
The Farm is one example of how UMSOP continued to push forward during a global public health crisis, Eddington said.
"Despite the challenges presented by the ongoing pandemic, our community's support has allowed the School of Pharmacy to persevere over the last 18 months," she said, noting that during the pandemic, the school created a robust online learning environment, expanded enrollment in its MS and PhD programs to reach more students, and played a leading role in the distribution of COVID-19 vaccines on campus and in the community.
"And we continued our vital patient care programs and research initiatives under extremely difficult circumstances and guidelines, none of which would be possible without our collective pharmapreneurial mindset, a mindset which is actively encouraged and cultivated at the school," she continued. In the last four years, the school has established partnerships with other leading entrepreneurial institutions to increase programmatic and mentorship opportunities for its faculty, staff, and students, Eddington added.
In addition to the opening of the Farm, the ceremony included the naming of the Felix Gyi Endowed Memorial Professor in Pharmapreneurship. As recipient of the honor, Magaly Rodriguez de Bittner, PharmD, BCPS, CDE, FAPhA, professor, Department of Pharmacy Practice and Science, and associate dean for clinical services and practice transformation, will lead all pharmapreneurial activities at the school, providing focus, direction, and support for the groundbreaking initiative.
UMSOP alumnus Mary Therese (Terry) Gyi, BSP '83, PharmD '06, and her daughter, Rebecca T. Gyi-Hovis, MD, made a $1 million gift to the school to endow the Felix A. Khin-Maung-Gyi, BSP '83, PharmD, MBA, Endowed Memorial Professorship in Pharmapreneurship in honor of their late husband and father. The founder of Chesapeake Research Review, and a pharmapreneur, Khin-Maung-Gyi passed away in 2014.
"Magaly brings a wealth of expertise and enthusiasm to this role," Eddington said. Later in the afternoon, Rodriguez de Bittner delivered the inaugural Gyi Professor Lecture and outlined her vision for the future of pharmapreneurship.
The professorship follows the Gyi family's gift of $750,000 in 2019 to fund the Felix A. Khin-Maung-Gyi Memorial Scholarship for Pharmapreneurship, which provides one full year of tuition for a student pharmacist who has demonstrated a commitment to entrepreneurship. This year's scholarship recipient, Sean Kim, a third-year PharmD student enrolled in the pharmapreneurship pathway and president of the school's Student Government Association, spoke at the ceremony.
"When applying to pharmacy schools, one of the most impressive things about the University of Maryland School of Pharmacy was the number of pathways, dual-degree programs, and unique courses available to students," Kim said. "Of which, what interested me the most was the pharmapreneurship pathway because it combines traditional pharmacy education with the skill sets and tools used by innovative entrepreneurs.
"My fellow students and I look forward to utilizing the Pharmapreneurs' Farm to collaborate on our research projects that will hopefully change the way health care is delivered," said Kim, who along with two other students is creating a business based on an online application meant to make resolving health problems easier for international travelers.