Like a preschool teacher gathering his young students around him, Thomas Scalea had his own form of "story time." But instead of Thomas the Tank Engine, Scalea's topic was "Supporting Failing Organs" at the University of Maryland, Baltimore (UMB) Entrepreneurs of the Year Presentation on Oct. 15.
His "very cool story" took place not in a cozy classroom but in the auditorium of the R Adams Cowley Shock Trauma Center, which is regarded as the world's most advanced trauma center under physician-in-chief Scalea, MD, FACS, FCCM, and his colleagues.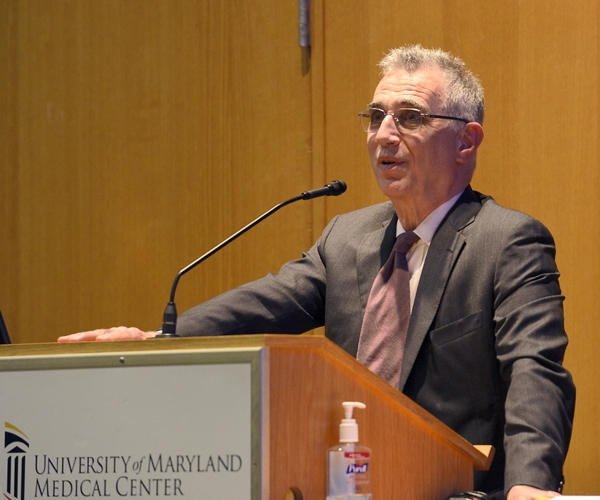 Scalea mixed history, humor, and humility into a riveting hourlong presentation enjoyed by over 100 people.
"Anyone who has heard me knows I tell stories. It's the only thing I'm good at," said Scalea, the Francis X. Kelly Distinguished Professor in Trauma Surgery at the University of Maryland School of Medicine. "And this is a pretty good story. It's a story not only about MARS. It's about the development of support for failing organs. It's a story about a whole bunch of entrepreneurs and their spirit that allowed us to accumulate the knowledge that has brought us to this point.
"It starts with the advent of critical care: When I finished my residency back in the Middle Ages, say around 1983, there was a single fellowship program in critical care for surgeons — one. My surgical critical care certificate number is 069. There weren't that many," said Scalea, who arrived at Shock Trauma in 1997. "So it's a story of critical care that traces its maturation, it's a story of innovation and determination. It's a story that covers a long time, it's not just about MARS, so indulge me."
Later called a "Pied Piper" by 2017 UMB Entrepreneur of the Year Bartley Griffith, MD, Scalea led the crowd on a journey of organ failure through the ages. Heart failure in World War I. Kidney failure in World War II and the Korean War "because helicopters and blood banking made injured soldiers live who used to die from heart failure." Lung failure in Vietnam.
Scalea dropped many names of pioneers in the fight against organ failure up to modern days. Florence Nightingale. Peter Safar. Tom Petty "without the Heartbreakers." Dave Ashbaugh. Bruce Jarrell. Rolf Barth. Art Baue. Berry Fowler. And his mentor, Louis Del Guercio. "I had no right to that fellowship, but he took pity on me, so I dedicate this to his memory," Scalea said.
Among the historical tidbits was that Safar in 1958 set up the first ICU in the United States. "Where?" Scalea asked the assembled physicians, researchers, students, and staff. "Eight miles from here, Baltimore City Hospital, now known as Bayview. The home of critical care in trauma in the United States is Baltimore."
Next Stop: MARS
Eventually Scalea got around to his greatest story of the day, the one that garnered him, Deborah Stein, MD, MPH, FACS, FCCM, chief of trauma at Shock Trauma, and Steven Hanish, MD, FACS, a former liver surgeon at Shock Trauma who is now director of liver transplants at the University of Texas Southwestern Medical Center, the UMB Entrepreneurs of the Year award.
Their innovative application of the Molecular Adsorbent Recirculating System (MARS) led to a study that found this "dialysis machine for the liver" can remove toxins, improve clotting, and reduce brain swelling — allowing acute liver failure sufferers time for spontaneous recovery or transplantation.
"Usually as the senior member of the team I would have assigned this talk to Deb or Steve," Scalea said early in his presentation. "But he is in Dallas [at his new job] and she is in England [on vacation], so you'll just have to put up with me."
How the MARS machine came to Shock Trauma combined knowledge, quick thinking, a tight-knit team, and good old-fashioned luck.
"This guy comes in with a devastating liver injury from a gunshot wound," Scalea recalls. "Deb calls me, we get him through the first operation, but he goes into liver failure. Deb says, 'What about this MARS machine?' We've heard about it, we don't own one, few did. She says, 'Hey, Dad, you think we could get one?' " Scalea recalled to the audience's amusement.
"I say 'Sure!' I don't know where the hell we are going to get one. So I call the company. They say, 'You're not going to believe this. Somebody bought it. They decided they didn't want it. It's on the truck, in Maryland, coming back to the factory. Do you want it?'
"I said, 'Absolutely, turn the truck around and bring it down,' " Scalea recalled. "Then I hung up and I asked myself, 'I wonder how much this thing costs?' [more laughter] So I called Karen [Doyle, senior vice president at Shock Trauma] and said, 'Hey, Mom, can we have a dialysis machine?' God love her, she said. 'I don't care what it costs, if you need it, you've got it.' They deliver it and just like Petty [the pioneering lung specialist], we sit on the floor. We open the instructions. We say, 'How hard can it be? It's just a machine.' The patient gets well."
And so did more and more patients. After 27 patients, Scalea, Stein, and Hanish reported their findings to the American Surgical Association. Now the nearly 14,000 Americans on the liver transplant waiting list have renewed hope. And as James L. Hughes, MBA, chief enterprise and economic development officer and vice president at UMB, who hosted the event, said, "Through persistence and meticulous research, the MARS team is on the path to turn inspiration to save one life into a new standard of care for thousands of patients."
Scalea sees it more as being in the right place at the right time. "We had modern technology next to the patients," he said. "We controlled the technology ourselves. We noticed what was different, we weren't bound by conventional thinking. We challenged dogma, we flew by the seat of our pants, and as physicians and surgeons we were together. This story is far from told. There are a zillion careers for those who want to take this on. But it's a cool story. A very cool story."
Record-Breaking Research
After Scalea took questions from the audience, Hughes, UMB President Jay A. Perman, MD, and Phil Robilotto, DO, MBA, assistant vice president of research and development, presented plaques to some of the 99 UMB researchers who had U.S. and international patents approved in the past year.
"We've had an incredible year in extramural funding," Hughes said. "We had big growth two years ago and this year we grew the biggest we have ever had and the biggest of any University System of Maryland institution with $667.4 million. There is a lot of great research being done here, and that's the foundation of much of the great entrepreneur work we are seeing."