Addressing an influential crowd of technology and life sciences professionals at the Bio+Tech 18 Conference, University of Maryland, Baltimore (UMB) President Jay A. Perman, MD, noted that in addition to recruiting top scientists from around the country and the world, UMB closed the academic year with a record $667 million in grants and contracts.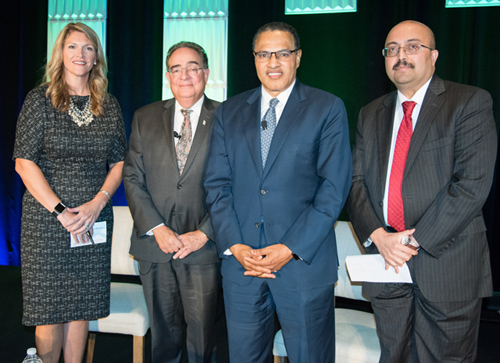 "It speaks to the fact that we understand the importance of our science, but most importantly of getting our science out to the bedside," he said at the Sept 20 event at the Hilton Baltimore.
Reflecting on his work as a pediatric gastroenterologist, Perman said technology research is not just about business. "This is about all of us" he said, gesturing to the audience, "improving the human condition."
Perman was joined on a panel titled "Innovation in Baltimore" by University of Maryland, Baltimore County (UMBC) President Freeman Hrabowski, PhD, and Johns Hopkins University Provost and Senior Vice President of Academic Affairs Sunil Kumar, PhD. Each leader discussed how their top-tier research institution contributes to Maryland's status as an innovation hub and how collaboration is driving the creation of incubators and startups. The panel was moderated by Nicole Palya Wood, senior director of state advocacy for the Pharmaceutical Research and Manufacturers of America (PhRMA).
Presented by the Maryland Tech Council, the Bio+Tech18 Conference brought together more than 400 professionals in life sciences and technology to network and build partnerships that will lead to future discoveries.
Partnership and collaboration were important themes for the panel members, who discussed how working together benefits each institution and the region as a whole. "We really are a strong region," Hrabowski said. "From my campus, you can see downtown Baltimore. There's a real connection here."
One of those connections is Anchor Ventures, a series of networking events that is a collaboration among University of Maryland Ventures, the University System of Maryland, and Johns Hopkins Technology Ventures.
Other collaborations include the Annual UMB-UMBC Research and Innovation Partnership Grant Program that connects investigators across universities and disciplines.
"The two institutions together produce many of the biomedical scientists that fertilize what we're doing here," Perman said.
When searching for ideas to innovate, Perman said he goes to the source — students. He humbly shared with the crowd that the recently opened Graduate Research Innovation District, known as the Grid, wasn't his idea. Located in the Lion Brothers Building in the UM BioPark, the Grid is an entrepreneurial innovation space where University startups can interact with UMB students, get help from UM Ventures staff, and engage with on-site experts, including UMB entrepreneurs in residence, Maryland Small Business Development Center advisors, and faculty and students working in the Intellectual Property and Entrepreneurship Law Clinic, and attend open lectures that are offered through UMB. It was created in conjunction with the University of Maryland, College Park at the request of business-minded students who wanted to be pharmacists, doctors, and engineers as well as entrepreneurs.
The BioPark, which was named Outstanding Research Park by the Association of University Research Parks in 2017, is UMB's primary vehicle for connecting academia to industry. BioPark tenants represent a variety of innovative life science companies, from research and development to diagnostics and therapeutics. and have created a robust community of innovation while being an integral participant in the rejuvenation of West Baltimore.
Perman said accelerators like the Grid will help support the Maryland Tech Council's vision of positioning the state as a top-three innovation economy for technology and life sciences.
"It brings our graduate students and our professional students into an environment where they learn how to pitch, they learn how to market, and they learn the world of business," Perman said. "It's a very deliberate strategy to say, 'I started this in Baltimore and I'm going to stay here and pursue this.' "