The University of Maryland, Baltimore's Community Engagement Center (CEC) is making good on its campaign to "Get Out The Vote" by hosting an early voting site for the 2018 general election. Baltimore City residents can vote and register to vote at the center through Nov. 1.
Since Oct. 25, the polls have be open from 10 a.m. to 8 p.m. every day, including Saturday and Sunday. The CEC, located in the Poppleton neighborhood, adjacent to the University of Maryland, Baltimore (UMB) campus, is one of seven voting sites operated by the Baltimore City Board of Elections and the only site in the downtown Baltimore area.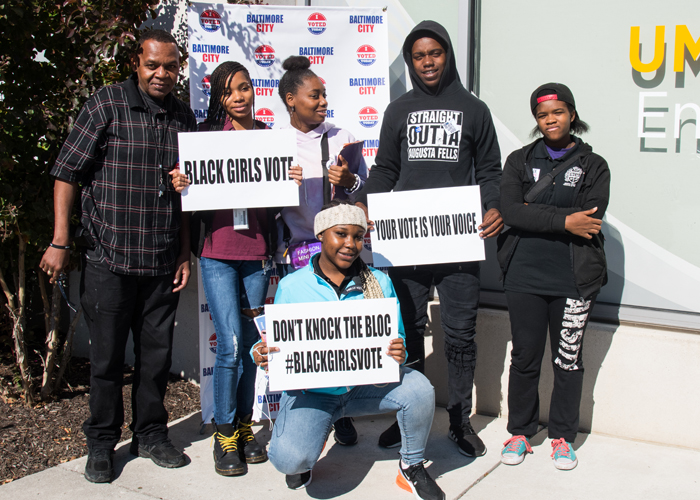 "I consider it a privilege that UMB is able to host a polling place for our neighbors, that I get to join them in exercising my right to vote, and that together we can show Baltimore's children the importance of this civic responsibility," says UMB President Jay A. Perman, MD. "Every single election is vital. And by coming together in this way, we're recommitting to our shared community and standing up for the people we think will strengthen us and advocate for us and uphold the values we believe are non-negotiable."
Perman joined community members at the polls on Oct. 25, when he cast his ballot at the CEC. He also spoke with members of several organizations that spent weeks canvassing the neighborhoods to boost voter registration and maximize early voting participation.
(View an early voting photo gallery.)
"We see voting as one way for our neighbors to build political power, and we are very happy to assist in that effort," says Kelly Quinn, PhD, the CEC coordinator.
Leading up to the polls' opening, Quinn worked in tandem with the Southwest Partnership, a coalition of seven Baltimore neighborhood associations and six institutions including UMB, as well as #BaltimoreVotes, an organization committed to engaging Baltimoreans, without prejudice or bias, in every election. Together, they organized several events to help raise civic awareness in the West Baltimore community and encourage residents to engage in early voting.
"Voting is our superpower," explains Curtis Eaddy, manager of events and marketing for the Southwest Partnership. "Voting gives us the power to change laws that impact our daily living."
Back in September, the CEC along with #BaltimoreVotes and the Baltimore People's Climate Movement hosted a "Get Out the Vote" pep rally. The goal of the pep rally was to help Baltimore residents learn more about what will be on the ballot while also emphasizing the importance of community building and participation in the Maryland General Election.
(View a pep rally photo gallery.)
Several other community-based organizations also attended the pep rally in support of the efforts to push Baltimore City residents to vote and register to vote, including: the Southwest Partnership, No Boundaries Coalition, Black Girls Vote, Baltimore Women United, Be the Change, Communities United, and former first lady Michelle Obama's campaign, When We All Vote.
Their support for voter participation did not stop at the pep rally. When the polls opened for early voting Oct. 25, Communities United, an organization that empowers low-income Marylanders to achieve transformative change on racial, economic, and social justice issues, was out in front of the voting station with a van full of people eager to cast their ballots. Members of the organization volunteered to provide transportation to and from the CEC during early voting to make it more accessible to people who would not make it to the polls otherwise.
"People have the right to vote, they work hard to be able to vote," explained Nabeehah Azeez, organizer for Communities United. "We want to make sure that every person has access to a polling site to exercise their right."
Meanwhile, Black Girls Vote, a local nonpartisan organization designed to represent the concerns and interests of black women, focused on getting first-time voters to participate. Members of the organization transported vans of voting-age students from Augusta Fells Savage Institute of Visual Arts to the CEC to cast their ballots for the first time.
"I feel grown up," exclaimed 18-year-old Denise Johnson as she exited the polling station. "It feels great to know that I am doing my part as a member of the community"
The push for civic engagement even stretched to individual members of the community. Heather Kangas, LCSW-C '14, is a resident of the Pigtown neighborhood in West Baltimore and an employee assistant social worker for housekeepers and food staff at the University of Maryland Medical Center (UMMC). To motivate her colleagues, she hosted a registration event at UMMC during shift change and informed them about the early voting site just a short walk away from the hospital at the CEC.
"An early voting site at the CEC creates more time for working people who have these precarious schedules to actually participate," Kangas explains. "It's great that it's in such a central location for people to come and vote before or after work or even on their lunch break." With help from Quinn, Kangas managed to get about a dozen hospital employees registered to vote ahead of early voting.
The contributions and support from all parties seemed to make a lasting impression on the community. In the first two hours of the polls' opening Oct. 25 more than 200 people flooded the CEC to vote, and a steady stream of voters continued in the days to follow.
In an effort to continue this momentum, the CEC will host a "Party at the Polls" on Thursday, Nov. 1, outside the center for their West Baltimore neighbors. On that same day, the CEC also will be partnering with Vivien T. Thomas Medical Arts Academy, located a few blocks away from the center in the Franklin Square neighborhood, to host a second "Party at the Polls" in the hopes of turning high school students into first-time voters.
Thanks to a generous donation from Mile 22 and #BaltimoreVotes, the CEC will provide food, games, and music at the polling parties as well as shuttle service to and from the voting station. Members of the Southwest Partnership along with students from the University of Maryland School of Social Work and Master of Public Health students at the University of Maryland School of Medicine will be on hand to volunteer at these polling parties, which create yet another avenue to make voting fun and accessible for the community.
The CEC will resume its regularly scheduled activities with neighborhood residents, including the Police Athletic/Activities League, exercise classes, and food markets on Nov 2. Call the CEC at 410-706-8260 for details.