Rural Maryland residents have gained greater access to oral health care through an innovative collaboration between West Cecil Health Center, Inc., and the University of Maryland School of Dentistry (UMSOD).
Jay A. Perman, MD, president of the University of Maryland, Baltimore (UMB), and Mark A. Reynolds, DDS, PhD, dean and professor of UMSOD, joined with local and state officials Sept. 26 to mark the health center's new ownership of a dental clinic that UMSOD had established in Perryville.
(View a photo gallery.)
West Cecil President and Chief Executive Officer John Ness, MBA, presided over a ribbon-cutting outside the spacious dental clinic, which is located on Pulaski Highway not far from the Susquehanna River. During the fiscal year that ended June 30, the clinic cared for 2,698 patients (1,884 adults, 439 geriatric, and 375 children).
Perman and Reynolds were joined by Ness and the health center's board chairwoman, Susan Stephens; and by Richard Szumel, MD, president and chief executive officer of Union Hospital. Also participating in the ceremonies were Jinlene Chan, MD, acting deputy secretary for public health services, Maryland Department of Health; Mark Luckner, executive director, Maryland Community Health Resources Commission (MCHRC); Cecil County Executive Alan McCarthy, DVM; Harford County Executive Barry Glassman, and Del. Kevin B. Hornberger of Cecil County.
The shift in ownership of the clinic was made possible in part through a $325,000 grant to West Cecil from the MCHRC to help maintain the Perryville location as a clinical teaching site with pre-doctoral students and dental hygiene students.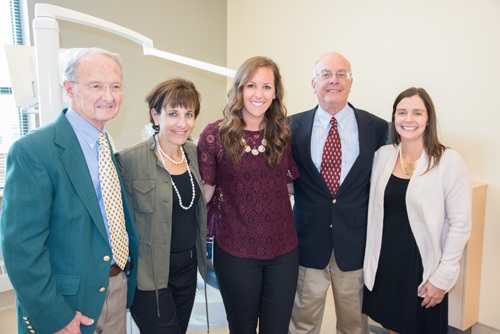 Perman said the unique partnership holds lessons in how "we innovate health care practice to serve the most people and to serve them regardless of their ability to pay, with dignity." Speaking of the University's commitment to the entire state, he added: "With this partnership, we're putting our Maryland mission to work."
Reynolds thanked supporters and partners in "this innovative, sustainable model for high-quality oral health care delivery," which is believed to be the first of its kind nationally. "We're very proud to be part of this partnership, which provides an opportunity for us to begin to reduce barriers to access to care and to provide care to the citizens of Maryland, including those who have been traditionally blocked from care."
Helping to deliver that care is Emily Davis, DDS '17, who was raised in the nearby Elk Neck area and continued to live in Cecil County as she pursued her studies at UMB, including rotations at the clinic. Davis's love of education was nourished by her mother, who is a kindergarten teacher in Cecil County. Davis says it was a love of science as a child that led her to dentistry.
And now her return to her roots is complete as she begins her career, surrounded by UMSOD colleagues W. King Smith, DDS, and Robert Noppinger, DDS, who are clinical instructors in dentistry; and Sharon Varlotta, RDH, MS, and Lisa Bress, RDS, MS, who are clinical assistant professors in dental hygiene. Bress says a lack of fluoridated water in all but a few communities results in many cases of dental caries, so the need in Cecil is great.
The UMSOD team was part of the reception and tours for members of the public and government officials who attended the Sept. 26 event. On the tours, guests were shown the 12,000-square-foot facility with its modern technology and 26 dental chairs.
Over eight years, UMSOD cared for more than 16,000 adults and children, but the model was not sustainable. Instead, West Cecil Health Center agreed to own and operate the clinic, accepting adults and children on a sliding scale.
Ness called the collaborative effort an example of "how we can be creative, innovative, and leverage all of our collective resources" to ultimately improve the health of the community. Working closely with UMSOD faculty and students, the clinic will be able to expand its hours and services. "We can serve as a true dental health home," Ness said.
Luckner of the MCHRC said the project won grant support because it is "innovative, sustaintable, and replicable."
Chan called the effort a great example of a "public-private partnership that comes together to meet a common goal of serving the underserved and doing so with an integrated approach."
Speaking on behalf of the governor and of the state health secretary, she said: "We all know that dental health is very critical to a person's whole health."