The University of Maryland, Baltimore (UMB) is once again playing a role in civic affairs by hosting an early voting site for the 2016 general election. Residents of Baltimore City are able to vote and to register to vote at the Community Engagement Center (CEC) through Nov. 3.
The general election takes place on Nov. 8. A number of student groups are collaborating to hold an election night watch party. Earlier this fall, the election was the subject of attention for both UMB students, who held a panel and invited speakers, and for UMB's neighbors who participate in CEC activities.
Early voting began Oct. 27 at the CEC, located at 1 N. Poppleton St., which is part of the University of Maryland BioPark complex. The hours are 8 a.m. to 8 p.m. every day during that period including Saturday, Oct. 29, and Sunday, Oct. 30. A space at 870 W. Baltimore St. has been designated for handicapped parking.
Voters in Baltimore City have begun casting ballots for offices including mayor, City Council president, City Council members, and judges, and for the next president of the United States. The State Board of Elections conducts early voting at five other sites in Baltimore City and at various locations in other jurisdictions.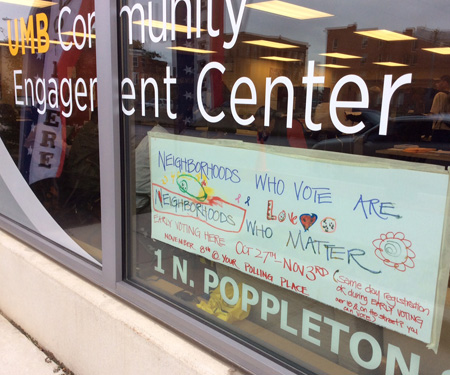 At the CEC, many West Baltimore residents, including boys and girls, helped get ready by making signs to raise awareness ahead of time, and dozens of adults signed a poster pledging to vote. For one family, the 2016 election has a multi-generational aspect. Nine-year-old Brooke Adair had a hand in making the greeting adorning the CEC front window. Decorated cutouts spell "VOTE." Her father, Richard Adair, is an election judge.
Brooke and other children, many of them from UMB partner James McHenry Elementary/Middle School, come to the CEC on Thursdays to attend an after-school program conducted by students at the School of Nursing. This is one of many activities ranging from yoga to a food market that the CEC offers to UMB's neighbors in West Baltimore. During the early voting period, some events ordinarily held at the CEC are being moved to other sites such as the BioPark. (Call the CEC at 410-706-8260 for details.)
Leading up to the election, the Office of Student Development and Leadership (OSDL) has conducted several events, including an appearance in September by Linda Rittelmann, president of the Baltimore City League of Women Voters. In October, the OSDL joined with students from the School of Social Work and the interdisciplinary University Student Government Association to sponsor a panel discussion. Panelists included Kory Boone, chair of the Maryland Young Republicans, and Joseph Kitchen, president of Young Democrats of Maryland.
The election night watch party is being supported by OSDL and planned by the USGA and at least eight other student groups including three from Maryland Carey Law, where the event is expected to take place in the Comcast Dining Room.