The University of Maryland School of Dentistry (SOD) served more than 700 patients in desperate need of dental care during a two-day Mission of Mercy clinic held in conjunction with the annual Project Homeless Connect (PHC) in downtown Baltimore.

(View a photo gallery.)
Lines had formed when the doors to the Baltimore Convention Center opened at 5:30 a.m. on both days — Sept. 29 and Sept. 30 — despite pouring rain the first day. Some people said they had arrived as early as 3 a.m. to secure a slot because they otherwise would have been unable to afford or gain access to the treatment they needed. WBAL-TV aired a report featuring a relieved woman who had been in great pain.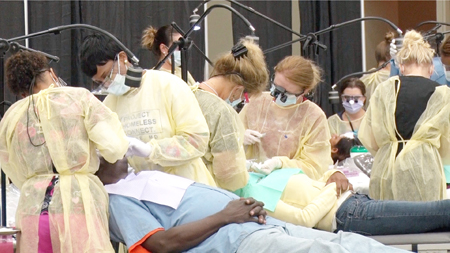 The SOD made an unprecedented commitment to help organize and to take part in the Mission of Mercy, shutting down all of its other clinics and rearranging its academic schedule so that hundreds of students, faculty, and staff members could provide free oral health care.

Jay A. Perman, MD, president of the University of Maryland, Baltimore (UMB), recognized them in his remarks on Sept. 30, when he joined leaders of PHC to kick off the overall delivery of services. Baltimore City Health Commissioner Leana Wen, MD, MSc, FAAEM, was among those who spoke.

A project of the United Way of Central Maryland, PHC was being held for the fifth time in Baltimore. It is a national model to help the poor by bringing together services to meet every need into one place at one time.

"Our dental and dental hygiene students, faculty, and staff have gotten the jump on all of us," Perman said. "They've been here since about 5 a.m. yesterday morning triaging patients …. for X-rays, cleanings, fillings, extractions."

Perman said it's times like these that he feels "so very proud to be a Baltimorean."

"When I talk about the love that UMB has for this city — this community — I'm talking about them," he said of the UMB contingent at the Convention Center, which in addition to the SOD on Sept. 30 included representatives of the schools of Pharmacy, Nursing, Social Work, Law, and Medicine, which this year offered ophthalmology.

Perman emphasized the SOD in his acknowledgments given the scope of its Mission of Mercy, which also drew alumni with dental practices in the region.

He recognized SOD Dean Mark A. Reynolds, DDS, PhD, MA; Assistant Dean of Clinical Affairs Louis G. DePaola, DDS, MS; Clinical Assistant Professor Ramsay Koury, DMD; and Material Services Manager John McDaniel as well as Alumni Association board member Chris Liang, DDS '98; and Eric Biagioli of the Foundation of the Maryland State Dental Association (MSDA). Elsewhere in the state, the MSDA foundation had led many Missions of Mercy, complete with dozens of chairs, sterilization, and digital X-ray equipment.

But this was the first time that one was held in Baltimore. And it was the first time that third- and fourth-year students, supervised by SOD faculty, could directly provide care to patients. Recipients said they had been eager to get help in the form of long-delayed cleanings, oral cancer screenings, and, in many cases, extractions.

One man had three teeth pulled. Afterward, George Willis of Baltimore praised his care team that included third-year SOD students Dana Short and Julie Wheeler. "This service is unreplaceable," said Willis. "These are very nice people. They do an excellent job. And for the service they provide to the homeless, they can't get that anywhere."

View the video below to see more of SOD's role in the massive Mission of Mercy.