Mark A. Graber, PhD, JD, MA, Jacob A France Professor of Constitutionalism at the University of Maryland Francis King Carey School of Law, has been named a University System of Maryland (USM) Regents Professor. Graber is one of just seven Regents Professors in the history of the University System of Maryland, and the only University of Maryland, Baltimore (UMB) faculty member to hold the title.
The Regents Professorships were created in 1992 by the USM Board of Regents to recognize distinguished faculty members with an outstanding "record of scholarly achievement and potential for truly exceptional service to the System and its institutions," according to the policy establishing the program. Regents Professors advise and teach students, present an annual lecture at a USM institution, and otherwise work to enhance USM through activities such as faculty and curriculum development and public outreach. UMB President Jay A. Perman, MD, nominated Graber, and the nomination was reviewed and approved by a committee of experts from three different institutions, the Regents, and finally Chancellor Robert L. Caret, PhD. The appointment will be made official at the Oct. 21 Board of Regents meeting at UMB.
In the letter conferring this honor on Graber, Caret commends Graber's "record of scholarly achievement and service," and describes "the stellar and moving recommendations that were submitted by your president and many highly-regarded colleagues from excellent institutions across the United States and in Canada."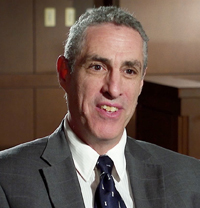 Perman explains, "Professor Graber's significant accomplishments with regard to research and scholarship, his deep commitment to his students and to teaching, and his never-ending devotion to Maryland Carey Law and the University System of Maryland as a whole, place him among a distinct few worthy of this recognition."
Graber began his University of Maryland career when he joined the Government Department at the University of Maryland, College Park in 1993. He joined Maryland Carey Law as an adjunct in 2002, became a full-time professor of government and law beginning in 2003, and moved his primary appointment to the law school in 2007. Graber is known as a founder of the American Constitutional Development movement, which analyzes constitutional doctrine combining tools drawn from the disciplines of law, history, government, and American politics. VIDEO: Graber on SCOTUS
Graber has long been a prolific scholar in his combined fields of law, political science, and history. He has authored four books and has edited or co-edited nine books, published by Oxford University Press, Cambridge University Press, and other distinguished publishers. He also has published 71 articles, 25 book chapters, 51 book reviews, 33 shorter pieces, and has delivered more than 160 presentations at leading academic conferences and institutions worldwide. Graber has received numerous prestigious awards for his published works.
"Professor Graber's scholarly record is unquestionably among the best within this University or any other," says Maryland Carey Law Dean Donald B. Tobin, JD. "His outstanding scholarly work and his many groundbreaking publications and esteemed awards make for an impressive list of accomplishments."
Tobin also explains, "In addition to being a world-class scholar and gifted teacher, Professor Graber is a truly dedicated colleague and mentor. Several commentators noted his remarkable commitment and spirit of generosity to all scholars, from the most junior to the most senior. Professor Graber's distinguished record of service justifies including him in this rare cohort of outstanding USM faculty, as a Regents Professor."
"I am thrilled and honored beyond imagination by the Regents Professorship and look forward to justifying the University's faith in me for the rest of my career," Graber said when told of his appointment.
In addition to his scholarly research, Graber is inspired by his interactions with students. "One of the most rewarding things about this work is watching students develop – the idea that you have made one iota of difference in another person's life," he explains. VIDEO: Graber on Students
Graber's dedication to students extends beyond Maryland Carey Law. He has directed the Maryland Mock Trial team at the University of Maryland, College Park since 2004. He recently began directing the law school's National Trial Team as well. Working with students in these competitive endeavors outside the classroom helps to ensure that they develop the diverse skills necessary to become successful lawyers, according to Graber.
"In class, the only thing you are tested on is how you write," Graber says. "As a lawyer, how well you speak that really matters. You need to be able to persuade people and understand things from another person's perspective. Trial lawyers have to think on their feet."
Graber is actively involved in several esteemed professional organizations in the fields of law and political science, including the American Political Science Association, Law and Society, the Midwest Political Science Association, and the American Association of Law Schools. He has been a regular reviewer for leading academic presses, including Harvard University, Princeton University, Oxford University, and the University of Cambridge. He also has been a regular reviewer for at least 20 prestigious law, political science and history journals, and has served on the editorial board of one press and four academic journals.
Graber earned a MA in philosophy and a PhD in political science from Yale Graduate School, a JD from Columbia Law School, where he was a Stone Scholar, and a BA, summa cum laude, in philosophy, at Dartmouth College. With his wife, Julia Frank, MD, a clinical professor in the Department of Psychiatry at the University of Maryland School of Medicine, Graber has three daughters, Naomi, Abigail, and Rebecca.