The University of Maryland, Baltimore (UMB) CURE Scholars Program launched Oct. 10, when dozens of specially selected Baltimore City Public Schools middle school students, specifically from West Baltimore, met with the adult mentors who will help guide them toward careers in cancer research and therapy.
UMB CURE is a new pipeline initiative aimed at steering children from Baltimore neighborhoods into well-paying careers in cancer-related health care and research. The program addresses two major issues – race- and income-based cancer disparities as well as diversity in the cancer health workforce. The students who began the process of matching with mentors on Oct. 10 are the first class of children to enter UMB CURE, and the youngest ever to participate in the National Cancer Institute's Continuing Umbrella for Research Experiences (CURE) national program. View a photo gallery.
The CURE nationwide initiative was established by the NCI's National Center to Reduce Cancer Health Disparities (CRCHD) in 1999. The CURE program usually enrolls high school students and provides a continuum of support and professional guidance to students and trainees through to their first academic appointment. The UMB CURE pipeline, funded with a $750,000 NCI grant, is the first to begin with children still in middle school.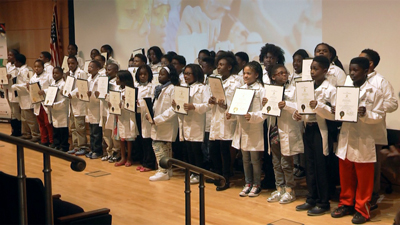 "Children growing up in Baltimore face a unique set of circumstances, some of which complicate their ability to achieve higher education and rewarding careers," said UMB President Jay A. Perman, MD, co-investigator on the UMB CURE grant. "At the same time, their communities experience higher rates of cancer. The UMB CURE program takes on both of these serious issues, educating children and their families about healthy behaviors and cancer risks in their communities, as well as guiding them toward fulfilling careers as scientists or clinicians. This program provides a special opportunity for UMB to invest in our community and its future. We're excited to see how this program impacts these children, their families, and the city as a whole."
Perman wrote recently in the New York Times Magazine about the importance of diversity among health care providers. The children selected for the first class of the UMB CURE Scholars Program attended Saturday's event with family members in tow. They began the day with a greeting from Perman and brief remarks from distinguished guests including NCI CRCHD Director Sanya A. Springfield, PhD, Maryland Congressman Elijah E. Cummings, Maryland state Sen. Shirley Nathan-Pulliam, MAS, BSN '80, and Baltimore City Councilman Pete Welch.
"Building a diverse workforce in the biomedical sciences is a critical step in reducing the burden of cancer for an increasingly diverse America," said Springfield. "UMB's pilot approach of attracting and engaging talented inner city West Baltimore youth in the sciences early – in middle school – and employing a holistic, hands-on intervention that includes children, teachers, parents, community, and NCI to connect students with researchers working in cancer is an important means to attract and engage some of the nation's talented students in science.
"The path to a successful career in biomedical research is a challenging one. Programs such as the UMB CURE Scholars pilot provide young students, from backgrounds typically under-represented in cancer research, with a chance to learn about science firsthand. Through this opportunity, a student can optimize his or her talent and grow as a person and future professional to help ensure that our future science addresses the health needs of all Americans," said Springfield.
In a ceremony familiar to first-year medical students, the children walked to the front to receive their student lab coats from the UMB CURE leadership team and distinguished guests, inducting them into the society of student scientists and future clinicians. As part of the CURE Scholars Program, the children will work in a continuum of career development activities over the years. Their longitudinal track will start with two after-school sessions per week at the respective schools, in which they will engage in hands-on scientific laboratory activities and interact with researchers and graduate students. Students also will participate in a series of Saturday programs at UMB, which will include tutoring and recreational activities. The program also includes a six-week STEM summer camp at UMB.
West Baltimore struggles socioeconomically even in comparison to the rest of Baltimore. The neighborhood's average per-household income in 2011 was just $27,302, compared to $38,721 for households in the city overall. At the same time, rates of cancer among African-Americans in Baltimore City are high. African-American city residents are diagnosed later and their cancer mortality rates are nearly 50 percent higher than the rest of the state, according to the Maryland Department of Health and Mental Hygiene.
"I am pleased to see federal funds used in this innovative way to create opportunity for the children of Baltimore," said Cummings. "This program reaches West Baltimore children at an early age with the message that higher education and worthwhile STEM careers are attainable to them. We're grateful to the University of Maryland, Baltimore for this investment in the young people of Baltimore, and for all it does for this community."
The curriculum will incorporate existing UMB programs in local schools, including mentoring by UMB students, campus visits and tours, science festivals, after-school programs focused on college or career exposure, and high school biomedical internships mentored by University faculty. UMB CURE Scholars themselves eventually will have mentoring opportunities, working with younger students to show them what is possible through the program. The Scholars also will work closely with historically black colleges and universities in Baltimore, including Morgan State University.
"Among African-American and socioeconomically disadvantaged communities like those in West Baltimore, cancer rates are of epidemic proportions, " said lead investigator on the UMB CURE grant Kevin J. Cullen, MD, professor of medicine and pharmacology at the University of Maryland School of Medicine and director of the University of Maryland Marlene and Stewart Greenebaum Cancer Center. "At the same time, we depend on a talented, diverse workforce in the future to keep cancer science and medicine advancing at a rapid rate. This program touches upon both of these critical issues in the field. We are excited to see how these UMB CURE Scholars change the future of cancer research and care."
After receiving their lab coats at the launch event, the students mingled with about 100 mentors and life coaches who have volunteered to pair with UMB CURE Scholars and shepherd them through their education to future careers in cancer research and treatment. The volunteers include scientists, doctors, nurses, social workers, and current students of UMB's seven schools. Each child requested to be matched with a mentor from those they were able to meet.
Lunch was served for families, children, mentors and dignitaries. Afterward, the children and their families were able to tour select places on the UMB campus, including the University of Maryland BioPark, the School of Pharmacy, and other locations with which they will become familiar during their time on campus as UMB CURE Scholars.