A summer collaboration between the Francis King Carey School of Law and the School of Social Work is the latest contribution to the University of Maryland, Baltimore's (UMB) longstanding interprofessional relationship with the African nation of Malawi.
Those ties become even stronger on Oct. 29 in Baltimore as faculty members from Malawi Chancellor College of Law, University of Cape Town, and the Malawi College of Medicine are scheduled to participate in a Roundtable on Clinical Trials and Access to Essential Medicines in African Countries to be held at Maryland Carey Law. The symposium will examine ethical and legal challenges to developing and distributing essential medicines in African countries.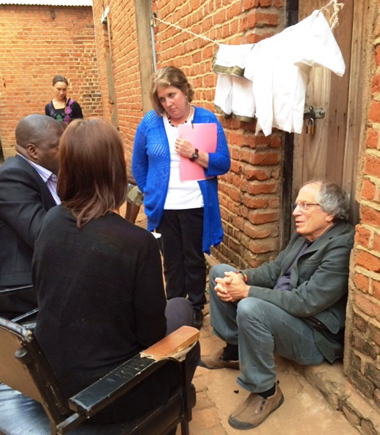 In Malawi during the summer, Maryland Carey Law professor Douglas Colbert, JD, and professor Rebecca Bowman-Rivas, MSW '99, LCSW-C, manager of the law school's Law & Social Work Services Program, took two social work and two law students to Chancellor College of Law to collaborate with faculty and students on ways clinical law students can help bring about criminal justice reform resulting from denying counsel and lengthy detention for the accused awaiting trial.
"Having law and social work students work together with their Malawian counterparts underscored for everyone that access to justice has implications beyond the legal sphere," said Colbert, who teaches criminal law and has written extensively about bail reform lawyers' professional obligations to address deficiencies in the legal system.
"This trip came to be as a part of an ongoing relationship between the clinical programs of the two law schools, but also revealed opportunities for collaboration in social work," said Bowman-Rivas. "At the time of our visit, Chancellor College had just begun the second year of their new social work program. As a new program in a country where social work is desperately needed but is not a recognized profession, they face a number of challenges as they develop their program and the profession."
The Malawi trip was made possible through an Interprofessional Global Health Grant awarded by the UMB Center for Global Education Initiatives (CGEI). Faculty are eligible to apply for Global Health Grants of $5,000, which are used to fund sustainable, interprofessional projects addressing global health themes. The interprofessional group of students selected to take part in a faculty project are awarded the cost of airfare to the site of the project.
"The aim of these grants is to encourage faculty and students from all of UMB's seven schools to collaborate on a wide variety of projects around the globe," said Virginia Rowthorn, JD, co-director of the Center for Global Initiatives and managing director of the Law & Health Care Program.
Starting in 2010, UMB has sent interprofessional teams of faculty and students to Malawi to conduct global health research and service projects. Known collectively as "The Malawi Project," the interprofessional initiative is built on work begun by the School of Medicine that had established research projects with the Malawi College of Medicine.
In 2013, Maryland Carey Law professors Diane Hoffmann, JD, MS, director of the Law & Health Care Program, and Peter Danchin, LLM, JSD, director of the International and Comparative Law Program, along with students from each school on campus traveled to Malawi and met with faculty and students from Chancellor College Faculty of Law to discuss the possibility of establishing an ongoing relationship between the two law schools.
In Malawi, Hoffmann and Danchin worked with Malawian law faculty to conduct a weeklong HIV/AIDS workshop that brought together the interprofessional UMB student team and Malawian law students on the subject of HIV/AIDS law and policy.
On Oct. 29, Hoffmann, Danchin, and Leslie Meltzer Henry, JD, MSc, of the Law & Health Care Program will join faculty from Chancellor College of Law, University of Cape Town, and the Malawi College of Medicine for the symposium in Baltimore.
Ongoing collaboration with institutions around the globe and in Baltimore underscores UMB's commitment to interprofessional education. "We've planted the seeds of collaboration," said Rowthorn. "Now they are blossoming."