After a two-year hiatus due to the COVID-19 pandemic, the Kids to Farmers Market program is back! This October, the weekly farmers market at University Park Plaza played host to third-grade students from three West Baltimore elementary schools as part of the program. A partnership between the University of Maryland, Baltimore's (UMB) Office of Community Engagement and the University of Maryland Medical Center (UMMC), the Kids to Farmers Market program aims to teach children about nutrition and how to make healthy choices through hands-on learning.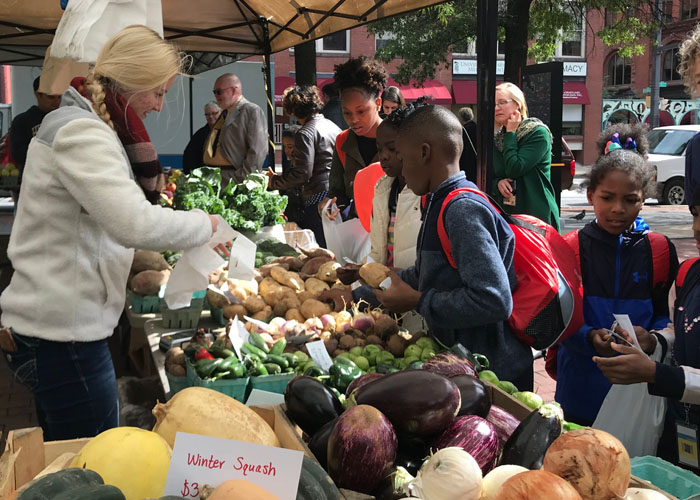 "We are thrilled to have the kids back here on campus and trying new, healthy foods," said Brian Sturdivant, MSW, UMB's director for strategic initiatives and community partnerships. "We're not just educating the students about eating healthy, we're also educating them about farmers markets because they are local. Local produce is healthy, nutritious and you don't have to travel to get it."
Students from James McHenry Elementary/Middle School, Robert W. Coleman Elementary School, and George Washington Elementary School came to the market on three Tuesday mornings in October. Each student was given $10 in "farmers market bucks" so they could purchase fresh produce to take home. Organizers of the program challenged the kids to buy something that they have never tasted before.
"I got cabbage, and I got some jalapeno peppers," said Zya Hooker, a student from George Washington Elementary School. "I also got some fruit I never tried before. It's yellow and it's sour. I'm going to have my mom try it when I get home!"
The students also learned about how to create a healthy, balanced meal and got to watch a cooking demonstration by volunteer chefs from UMMC. The volunteers showed the students how to prepare healthy desserts using apples, peaches, and blueberries.
At the end of the visit, each student was given a UMB backpack to carry their produce and a recipe book with instructions on how to cook healthy meals at home.
(Watch the program in action on WBAL.)