BALTIMORE–The University of Maryland, Baltimore (UMB) celebrated the formal installation of Bruce E. Jarrell, MD, FACS, as its seventh president at a ceremony Nov. 5, 2021.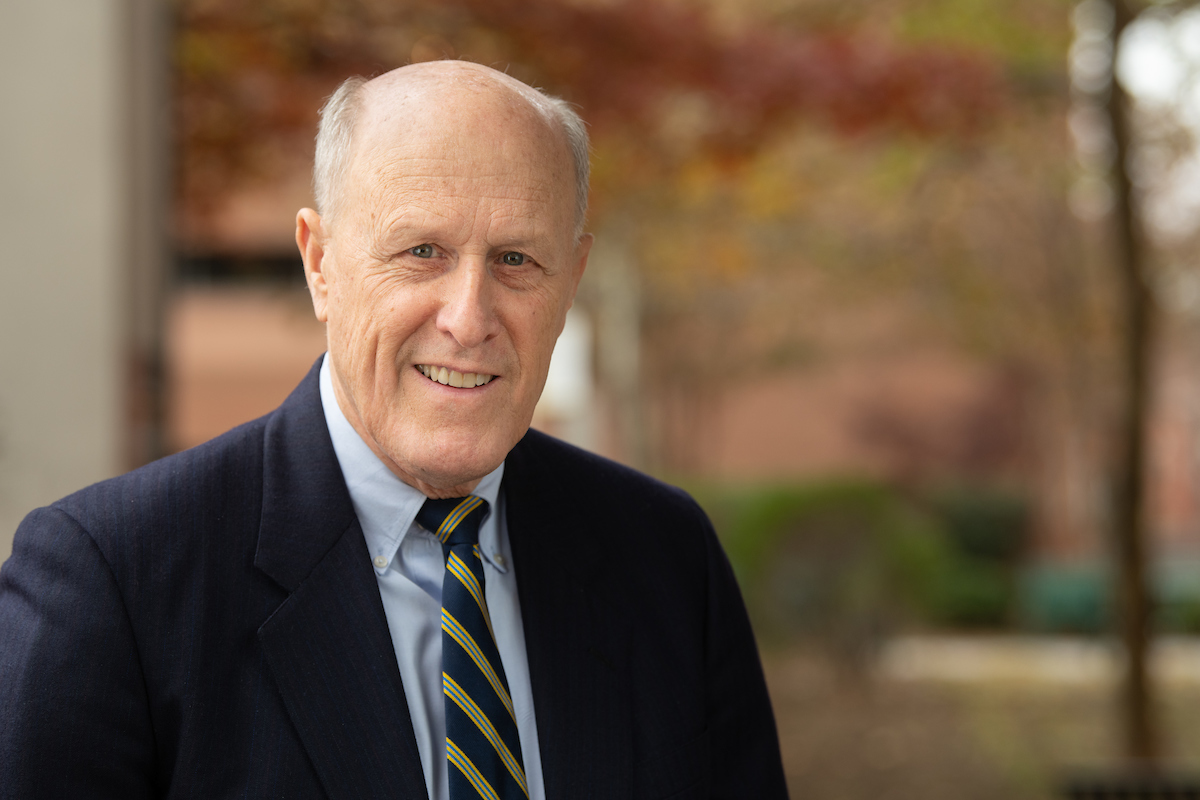 During the ceremony presided over by University System of Maryland Chancellor Jay A. Perman, MD, and Board of Regents Chair Linda R. Gooden, MBA, President Jarrell outlined his priorities for UMB and his commitment to the state of Maryland.
Part of that commitment includes a planned gift with a value of about $18 million from Eastern Shore businessman Lawrence Hayman to fund presidential initiatives aimed at improving health care access and education on Maryland's Eastern Shore and cancer research.
Rural Marylanders — who make up 25 percent of the state's population — face unique health care challenges including few local doctors, poverty, and remote locations that hinder access to health care.
UMB has several initiatives to address health inequities in Maryland including the University of Maryland School of Dentistry's Mission of Mercy clinics, which provide free dental care to the uninsured, and the University of Maryland School of Social Work's B'more for Healthy Babies Program which has reduced infant mortality in the Druid Park/Upton Heights neighborhood in West Baltimore by 75 percent.
"UMB is committed to solving future problems, to seeing solutions where others don't," Jarrell during his remarks. "We refuse to let the ZIP code that you live in determine your lifespan. We refuse to accept injustice. We refuse to accept the unacceptable. We are prepared and ready to act."
The gift will be used to create two endowment funds:
The Hayman Endowed Fund for Health Care Improvement in the Mid-Shore Counties
Caroline, Talbot, Dorchester, Kent, and Queen Anne's counties of the Eastern Shore of Maryland
Provides scholarships and other support to Eastern Shore public school graduates who have been admitted into a health professions program at UMB.
Attract qualified health care providers to practice their professions in the Mid-Shore Counties of the Eastern Shore.
The Hayman Endowed Cancer Research Fund for the President of UMB
Enables the president of UMB to allocate income from the Endowment to support research programs seeking a cure or advanced treatment of all types of cancer.
Dr. Jarrell, an accomplished transplant surgeon, and Hayman, a successful businessman, grew up together in Caroline County. The childhood friends both knew they wanted to give back to Maryland by enhancing health care on the Eastern Shore.
"This is the kind of future I want to see," aid Jarrell said as he thanked the friend he's known since elementary school. "One where students are supported, unafraid to tackle big problems, and eventually are able to give back."
"Our future is built today," Jarrell concluded. "UMB commits to educating future generations of Maryland's health care, human services, and law professionals. Professionals who will see solutions where others see problems. Professionals who step up to serve their fellow Marylanders. That's UMB. That's commitment to Maryland."
President Jarrell also shared his priorities to help UMB continue on its trajectory as Maryland's premier human services institution:
Commit to attracting, retaining, and educating the best and brightest scholars, staff, and faculty through initiatives like the President's Initiative on Education, scholarship programs that create opportunities for more students, and by remaining an employer of choice.
Commit to working for equity and justice. We have a responsibility to improve the health and well-being of underserved populations in Maryland by expanding access in areas of need across the state, supporting our Community Engagement Center, and fostering programs like CURE Scholars and Promise Heights.
Commit to statewide collaborations. We will focus on maintaining and growing the strong partnership between UMB and the University of Maryland Medical System, sustaining and growing the MPower collaboration with the University of Maryland, College Park, and expanding relationships with other key institutions in Maryland.
Commit to innovation and discovery. Being prepared for the future requires a strong focus on innovation and discovery now. We will continue to expand our $682 million research enterprise, strengthen our community-based research activities, and develop more interdisciplinary research programs and projects.
Jarrell was appointed president of UMB on Sept. 11, 2020, having previously served as interim president during which he guided the University's efforts to cope with the COVID-19 pandemic.
He has held numerous leadership roles at UMB including provost, chief academic and research officer, executive vice president, and dean of the Graduate School, as well as vice dean of the University of Maryland School of Medicine and chair of the Department of Surgery.
About the University of Maryland, Baltimore
The University of Maryland, Baltimore (UMB) was founded in 1807 as the Maryland College of Medicine, which now stands as the nation's oldest public medical school. In response to growing social and cultural needs, UMB's mission has evolved and grown tremendously. Widely recognized as a preeminent institution, UMB serves as the academic health, law, and social work university of the University System of Maryland, and is guided by a mission of excellence in education, research, clinical care, and public service.
UMB is a thriving academic health center combining cutting-edge biomedical research, exceptional patient care, and nationally ranked academic programs. With extramural funding totaling $682 million in Fiscal Year 2021, each tenured/tenure-track faculty member generates an average of $1.5 million in research grants each year. The 3,123 faculty members conduct leading-edge research and develop solutions and technologies that impact human health locally and around the world. World-class facilities and cores, as well as interprofessional centers and institutes, allow faculty to investigate pressing questions in a highly collaborative fashion. As a result, the more than 7,200 students, postdocs, and trainees directly benefit from working and learning alongside leading experts as they push the boundaries of their fields. For a listing of the organized research centers and institutes, visit: https://www.umaryland.edu/research/umb- research-profile/research-centers-and-institutions/
MEDIA LINKS
PHOTOS: https://bit.ly/3mJUdjH
LIVESTREAM: https://bit.ly/3qc2zD0
Gift announcement starts around 2:28:30
EVENT VIDEO CLIPS: https://bit.ly/3CRwnIz